Want to get your hands on the latest Adidas releases? Out list of top 10 Adidas bots will help you choose the right one to make a successful cop.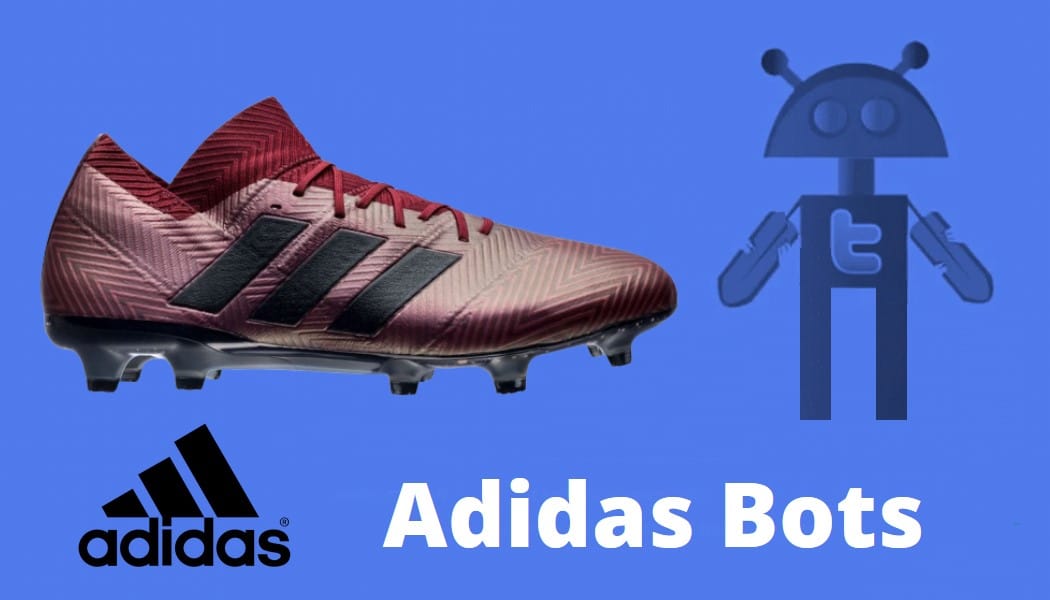 Founded over 80 years ago in Germany, Adidas is a world-famous designer and manufacturer retailer selling products all over the world. Over the years, as the company's popularity grew, it started to expand into other regions of the world. Today, Adidas can be found in most major countries.
Getting your hands on a limited-edition Adidas merchandise is easier said than done. Imagine this, limited-edition sneakers are always sold in very small quantities, usually several hundred pairs. On the other hand, there are thousands of people around the world that would like to have them. So how do you manage to get them? With speed, of course. The problem is that no matter how fast your reflexes are, someone else's will be faster.
The solution to that is Adidas bot. These bots are software that carries out the purchasing process automatically and does that much faster than any other human would. Quite often, the bots might seem the same as they may have the same set of features, but the reality is that each bot is unique in the way it works and how the software is developed.
To help you in your quests for the perfect bot for you, we have compiled a list of 10 Adidas bots that will increase your chances of making a successful purchase.
---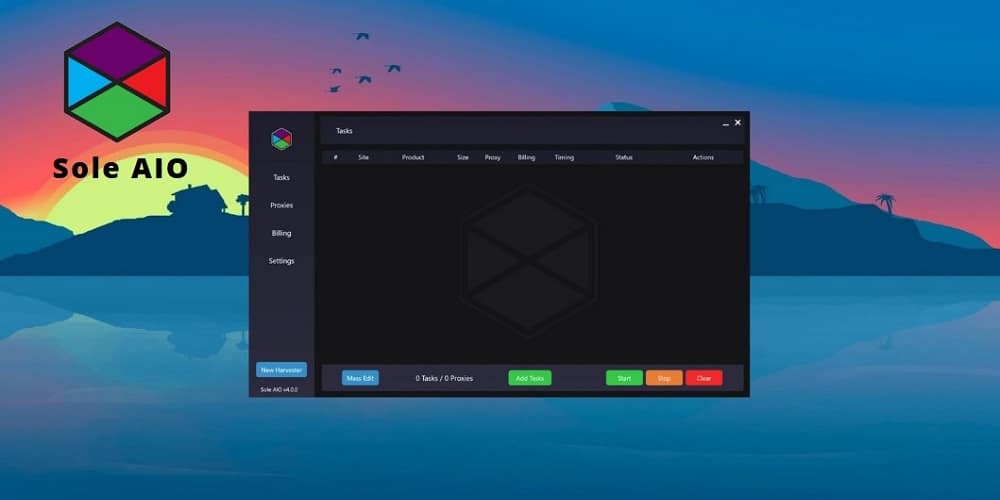 Sole AIO is not the first choice when it comes to Adidas bots, but if you combine the entire package – price, functionality, and supported prices, it should be. The enhanced support for flash tasks combined with the variety of option for opening the carts, this is a bot that has shown that it can work well on Adidas sites. In addition to that, the account generator feature is there to give you a slightly bigger advantage compared to the others.
The elegant and simple to use dashboard will make sure that you do not get lost looking for the settings, while at the same time it will not cost you an arm and a leg. In regards to supported Adidas regions, it covers the US and most of the EU regions, including an auto-checkout feature for them. One thing that needs some improvement is operating system support. Sole AIO works only on a Windows computer or server.
Pros
Cheaper than a lot of competitors
Supports a lot of Adidas regions
---


Often considered as one of the best all in one bot, AIObot is also a great Adidas bot. Even though it may not be as cheap as Sole AIO, the set of features and supported regions still make it competitive. The excellent proxy support, keyword search option, CAPTCHA solver, and notifications are only a handful of the features that this bot can offer.
The ability to utilize multi-threading technology aids in the speediness with which the bot can make a purchase. Speaking of purchases, it can automatically add to cart and proceed to checkout. In case something goes wrong or the item is no longer in stock, it will keep retrying until it gets the job done. You get support for US, EU, and AU regions of Adidas in an application that is native to Windows but can work on Mac through a virtual machine.
Read more, Ultimate Guide to Cop Shoes Via AIOBOT V2
Pros
Excellent set of features
Widely supported Adidas regions
Cons
Not the cheapest bot on the market
Mac version only run from a virtual machine
---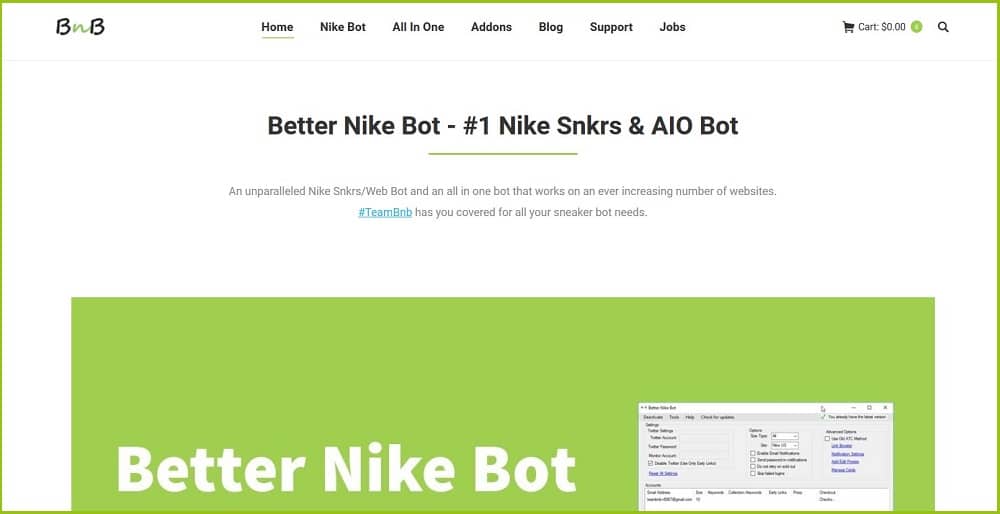 No, we are not wrong, Better Nike Bot is also an Adidas bot. The all in one bot offered by them will probably not convince you to get it over the others, but it is worth mentioning. Like all the other bots, this one has its flaws. The biggest one is the number of supported Adidas regions.
It only works with a handful of regions, and you can use it only for hyped releases, not for any kind of purchase. The set of features is not something that is breaking records; you get the usual stuff: CAPTCHA solver, mass task edits, browserless checkout, for a price that may not be worth it considering the overall package. On top of all that, the bot only runs on Windows, so Mac user will need to look elsewhere.
Pros
Not the most expensive bot available
Fast
Cons
Adidas support for hyped releases only
A handful of supported Adidas regions
---

Destroying the drop is Project Destroyer's moto, and that is not the reason why we included it in this list of Adidas bots. The two main advantages this bot has is the price and the supported regions. For a competitive price, which is far from the most expensive one, we have seen you get an excellent set of features. The CAPTCHA solver will avoid any obstacles, and if you combine it with the proxy support to avoid detection and bans, you get the perfect recipe.
Their automated checkout system works excellent and will provide you with access to over 20 Adidas regions, which is among the most we have seen in a bot. If the region you want is not available, you can put in a request, and the developers will try to add it. like most of the other bots available, there is a native app for Windows, so you will need a virtual machine if you intend to use it on a Mac.
Pros
Over 20 supported Adidas regions
Feature-packed
Cons
Only Windows native app
Might struggle to find it in stock
---
Ghost's Phantom bot is a bot that has its fair share of good and bad things, and they seem to be intertwined here. The price for this bot is above average, but if you take into consideration the features that you get, your opinion may change. As for the list of features, you can create an unlimited number of tasks, test your proxies if they are working as intended, notifications, and much more.
The list of supported regions is another advantage. Unlike most Adidas bots that support mostly US and EU regions, Phantom also supports some Adidas regions in Asia. As a bonus to everything else, you get an application with a modern design that is easy to use, and you can install it on a Windows and Mac machine natively.
Pros
Supported Adidas regions in the US, Europe, and Asia
Packed full of features
Native apps for Windows and Mac
Cons
Slightly pricier than the competition
---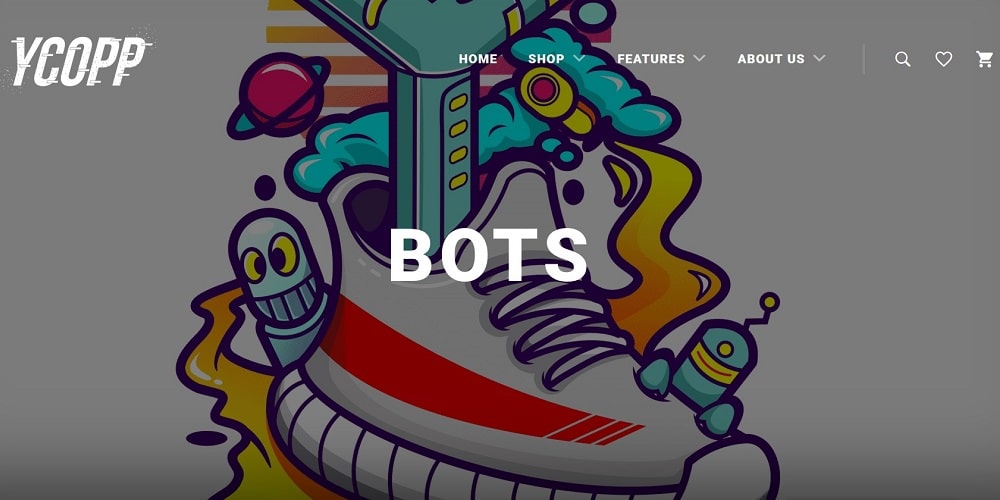 Stepping aside from the all in one bots we have yCopp, a dedicated Adidas bot. Being a dedicated bot means that the developers can fine-tune it to work with Adidas better than the others. The set of features includes automatic or manual start and the ability to create an unlimited number of tasks to increase your chances better. This Adidas bot also has a mobile app that you can use for remote control the bot, solve CAPTCHAs on your phone, or send the carts to your phone where you can continue the checkout process.
Regarding the process, you can have it set to fully automated. As for the supported regions, yCopp supports Adidas from 30 regions on America, Europa, and Asia. Even though this bot will work on a wide range of Windows devices, there is no support for Mac.
Pros
Supports 30 Adidas regions
Dedicated Adidas bot
Cheaper than some AIOs
---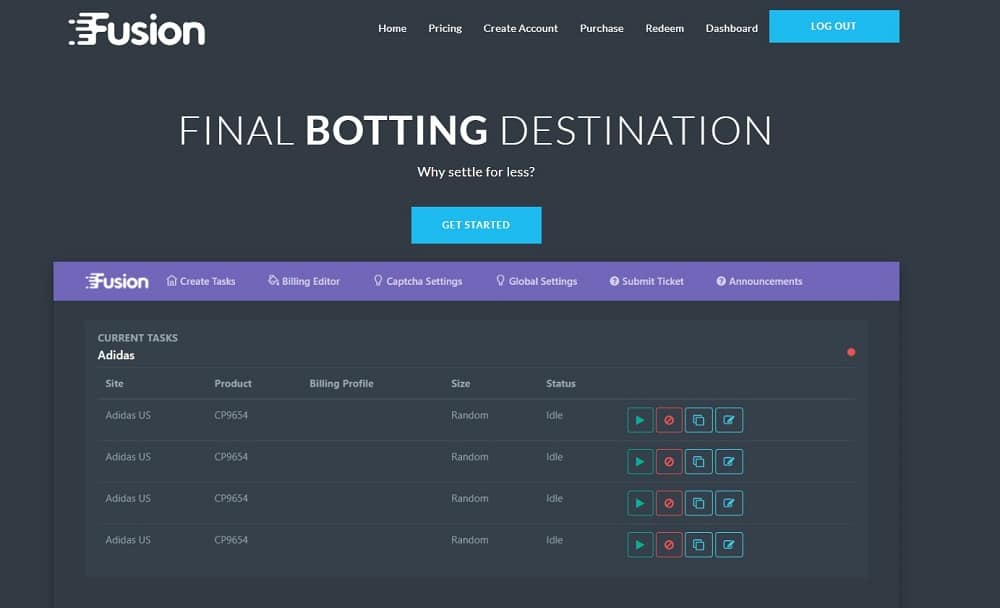 Continuing with dedicated Adidas bots, we come to Fusion, and in many ways, it seems to be a better choice than yCopp. The first advantage that Fusion has is the fact that it supports four more regions than yCopp, totaling it at 34.
The second advantage is the pricing. Unlike most of the Adidas bots on our list that come with a yearly or 6-month license, Fusion offers customers to purchase monthly licenses as well as six months and yearly. As for the features, Fusion's lineup is nothing to get excited about, but enough to be successful. You get a multi-processing option to improve its performance as part of a software that can be installed on Windows and Mac.
Pros
34 supported Adidas regions
Ability to pay monthly
Cons
The website contains very little info on the product
---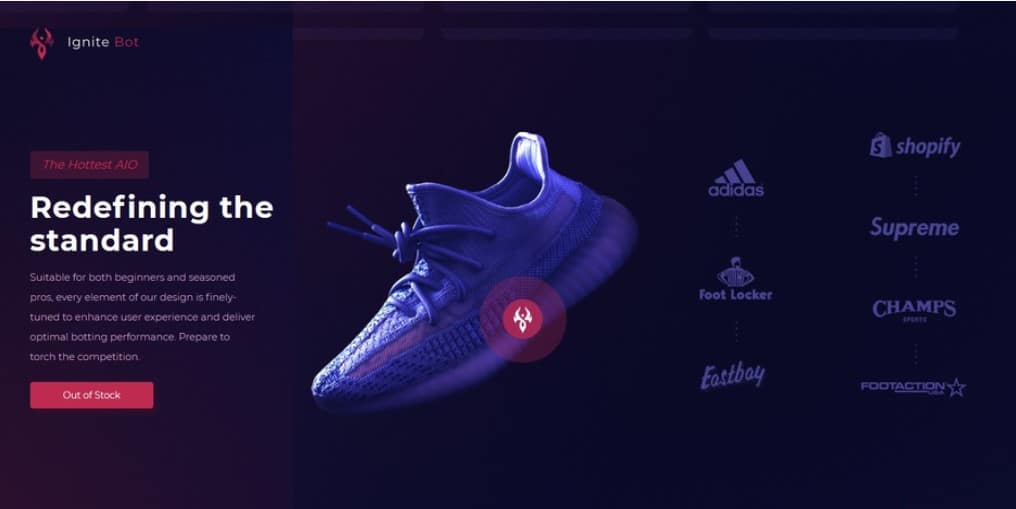 This bot a relatively new one that has shown potential as an Adidas bot and is worth being on this list. There are some good sides and bad sides to this bot. On the positive side, you get a bot with a sleek user interface that is easy to use, and it packed with a lot of features. Among the important ones are that the checkout is entirely automated, you can generate profiles automatically, the monitor can scan channels and create tasks automatically, and you also get a reshipping generator where a new reshipping address is generated. This all in one bot supports Adidas, but the list of supported regions is not disclosed on their website. Also, for a bot that is new to this field, the price is a bit high. The good news is that the bot works on Windows, Mac, and Linux, something that we rarely see.
Pros
Tons of features
Easy to use and elegant interface
Cons
No list of supported Adidas regions
Price is on par with the more popular bots on the market
---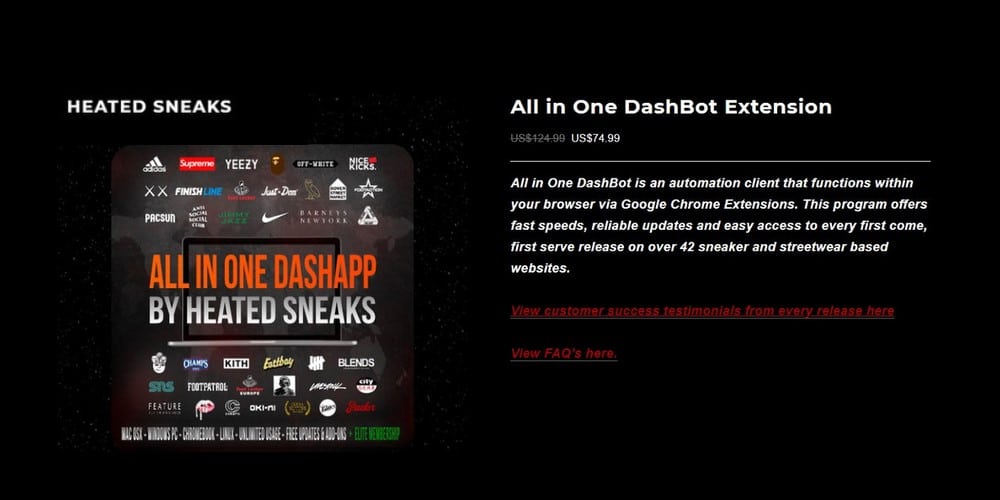 Already a veteran in the copping industry, Heated Sneaks' all in one bot has been a favorite for a while now. That thing that makes this bot stand out from the crows is that unlike most of the competitors, this Adidas bot is a Chrome extension.
That means that you can run it on any device that can run Chrome. The set of features is excellent and manages to get all the things right. Heated Sneaks' AIO can bypass splash pages, monitor stocks, solve CAPTCHAs, retry automatically in case the site crashes, or the item is out of stock.
The price is reasonable and for that, you get a lifetime license with updates with unlimited usage included. The list of supported regions is not as extensive as some of the other bots on this list, but 16 supported Adidas regions across the three major continents is not bad.
Pros
Affordable price
Lifetime license
Cons
Interface outdated
Less supported Adidas regions than competitors
---
The last Adidas bot on this list is SlashForce.  Designed with an elegant user interface that will not be a hassle to use, SplashForce is often overlooked when it comes to Adidas bots. One of the reasons may be the fact that it does not have a ton of features like some of the other competitors on this list. the included features are multi-threading so that the bot can handle a large number of tasks with no impact on performance, automated checkout, CAPTCHA solver, and a few others. Regarding the supported regions, SplashForce supports 20 Adidas regions and combined that with a relatively competitive price tag, it is a bot that should definitely not be overlooked.
Pros
Competitive price
20 Adidas regions supported
Cons
Has only the basic features
---
FAQs About Adidas Bots

What will happen if Adidas finds out that I am using a bot?
Not much, really. If you are using your home IP address to make a purchase and Adidas finds out that you are using a bot, your IP address will be banned. Aside from that, there is very little else they can do, as bots are not technically illegal.
Is there a free Adidas bot?
Probably not, even if there is, we would suggest against using it. All companies that sell Adidas bots have spent months developing and supporting the bots so that they work as advertised. If by any chance, you find a free Adidas bot, either it will not work, or it will be a scam to get your personal data and credit card information.
Is it safe to use Adidas bot?
Yes. Almost all bots incorporate an encrypted connection masking and protecting all the data that flows through it. This makes sure that your personal information and credit card details remain "hidden" from the bot's admins and developers, as well as hackers looking to steal your data.
Will an Adidas bot be 100% successful?
No, there is no bot in existence that will guarantee a certain success. Bots are designed to make purchases faster than a human would typically work, but none of them will ensure sure success.
---
Conclusion
Adidas has been around for a while, and so have been the bots that can make purchases from their sites. When it comes to bot detection, Adidas and a few others are among the strictest sites on the market, so if you do decide to use a bot for copping from Adidas, make sure to use one from a reputable company. Our list contains ten bots, and there are not all that many others you may be able to find on the internet today. As always, happy copping.
---