Are you looking for a tool or service that can help you gather data from Telegram? Today, we'll be looking at the best Telegram scrapers on the market to help you find the best one for your needs.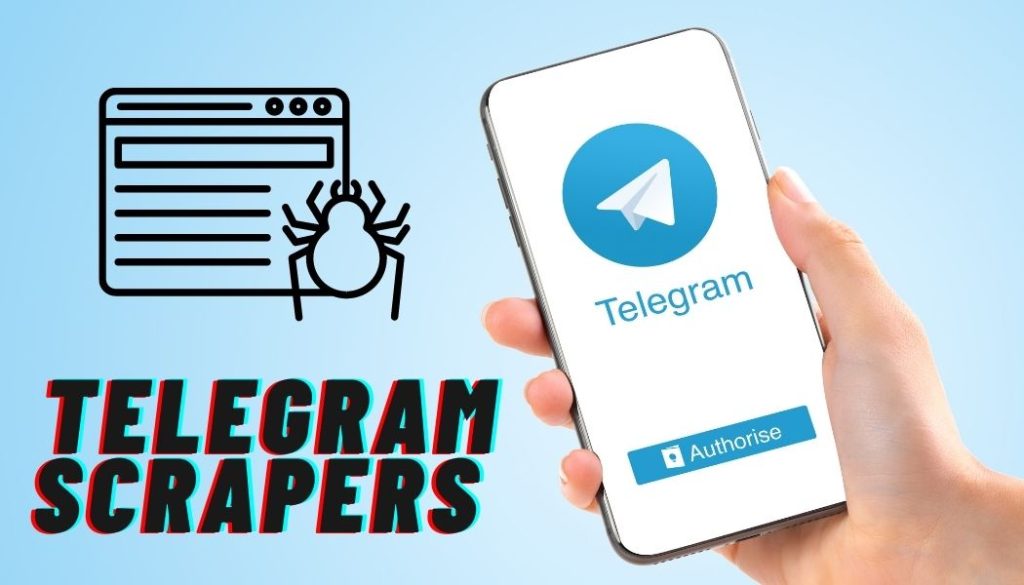 Gathering data from websites or services is something we've been doing for a long time. In the early days, there wasn't too much of it, so we went with the traditional copy and paste. Considering how much data there is on the internet today, this approach isn't the best.
In recent years, many companies worked on creating services and tools that help solve the problems. Scrapers have become popular due to the speed and accuracy they work. Any software will work better than a human, which is why these tools as in such high demand.
Thanks to the constant improvements, scrapers can grab data from many sites and services. One of the more common applications is scraping data from Telegram.
If you're in a situation where you want to get some data from there, but don't know where to start, keep on reading. In today's list we'll outline the best Telegram scrapers available on the market.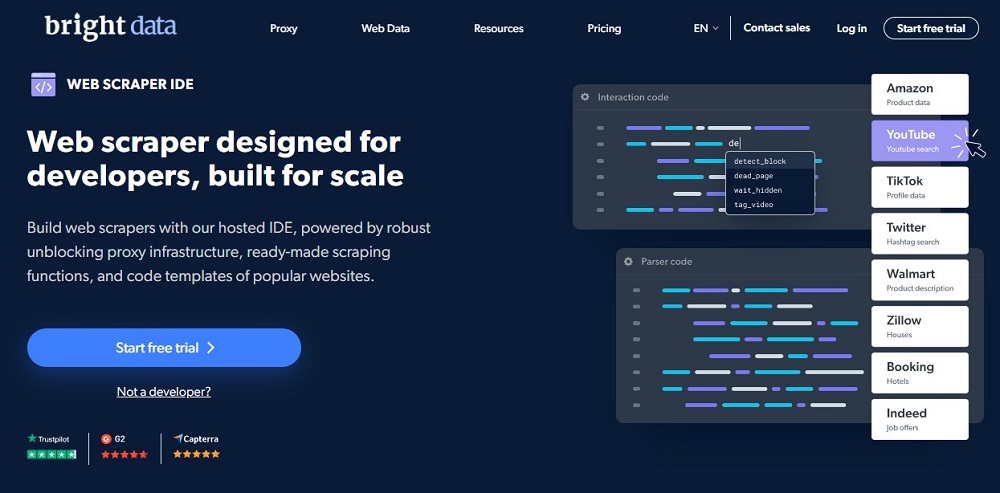 You may be confused about this name if you've read some of our other articles. We often mention Bright Data as one of the best proxy providers, but today, we'll be talking about the scraping part of the service.
The best part about Bright Data is the there are already some datasets that you can purchase from them. It saves time and it can be a convenient way. If you don't think that's going to work, then, this is where the scraping service comes into play.
With this service, you can customize any aspect of the scraping process so that you get the data you need. As long as the data exists on Telegram, you can get it. Since Bright Data will do all the heavy lifting, there is no need for you to have any technical knowledge.
As for payment, there are two options – monthly commitment or pre-paid packages. Both are equally good options, which will depend on your preference and needs. If you're not sure, you can reach out to the sales department to see what they would recommend.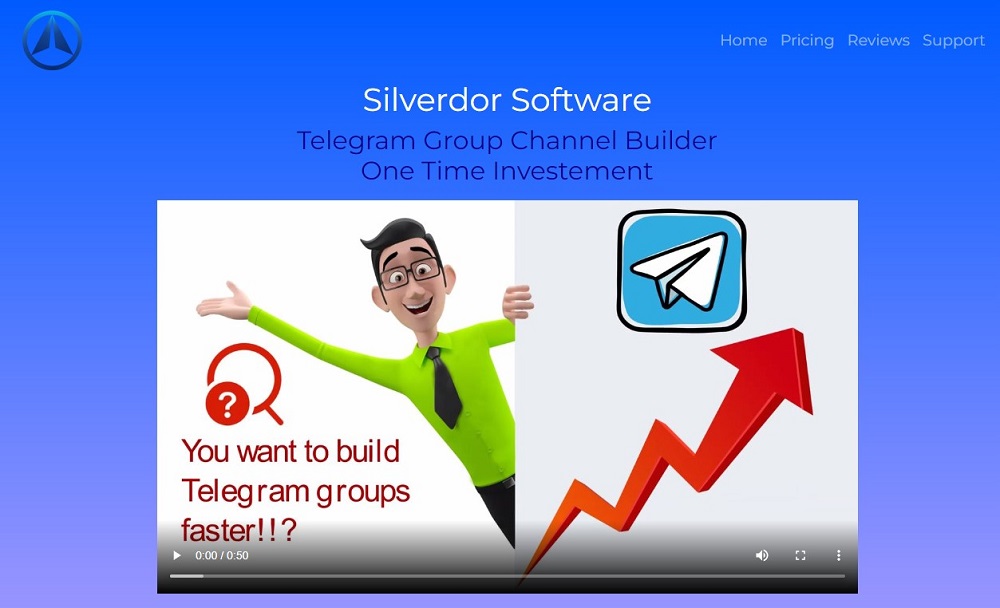 If you're a veteran Telegram user, this is a name you may have heard. Silverdor is a Telegram scraper, which isn't as flexible as something that the previous company can offer. With that said, it's an ideal option for gathering contact info.
Unlike the previous service, with Silverdor, you only have the option to get a list of usernames from a group. Sure, it may seem limited, but some marketers will find this useful.
The best thing about Silverdor is that you can grab the list of users and add them to another group. This saves time and makes the entire process more streamlined. Having the option to export the list or create a new group is what marketers can appreciate.
Considering that you're not getting the full Telegram scraping suite, the price for Silverdor is more affordable. There are several plans available, depending on the size of your project. The best part about this tool is that there's a discount for paying with cryptocurrency.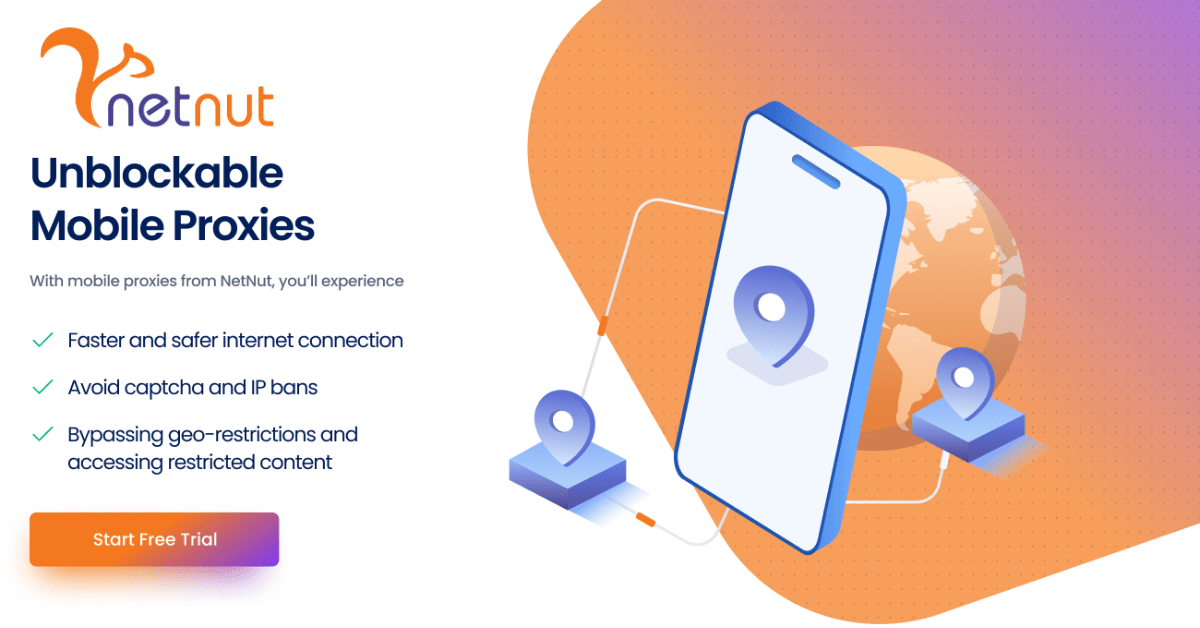 Many users find Telegram, an alternative to WhatsApp, appealing for various reasons. However, if you scrap data for marketing, data mining, or data analysis purposes, you'll encounter different website security measures and limitations on the Telegram platform aimed at protecting user accounts and activities. We are talking about things like anti-spam bots and CAPTCHAS.
Thankfully, NetNut offers a solution with their unblockable mobile proxies, which is ideal for web scraping. These proxies make extracting Telegram's data more convenient. They operate on a big pool of proxy networks with numerous mobile IPs sourced throughout the globe, ensuring fast and hassle-free connections.
Because they use real mobile IPs, they are harder to detect and block. Frankly, web security doesn't find them suspicious at all. This makes them easily anonymous to anti-spam bots and other website watchdogs. NetNut allows you to bypass Telegram's regulations easily, manage multiple accounts, and engage more effectively with your audience.
The best web scrapers don't usually want their identity all over the internet. Hence, NetNut is perfect because they take care to secure and protect your information. This is especially crucial for professionals, businesses, companies, and even renowned individuals who use Telegram for communication and business.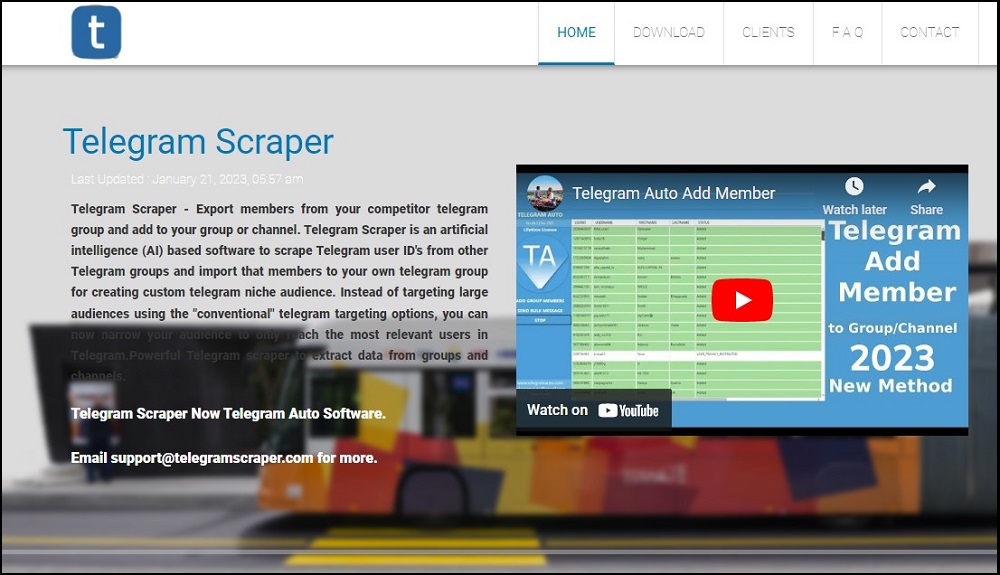 Having a tool with this name needs no introduction. Telegram Scraper is a tool that enables you to grab data from Telegram groups. In many ways, it's similar to the previous entry on our list.
The service comes as a bundle, offering two tools in a single package. One tool is the Scraper and the other is the Adder and both of them combined work similarly to Silverdor. With the Scraper, you'll be getting the data from Telegram. The Adder can be used to use the list to add the users to new groups.
Combining both give you the full experience, but you can use only one of them. Unlike the previous service, Telegram Scraper and Adder are standalone apps. This means that you'll need to install the software on your computer to utilize it. Unfortunately, it's only available for Windows computers.
Being able to test a tool before making a purchase is an excellent option. Telegram Scraper has a free trial available, which comes with some limitations. Despite that it should be good enough to test if it satisfied your needs before making a purchase.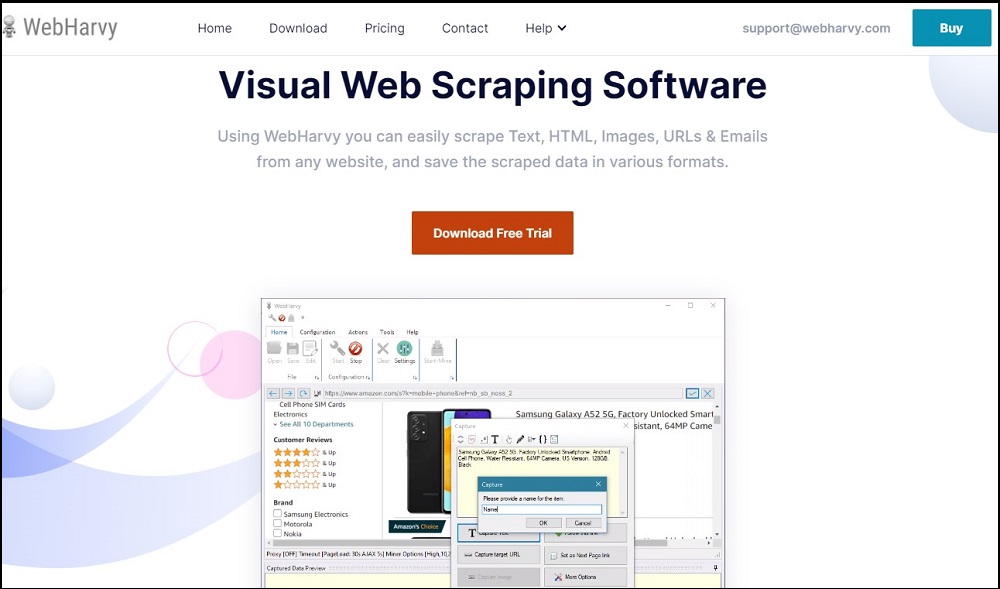 When it comes to scrapers, we've talked about several multi-purpose ones. Similar to Bright Data, WebHarvy is a service that can scrape anything, so today we're including in the list of Telegram Scrapers.
Like most of the scrapers on this list, WebHarvy is a service designed to make scraping easier for anyone. As a result, no technical knowledge is required. All you need to do is set things up and tell the tool what to scrape. Unlike the previous tool, this one works with the web version of Telegram, which shouldn't be a problem.
To make things even easier, WebHarvy has an automation that will speed up the process. You start off with selecting a few elements that you need. After that, the tool will start to identify similar elements and show them as suggestions, making the entire process as streamlined as possible.
You can download the tool as a free trial, but to get the most out of it you'll need to pay for one of the packages. The main difference between each of them is the number of user licenses you'll get. Also, WebHarvy is a Telegram scraper that can only be installed on a Windows computer.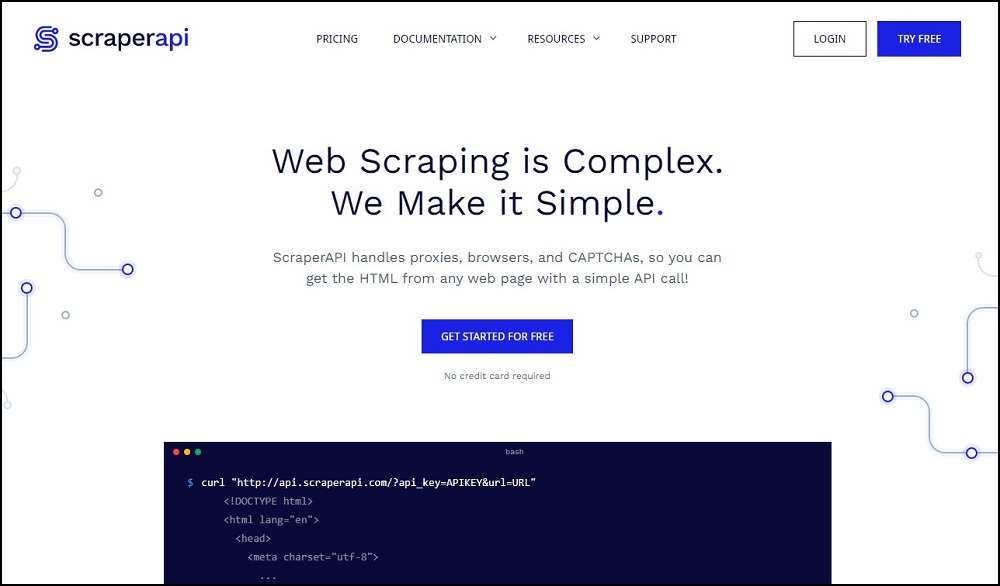 If you've been reading some of our previous scraping articles, you may have noticed that we're fans of ScraperAPI. It's a very powerful scraping service that you can easily use on Telegram as well.
The best thing about Scraper API is that there are two ways in which you can use it. Beginners will opt-in for the point and click UI, which makes things much simpler and faster. You're telling the tool what to scrape and it does the rest of the job. Advanced users can take advantage of some of the additional features and flexibility, but for Telegram I believe the first option is the best.
Considering that it's a cloud-based solution, you won't have to worry about system requirements. This also means that the scraping speed won't be an issue, as a server will be doing all the heavy lifting. To keep Telegram unaware of your activities, ScraperAPI also rotates proxies to keep things as anonymous as possible.
The option to try before you buy this Telegram scraper is available. ScraperAPI offers a free package with unlimited pages per crawl, but for a more flexible experience, there is a paid package as well.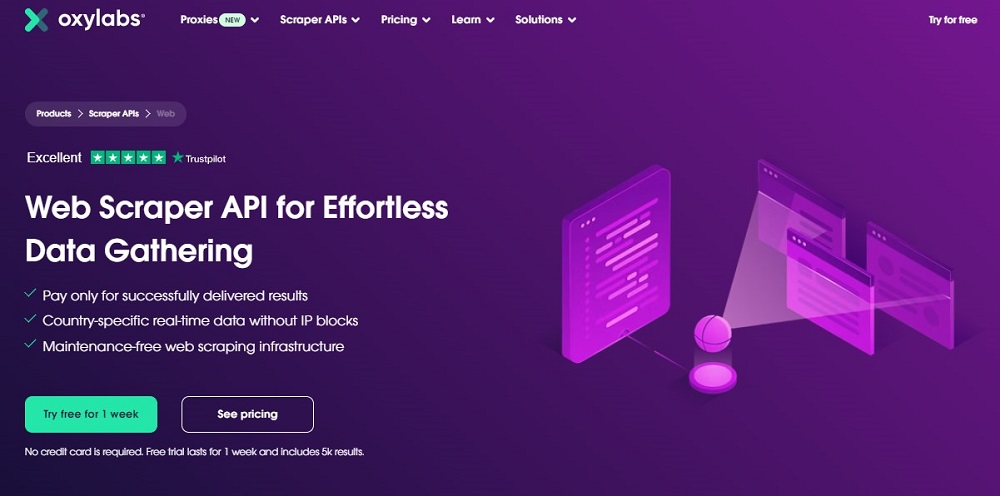 If you've ever been using proxies, Oxylabs is a company that you have hear of. Apart from that, another product you can get from this service is a Telegram scraper. To be fair, you can scrape anything with this service.
Similar to the previous entry on this list, Oxylabs can scrape the web version of Telegram, which I believe is a simpler option. you won't have to worry about installing anything on your computer and all you need is a browser. You can get anything from any telegram group such as usernames and all kinds of information.
The interface is simple and won't be a problem even if you've never scraped before. All you need to do is tell the service what you need and it will start grabbing the data and export it in a format that best suited your needs.
With Oxylabs, you have multiple pricing plans, depending on how much data you need to scrape off Telegram. The best part is that there is a 1-week free trial to test how the service works.

Continuing the trend of cloud-based Telegram scrapers we have a name that often pops up in this category. Octoparse is a service that's been around for a while covering many scraping scenarios.
There are many advantages that Octoparse brings to the table when it comes to Telegram scraping and the most important one is the ease of use. The user interface is simple to use and you'll need no coding knowledge to get it to work. Once you set up the account, you'll need to point out the data you want to grab from the group and the tool will start scraping it.
The entire process is automated, and you only need to set the parameters. Being a cloud-based solution means that it can scrape all the time or set it to do it periodically, depending on your needs. The company uses its own proxies for the scraping process, so there's no need to worry about that. With that said, keep in mind that you'll need to download the tool in order to set things up and it's only available for Windows.
Even though there are multiple pricing packages, I would have liked to see more options to offer better flexibility. On a positive note, there is a free plan which is limited, but should be enough to test the service.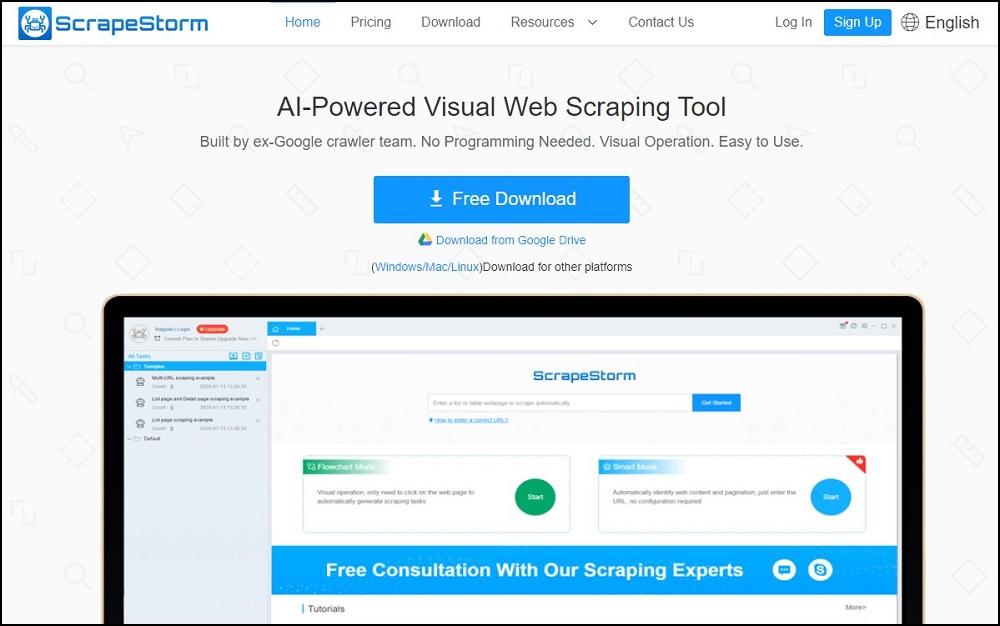 We come to a Telegram scraper that brings something new to the table, that few of the others have – AI. ScrapeStorm relies on artificial intelligence to speed up and improve the scraping process from Telegram.
Despite the fancy new features, ScrapeStorm works very similarly to most of the other Telegram scrapers on this list. It features a visual interface where you can select the data you want to gram from the web version, and it will start doing its thing. The AI in this service is that pert that identifies the type of data you need, so you won't have to spend a long time "teaching" the tool what to grab.
Among the other features ScrapeStorm offers is a scheduler so that you can set up when and for how long the scraper to work. To ensure that Telegram doesn't identify the scraper, it relies on automated proxy rotation. In terms of exporting, there are plenty of options to choose from. Another flexible aspect are the supported platforms. Despite being a cloud-based service, you will need to download the tool to set things up. The best part is that it's available for Windows, Mac, and Linux.
The flexibility continues in the pricing department as well. There are two types of packages – personal or enterprise, depending on what you need from ScrapeStorm. On top of that, as part of the personal plans, there is a free option. It is limited, but should be enough to use as a free trial or some smaller projects.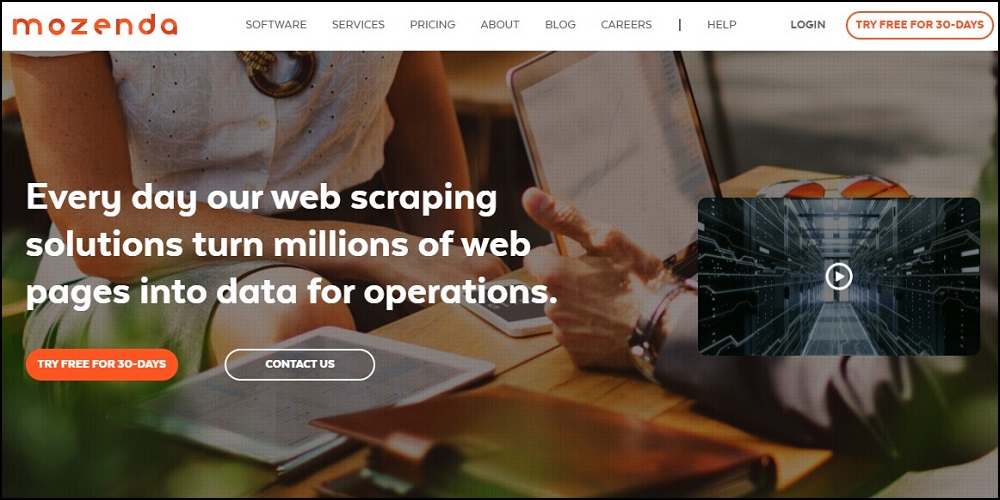 People that are into scraping will recognize the name. Mozenda is a veteran in the scraping industry, providing its services to millions of people worldwide. Considering how good it is, I'm recommending it as a good Telegram scraping option.
Mozenda streamlined the entire process, making it more usable for people that have no experience with scraping. In other words, you don't need to have any coding knowledge. You're only job would be to use the interface and choose the type of data you want to use. Once that's done, the service will take over and start compiling the Telegram data you need.
To ensure that Mozenda covers as many use cases as possible, it offers its services in a flexible manner. You may need to scrape Telegram one, or do it consistently. Regardless of that, you can set up the service to grab as much and as often as you need. All the data will be neatley stored and exported in several formats.
When it comes to pricing, Mozenda does things a bit differently and charges based on the scraping task at hand. There are 3 packages, but the prices are revealed once you outline how much data you'll need. Testing the service for scraping Telegram is available through a trial option. It's limited, but will give you an idea of how powerful the service is and if it would work for you.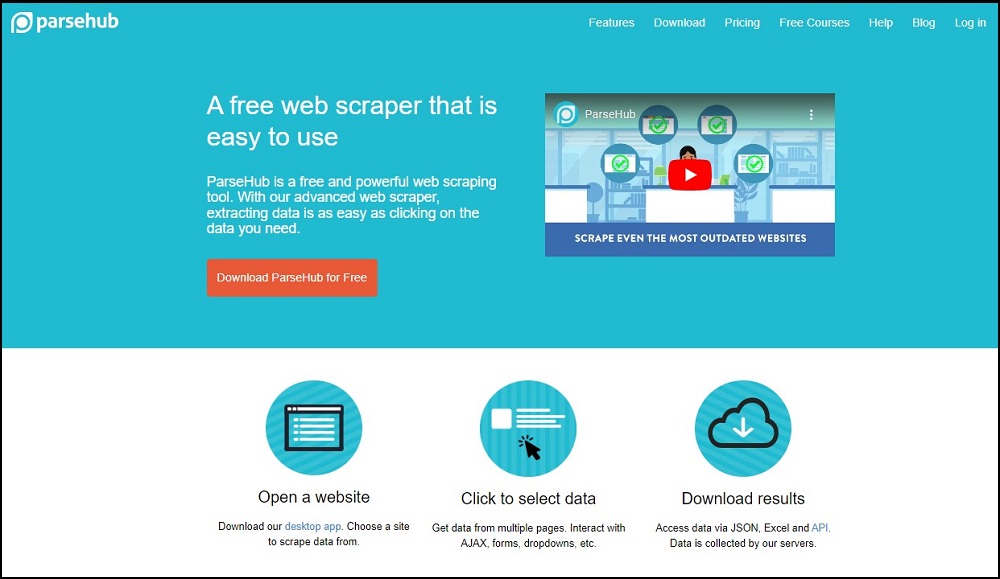 The last Telegram scraping service on today's list is one that advertises itself as a free one. ParseHub is a powerful tool that I can recommend for people on a tight budget, especially if they need something for a smaller project.
When it comes to features, ParseHub offers the standard stuff, which is what most of us need when scraping Telegram. There's a visual interface, where you point out the data you want scraped that the tool does the rest. This is ideal especially for people with no coding knowledge that don't know how to get the most out of some of the other tools on this list.
To keep things anonymous from Telegram, ParseHub relies on automated proxy rotation. This is an excellent approach to ensure that each request or at a certain interval, a new IP address is assigned. You can also schedule the tool to start scraping at a certain time. Once the data is gathered, you can sort and export it in your preferred format. To use the service, you'll need to download the tool, which is available for Mac, Windows and Linux.
ParseHub advertises itself as a free Telegram scraper, which is true, up to a point. The free package is limited, so it will be good for smaller projects. If you need more, there are 2 additional packages and an option to create a custom one.
Q. Is Telegram scraping legal?
Scraping in general isn't illegal, so that's not a massive problem in most countries. The biggest issue is to avoid getting caught by Telegram and to have your IP address banned. This is the main reason why it's recommended to use proxies with the scraper.
Q. Will I need to purchase proxies for my Telegram scraper?
It depends on the scraper. Some of the services include the proxies with automated rotation in their services, so that's not something that you should worry about. With others, you may need to get yourself some proxies. The best course of action would be to check the with the Telegram scraper you plan to use.
Q. How long does it take to scrape Telegram?
The time it takes to scrape Telegram depends on multiple factors. Some services will be slightly slower to ensure that you don't get caught. Others may use proxies and get the job done faster. The next aspect you should consider is how much data you need to scrape. For smaller projects you may have the data pretty quickly. For larger groups, it may take a bit longer.
Q. Can I use a free Telegram scraper?
In the list I mentioned a free Telegram scraper, but it had some limitations. Companies that offer these kinds of services rarely offer them for free. The ones that do, generally don't perform as good. You could try them, but don't expect to get fantastic results.
At a certain point, Telegram scraping wasn't as convenient as it is today. In those times, the scrapers weren't as good and not many people needed to scrape the chat anyway. Today, it's a different story and you won't have to worry about doing things the old fashioned way.
The list of the best 10 Telegram Scrapers is more than enough to get you started regardless of what kind of project you have in mind. While they all do the same tasks, they have a different set of features and price, so go for the one that suits you the best.
---