What if you want proxies directly from the ISP and eliminate the end user for better performance? Today's list will outline the best ISP proxy providers on the market.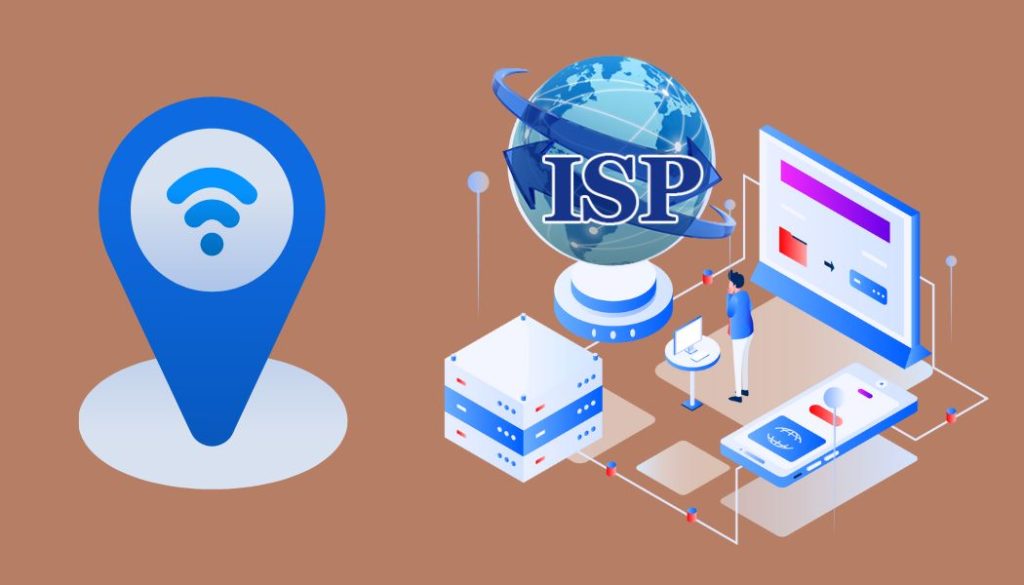 Residential proxies are not something new. Over the years, more providers have gotten aboard and begun selling them in abundance. While they are excellent for uses where datacenter proxies fail, there are some limitations.
Most of the recent residential or mobile proxies are IP addresses from users. It means you're using someone's home or office IP address. They are generally acceptable to use, but the problem is always the speeds. They aren't as fast as datacenter ones, and you often end up with inconsistent results when switching from one proxy to another.
So, what can you do to get the best of both worlds? Is a proxy undetectable as a residential one with the speed of a datacenter? You get ISP proxies, of course.
These are the type of proxies that providers get directly from the ISP. As a result, they are hosted on a server, so the speeds won't be limited by the end-users package. While ISP proxies sound like an excellent choice, not all providers offer them, so keep reading to find our top 10 picks.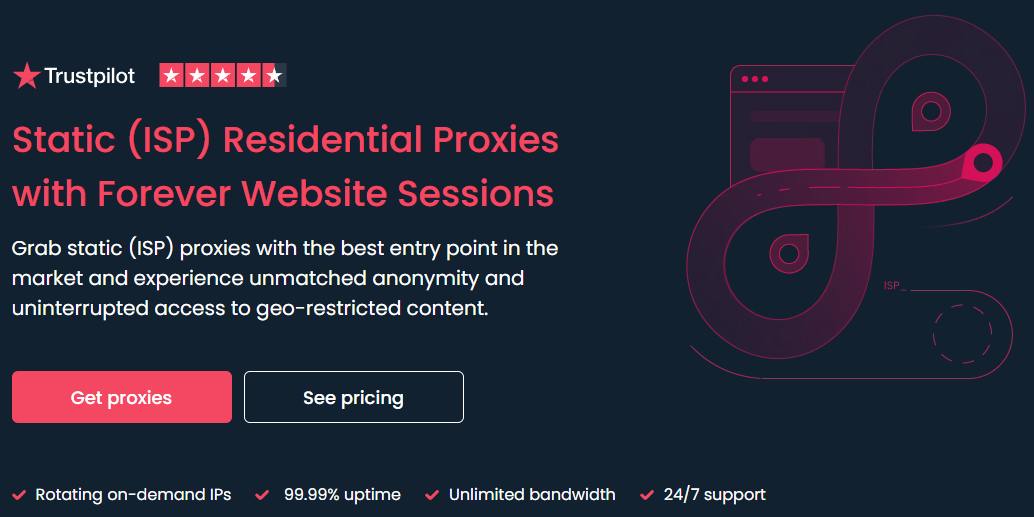 Smartproxy is our recommended ISP proxy provider if you need static residential IPs from the United States. This is because of the kind of performance, level of flexibility, and freedom, as well as the money-back guarantee you get. First, just know that they have a shared pool of ISP proxies you will use with others.
But the good news is they are hosted on high-powered datacenter infrastructure, and the number of users per IP is limited, thereby preserving its performance for you. One thing you will come to like about this is that you could actually change the IP assigned to you if you don't want to — this makes it quite flexible compared to any other providers as it makes it a rotating on-demand static proxy.
About the money-back guarantee, the service permits you to ask for a refund within 14 days of using their proxies, provided you meet certain conditions available in their term of refund. You can create an unlimited number of threads and sessions without any issues.
The pricing for the service is surprisingly priced based on bandwidth, and it starts from $28 for 2 GB at a price of $14 per GB. The more bandwidth you purchase, the cheaper the price per GB becomes.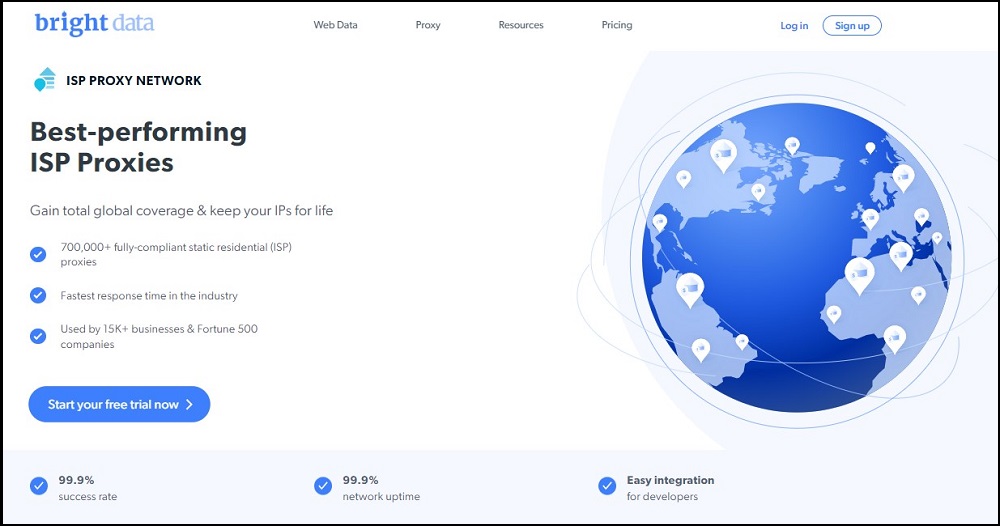 Bright Data seems to be the provider that has it all. Previously known as Luminati, this company offers many products, including ISP proxies. Considering the type of proxies we're looking at, you shouldn't expect numbers like with the residential ones.
The company has over 700 thousand IP addresses gotten directly from ISP from 49 countries. Looking at the pool, this is a solid number, meaning you get a lot of flexibility. In addition to that, the popular Bright Data advanced geo-targeting feature applies here, meaning that you can choose your IP addresses from the exact location you need to.
Naturally, all of this doesn't come cheap, and like with its other products, the ISP proxies from Bright Data aren't the most affordable. The pricing structure is pretty straightforward. There's a monthly commitment where you get a certain amount of proxies and included bandwidth.
You have 3 packages with the price starting from $500 per month. There is another package that enables you to customize and get as much as you need. Alternatively, you can go for the pay-per-use package, which is like a pre-paid one.
Bright Data is known for having the longest free trial of all providers on the market. Unlike most of its rivals, here, you have 7 days to test the ISP proxies before committing to purchasing a package.
---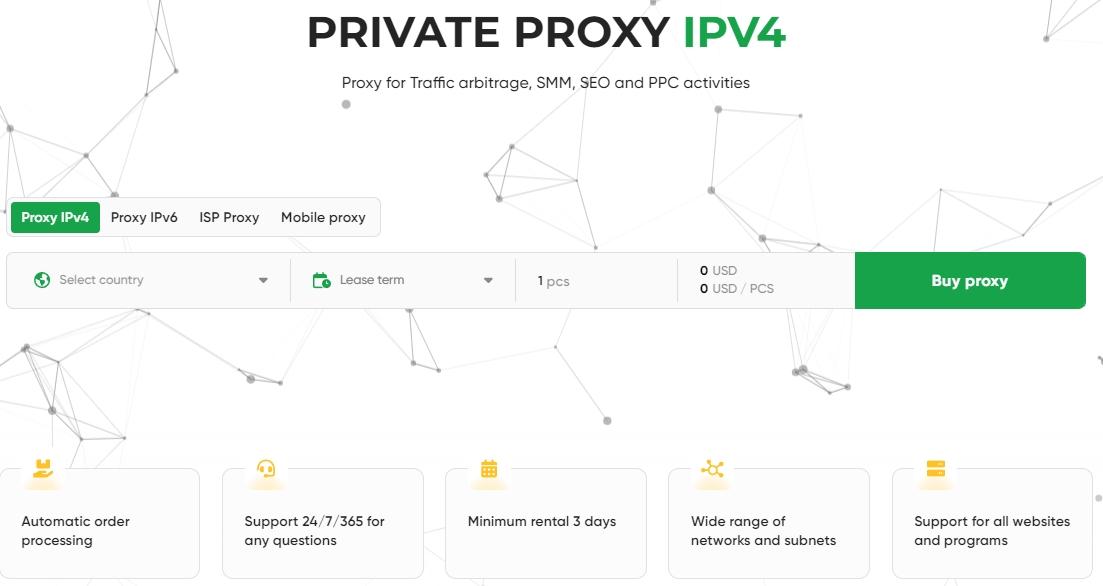 Proxy-IPv4's ISP Proxies are not just your regular proxies; they are a testament to high performance. With speeds soaring up to 1Gb/s, users are guaranteed a seamless online experience. Add to this a whopping 99% uptime and minimal latency, and you have a proxy service that promises efficiency at every turn.
These proxies are not just about speed; they're about versatility. Whether your focus is on SEO, SMM, or just general browsing, Proxy-IPv4 has got you covered. Their ISP Proxies are tailored to support a myriad of online activities, ensuring that users always have the right tool for the job.
Perhaps one of the most striking features of Proxy-IPv4's ISP Proxies is its pricing. Starting at a mere $0.47 for a 3-day access, it's a cost-effective solution for all. Moreover, with flexible plans ranging from 3 days to 90 days, users can choose a package that aligns perfectly with their needs.
Proxy-IPv4 doesn't just stop at affordability; it ensures global accessibility. With proxy locations in key digital hubs like England, Germany, the USA, and Brazil, users can tap into a vast online landscape, ensuring a strategic online footprint.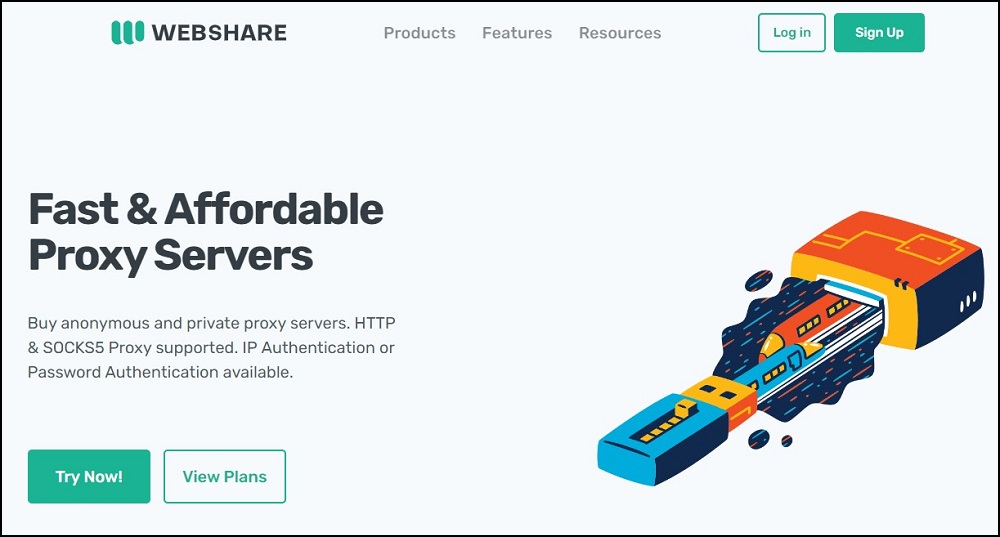 Next on the list is a provider that's often considered a direct competitor of the previous provider I mentioned. Webshare is a company with multiple products available, including ISP proxies, but things aren't as flexible.
Like before, the number of IP addresses is available on the website but includes all types, so we don't know how many ISP proxies are available. As for the location, you're looking at 29 countries, which isn't a lot, and most of the locations are in Europe. To be fair, Webshare has proxies in America and a few countries in Asia, and one in Africa.
What this provider lacks in flexibility makes up for affordability in some cases. Unlike IPRoyal, Webshare uses the traditional pricing structure, so it's not as flexible as its competitor. There are 6 packages, ranging from 25 proxies to 1000, with the prices starting from $105 per month.
It means that for the smaller packages, you are looking at more expensive proxies than the previous provider. On the other hand, for the larger ones, the prices per proxy are lower. Each package comes with unlimited bandwidth, but there is a limit on the threads, ranging from 500 to 3000.
Even though Webshare has free proxies at its disposal, they aren't ISP ones, so you can really test those for free. As an alternative, you have a refund policy enabling you to test the proxies for 2 days and ask to get your money back if they don't perform as intended. Keep in mind that there are some conditions involved, including the amount of bandwidth used and the size of the package.
---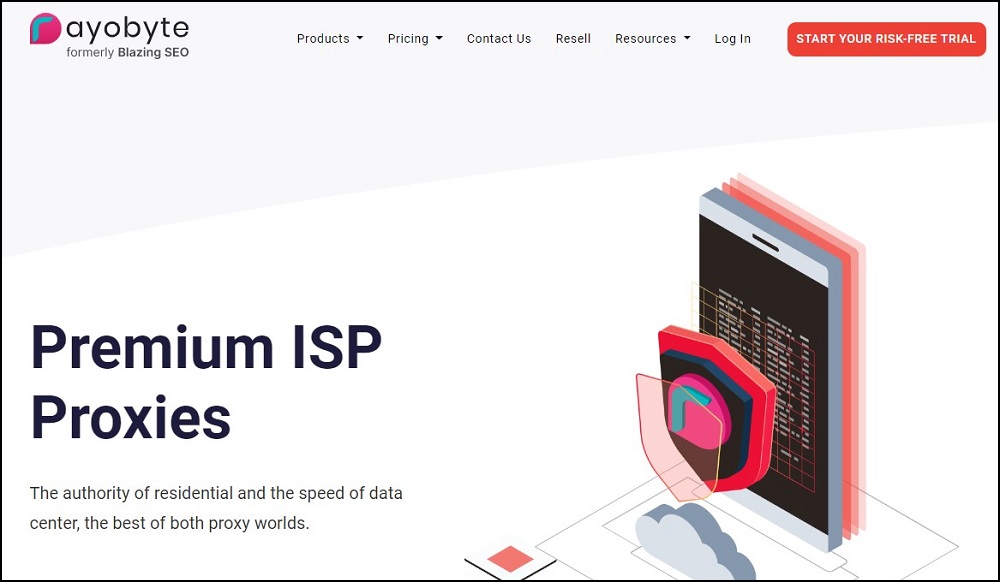 You may be confused by the name, but you have read about this provider before. Rarobyte was previously known as Blazing SEO, a provider I usually mention for datacenter proxies. In this case, I'll be talking about the ISP proxies it has to offer.
When compared with some of the other names on this list, Rarobyte doesn't seem to be as flexible. As far as numbers are concerned, there is no information about the number of IP addresses the company has in its pool. Location-wise, you can get proxies from the US, UK, and German only, which isn't the most flexible option on the market.
Looking at the pricing structure, Rarobyte seems to be a mix between Webshare and IPRoyal. There are tiers where the price per proxy depends on the amount you're purchasing. The smallest one is the starter which covers from 5 to 99 IP addresses where you'll be paying $5 per proxy. You can get them for cheaper, but only in the upper tiers, which go up to 4999 IP addresses.
Enterprise clients that need more can reach out to the sales department and get a more affordable quote, but at the end of the day, you are still looking at a premium price tag. While the prices are higher, you are getting no limitations on bandwidth and connections, which may be a good option for some.
Even though Rarobyte has a refund policy on some of its products, that doesn't apply to the ISP proxies. This means that all purchases are final, and there's no way to get your money back if you're unsatisfied with how the service performs.
---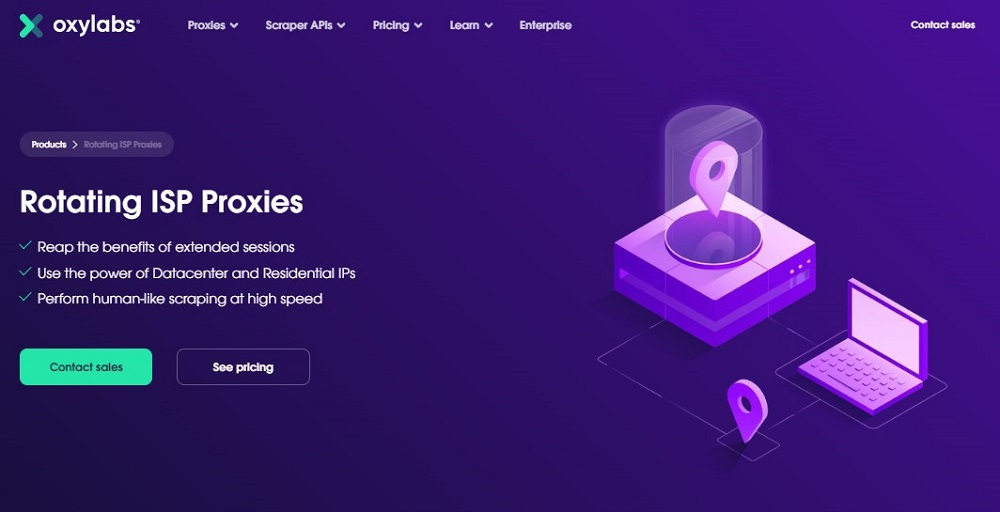 Another prominent name in the proxy industry is Oxylabs. In many ways, this is a direct competitor to the previous provider, but a few things are different, mainly revolving around the company's information.
Most providers offer some information about the pool of proxies they have, and Oxylabs does that, but not for the ISP proxies. At the moment, the company doesn't outline the number of IP addresses and the location it has. Considering that it's a veteran in the field, I doubt we'll be looking at poor numbers.
While there isn't a lot of information about the pool of proxies, Oxylabs has one thing that goes in its favor: pricing. Unlike the previous provider, this is a slightly more affordable option with a different structure.
There are 3 predefined packages that differ in the amount of traffic included. You can also get a custom package if you need over 1 TB of traffic. For each package, the proxies are rotating, but you can keep a session with a single IP active for up to 5 hours.
Even though Oxylabs has a free trial option, it's not available for the ISP proxies. Instead, you have 3 days to ask for a refund, as long as you haven't used more than 20% of the included bandwidth.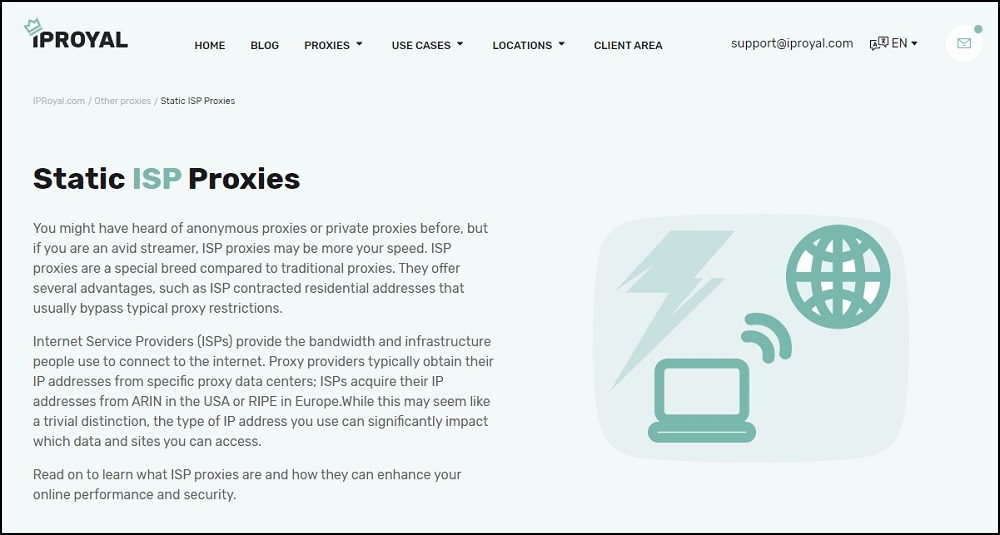 This is a name we don't see too often on many lists, but it needs to be mentioned in this case. IPRoyal, like most providers on this list, offers multiple products, including ISP proxies.
In terms of the pool size, things are as enigmatic as with Oxylabs. IPRoyal mentions the number of IP addresses it has, but that includes all types of proxies, not the ISP one in particular. As for locations, there are 18 countries to choose from in America, Europe, and Asia, so it's decently flexible.
Most proxy providers have multiple pricing packages to cover most people's needs, but with IPRoyal, you don't have that, which is a good thing. With this company, you're paying per IP address, costing $2.50. As a result, you can get as little as 1 IP address and as many as you need. Regardless of how much you get, there is no limit on the bandwidth, a rare sight in this category.
While IPRoyal does many things right, there are some things I'm not a huge fan of. The company doesn't offer a free trial, and all purchases are final, meaning there's no refund option. As a result, you cannot test the proxies, so I recommend getting one, and if it works well, get as many as you need.
---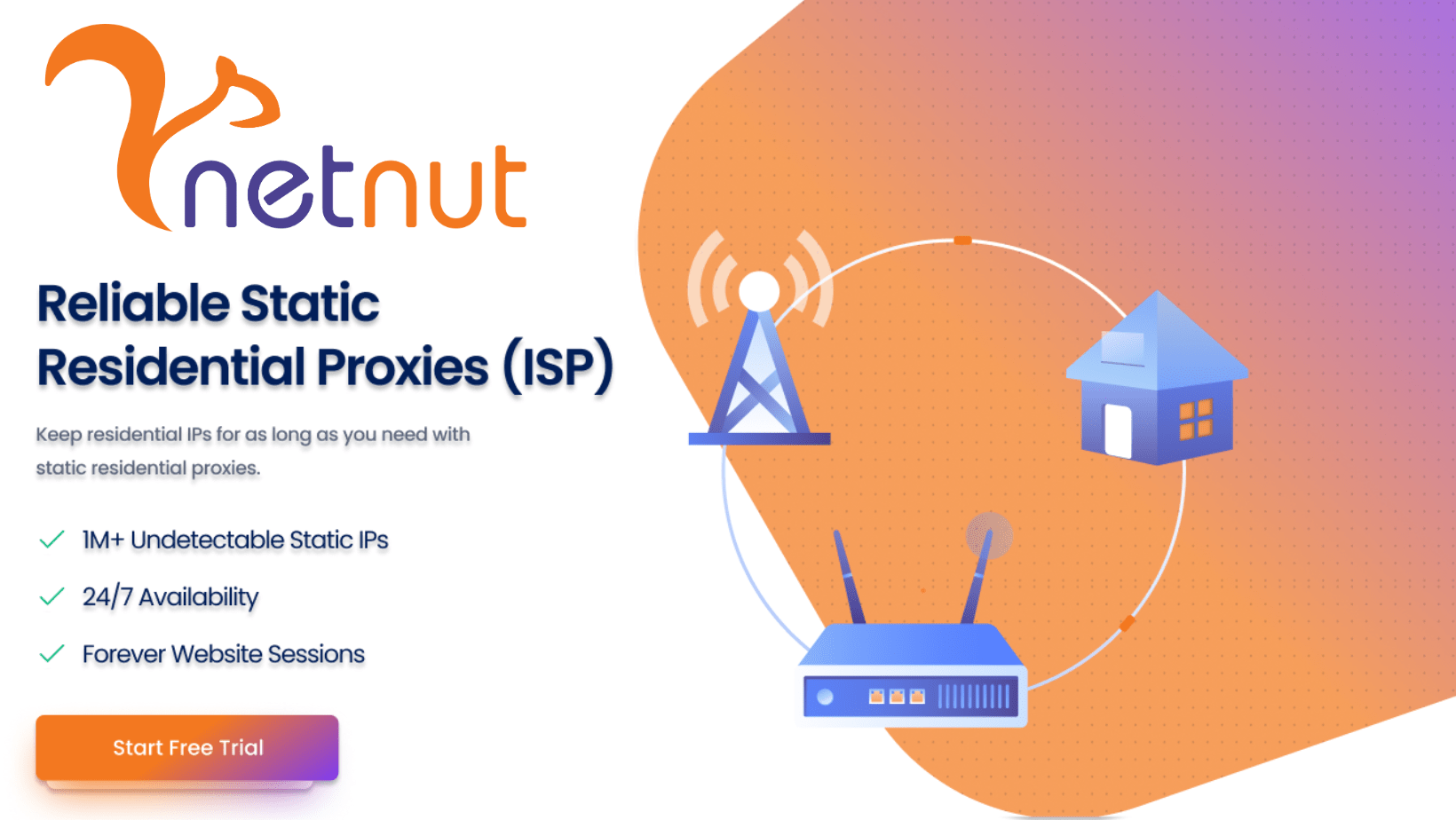 NetNut stands as a big player in the proxy service provider ecosystem, offering a unique combination of ISP and P2P proxy networks. This results in incredible speed, anonymity, and overall performance of all its proxy service offerings. NetNut has a decent pool of IPs spread across the globe, meaning companies and businesses can access any market of any country, breaking through stubborn geo-restrictions and effortlessly obtaining vital web data.
NetNut's residential proxies come with exceptional features, including easy browser integration for rotating proxies per browsing session. The dynamic P2P proxy network ensures 24/7 availability and impressive 99.99% uptime. These qualities make NetNut ISP proxy one of the fastest in the industry, dynamic, and a reliable choice for lightning-fast data collection and web scraping which internet-heavy companies require. 
One aspect we like is the fully optimized proxy pools tailored to user targets. Moreover, the API allows almost real-time access to usage data, complementing the user-friendly dashboard. The fact that you get worldwide coverage is a significant advantage, as other ISP providers often offer limited city coverage. 
Their customer service is usually top-notch too, typically assign the client to dedicated account managers to handle technical and not-so-technical issues when they spring up. 
NetNut's pricing package is flexible, catering to a wide range of industry needs and budget requirements. You can start with 20GB for $350 per month and easily scale up to bigger packages if you require more bandwidth. The 7-day free trial we love, as you will too.
---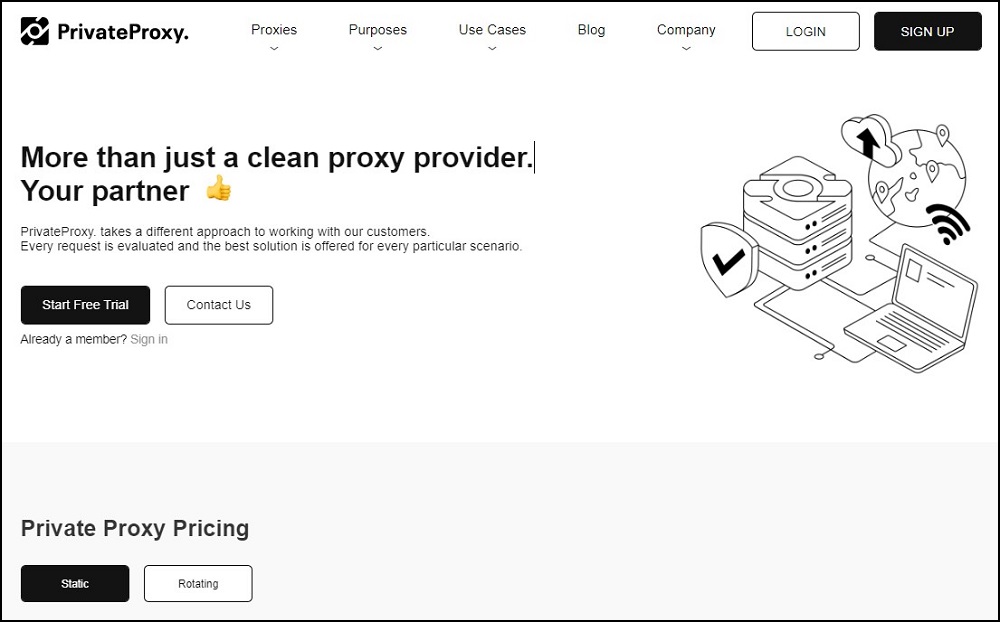 This next entry on today's list is often considered a one-stop shop for proxies. Private Proxy offers a plethora of products, ranging from datacenter to sneaker proxies. Naturally, it also offers ISP proxies and has a slight advantage over some of the other options on this list.
One thing that many providers don't seem to offer is information about the size of the pool, and Private Proxy is no different. The number of IP addresses is unknown, and even though the company claims to have proxies in every country in the world, that doesn't apply to the ISP proxies. For these, you can only choose between US, UK, and German proxies, which is a bit more flexible than some providers that offer US proxies only.
When it comes to packaging, Private Proxy has two types of ISP proxies – rotating and static. The rotating ones start from $150 per month with no limit on the bandwidth and connections. Instead, you are limited to the number of requests you want to make.
As for the static ones, the price starts from $5, where you get one ISP proxy with unlimited connections and bandwidth. You're also eligible to get 1 swap per month for free and the option to choose multiple locations. For both types of proxies, if the predefined packages don't work for you, you have the option to reach out to support and ask for a custom plan.
The best part about Private Proxy is that you have an option to test before you buy. There is a 2-day free trial period which may not be the longest in the industry, but it's still enough to test and see if this is a good option for your needs.
---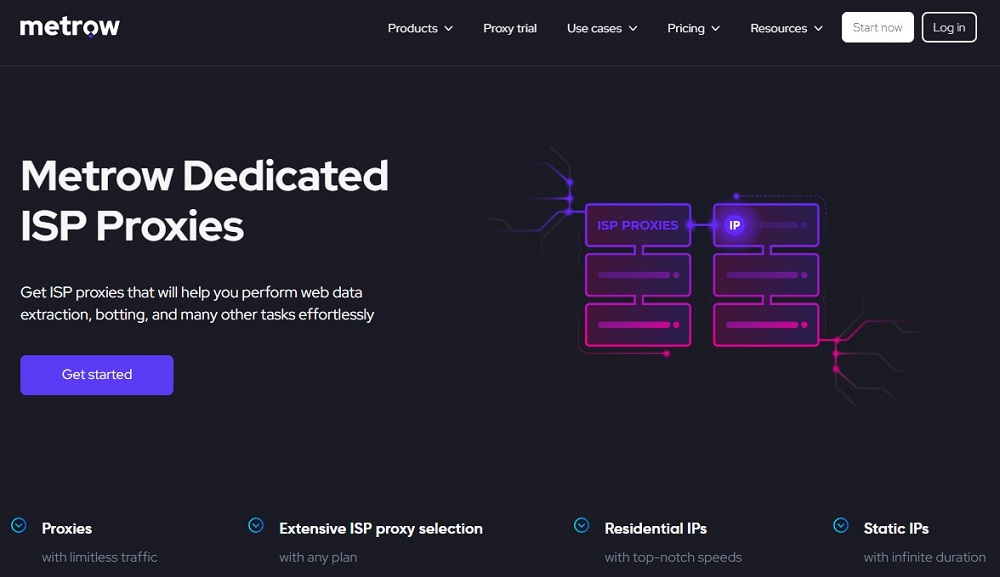 Moving on to some lesser popular providers, we have Metrow, a name you won't find in many lists. Considering what it offers, it's a shame, as its ISP proxies can be a good option for some people.
Right off the bat, things don't look too good compared to some of its rivals. The number of proxies is unknown, and the company just claims to have a bit pool of them. In terms of locations, Metrow is even in a worse situation, as it only offers ISP proxies from the US. While this may seem inflexible, it's not a bad choice, especially if you need proxies from a US state.
One thing Metrow has working in its favor is the pricing. While it's not the cheapest option you can find, it is fairly affordable. There are 3 pricing plans available, which start from 10 IP addresses, and you can get as many as 50, and the prices start from $30 per month, so it's $3 per IP address.
Going for the most expensive option will give you a better value, and if you need more, you can reach out to them and ask if you can get a custom package. The prices may not be the most affordable, but the features in each package make up for that. Regardless of which package you choose, you're getting everything unlimited – bandwidth, threads, and concurrent sessions.
A trend is emerging where you cannot test or ask for a refund, and Metrow falls in that category. The company doesn't offer a free trial or a refund option, so I recommend getting the smallest package in case it doesn't work as intended. That way, if you're not satisfied with the product, you won't lose a lot of money.
---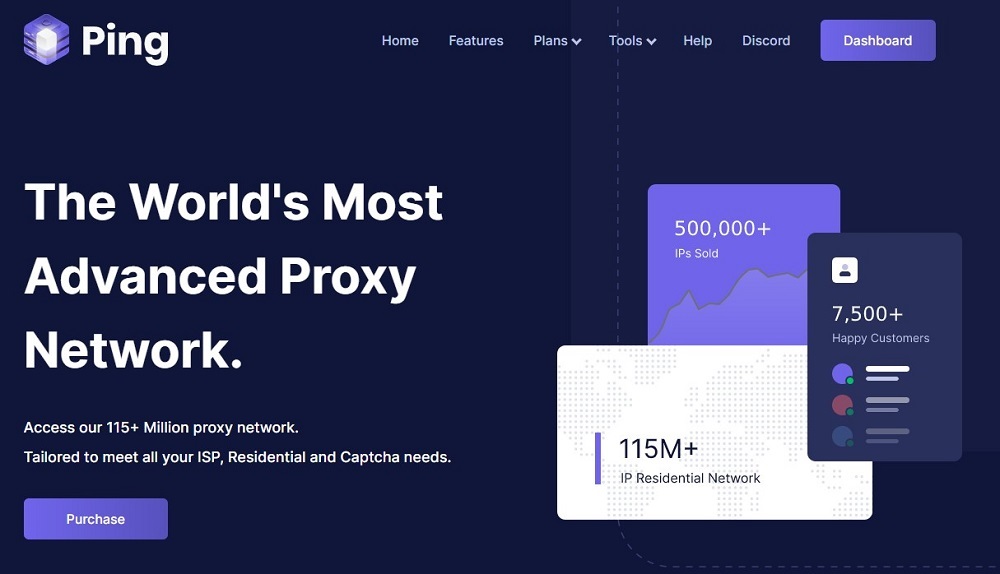 Another less popular provider we have today is Ping Proxies. Like the previous one, it offers multiple products mainly revolving around residential IP addresses. As a result, the company also has ISP proxies, and based on its claims, we're looking at a solid performer. Technically, this is a provider mainly dedicated to sneaker proxies, but that shouldn't stop you from finding other applications for them.
The details about the pool of proxies remain unknown, which isn't surprising in this area. As for the locations, there is some guesswork involved, but it should give you a solid idea. Ping Proxies says it sources IP addresses from prominent carriers operating in the US and Europe. You probably won't get every location on these continents, but I believe that it should be flexible enough for most people.
In the pricing department, things are looking good, flexible, and decently affordable. The lowest package you can get is for 10 ISP proxies, setting you back $30 per month and allowing you to choose between US and Europe IP addresses.
The duration is another area where you can customize your package, ranging from 3 days to 3 months. Naturally, going for a longer duration means you'll pay less per IP address. The maximum number of ISP proxies you can get is 1000, but the company doesn't say if a custom package is available.
Considering the type of service Ping Proxies offers, it's no wonder that a free trial isn't available. One thing that seems to be a major drawback is that there is no refund option as well. Like with other similar providers on this list, I'd recommend getting the smallest package to ensure that the product will suit your needs.
---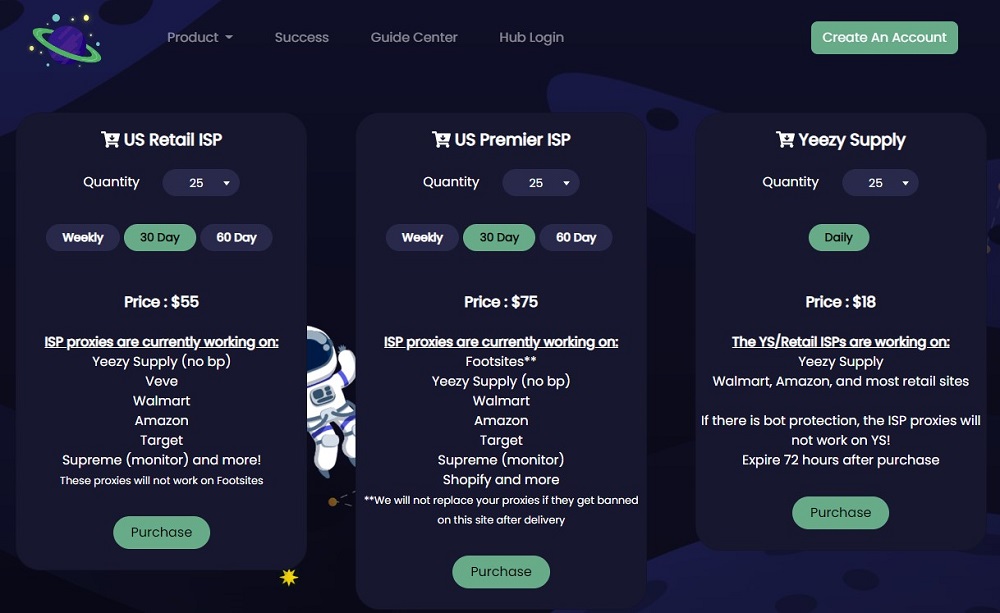 Last but not least, we have Space Proxies, another ISP proxy provider that mainly deals with sneaker IP addresses. Similar to the previous company, despite the "sneaker" tag, there are no restrictions on using the proxies for other applications.
I may sound like a broken record by now, but this is another provider that doesn't offer much information about its pool size. The only thing is that the ISP proxies are from the US, but Space Proxies doesn't mention which states are covered. This is the least flexible one compared with other providers on this list. With that said, there is an advantage in terms of the pricing.
Space Proxies offers two types of ISP proxies – Retail and Premier. The first one is like the standard option, while the second one works with some of the more exclusive websites. Looking at the packages, things are a bit limiting, and the smallest plan you can get is 25 IP addresses that cost $55 for the Retail ISP and $75 for Premier.
For both types, you can go up to 100 proxies, and there are 3 package durations available – weekly, monthly, and 60 days. Unfortunately, there isn't an option to get a custom plan, but this provider's advantage is the value. While it's not the cheapest option, it's among the more affordable ones.
These kinds of services usually don't offer a way to test their products for free, and the same can be said about Space Proxies. The company doesn't offer a free trial, or a refund policy, making all purchases final.
Are ISP proxies faster than datacenter ones?
Technically no. Even though ISP proxies come from providers' servers, you won't be getting the full force of the connection, and in most cases, you're looking at several hundred Mbps speeds. As a comparison, datacenter proxies have at least a 1 Gbps connection, and the provider won't limit you with that.
Can I find free ISP proxies?
In the world of proxies, you can find some of them for free, but that's not the case with ISP proxies. Since these come directly from providers, there is no way to find them on a website without paying for them. If you come across claims like that, you should know that it's probably a scam.
How are ISP proxies different than datacenter and residential?
To answer this, here's a quick lesson. Datacenter proxies are IP addresses sold in bulk and assigned to servers that proxy providers own. On the other hand, residential proxies are IP addresses that providers get from end-users. People that pay for a home internet connection get an IP address from the ISP, and that IP address is used as a proxy.
On the other hand, ISP proxies are actually residential ones but sourced straight from the provider. Unlike residential, where you have the user as a middleman, with these, you avoid that. As a result, you won't have the speed limitations that end-users often have and will get the full speed that the ISP can assign.
Will websites detect ISP proxies?
In most cases, they won't. At the end of the day, ISP proxies are residential ones, so you can expect full anonymity and very slim chances of websites finding out you're using a proxy.
---