Want to be the first to get a particular pair of sneakers? With our list of sneaker bots, your chances of getting them will increase dramatically. Check out our list of recommendations.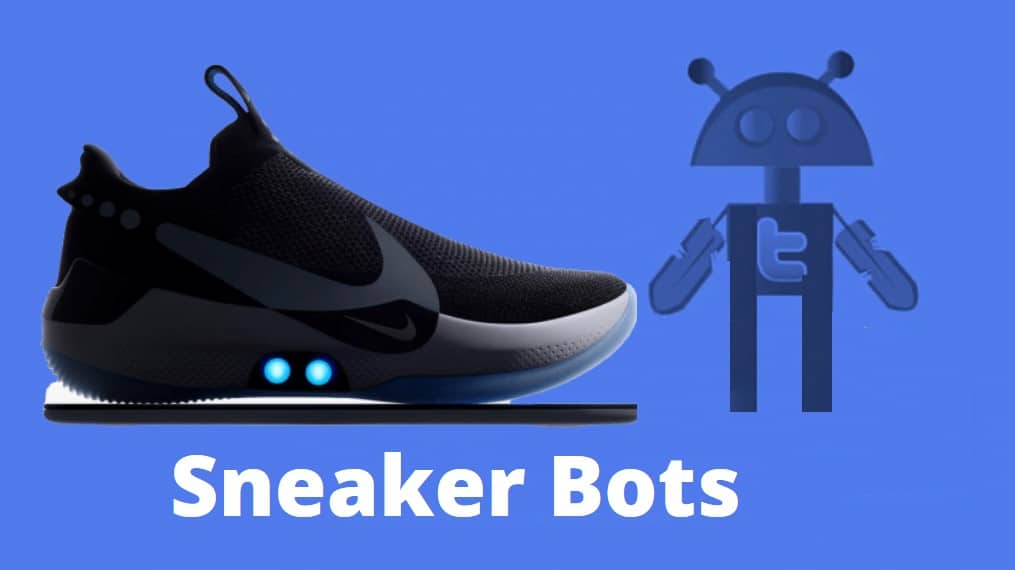 As technology is progressing exponentially, we keep seeing all kinds of automated software that makes our lives easier. Personal aid aside, a lot of these computerized bots have been helping companies grow their businesses and profits. Among the many bots available for use are sneaker bots.
Some might be confused by the fact that someone developed a bot for sneakers, but they have played an essential role in the process of purchasing sneakers for years. Sneaker bots are designed with one thing in mind – purchase sneakers as soon as possible. The soon as a possible part is usually a few seconds after an official release is being made.
Those seconds can be crucial if you are after some limited-edition sneakers. The entire process might take you a few minutes, but the bot will have it done in under a second. One thing that people often get wrong is the purpose of the sneaker bots. They are designed to increase your chances of getting the pair of sneakers that you want, but they do not guarantee you that.
Today's article will cover ten of the most popular and commonly used sneaker bots available on the market. Bear in mind that these are not the only sneaker bots available, so if none of them work for you, there are others that you can choose from.
---
A direct competitor of Nike Shoe Bot is AIOBot. If you compare them side by side, you might find that the features are somewhat similar.

With over 290 thousand successful sneakers purchases, AIOBot seems like something that you might be interested in. the five-step process of getting a new pair of sneakers seems like the right choice for anyone. Feature-wise, AIOBot is no slouch – it has:
Support for up to 100 accounts
Link monitor
Auto checkout and retry
CAPTCHA solver
Proxy support
Queue bypass
Email and SMS notifications
Find the Best Sneaker proxies to handle more accounts!
An extensive list of supported websites is as important as the set of features. AIOBot's list is not the longest one we have seen, but it covers the most significant websites. It can work on Adidas, Footlocker, EastBay, Footpatrol, and quite a lot of other Shopify websites – including around 75 retail sites.
The pricing is not this bot's strong suite. The price is $325, but unlike NSB, you get AIOBot with only six months of upgrades. Also, even though it is available for Windows and Mac, if you intend to run it on a Mac, you will need to set it up through a virtual machine.
---
Better Nike Bot is a bot that might confuse some people. Initially, the bot was created for purchasing sneakers from Nike only, but with time a lot of other features and supported sites were added.

Unlike some of their competitors that offer bots that work with Nike and other sneaker sites, BNB has them separated into two different products. Regardless of which product you choose, both come packed with the features needed to make your purchase:
Multi-thread support
Proxy support
Unlimited accounts
CAPTCHA solver – manual and automatic
CC checkout (for the AIO bot)
Account and order checker
This is where things start to go downhill. The Nike bot costs $200 for a 6-month license, which is not the most expensive Nike bot, and the fact that it works is excellent. Priced just like the Nike Bot for the 6-moth license, the AIO bot may have a lot of features, but the list of supported websites is not as great as we would like it to be. On top of that, the support for Adidas sneakers will be "available" only for hyped releases.
---
This bot is a bit different than the others. Unlike a lot of bots that are being used today, the most advanced bot is not software in the form of a standalone application. Instead, it is a Chrome extension.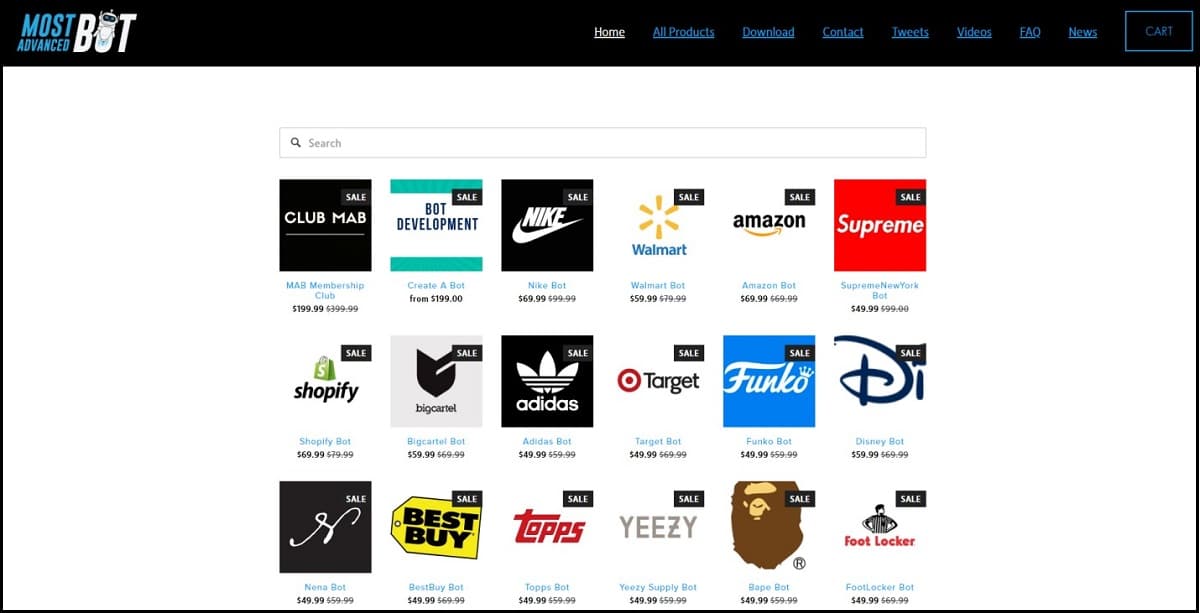 Another unique thing that makes it stand out from the crowd is the fact that you get a specific bot for the website you want to purchase from. Offering over 100 dedicated bots priced between $50 and $100 depending on the site, you get much fewer features than an installable software, but still enough to do your thing. The extension is simple – it can refresh the website until the item is available, add it to cart and purchase it, and it does all of that automatically.
Even though it is a cheaper option than the other bots, there are some limitations. First, you will not be able to use it on any different browser except Chrome.
The bots are cheaper, and for that, you lose a few features, and if that is okay with you, then the Most Advanced Bot is an excellent choice for you.
---
Here we are with another Nike bot, but the bot we are going over is called Another Nike bot. Similar to BNB, this sneaker bot offers a dedicated Nike bot, all in one bot and a Supreme bot.

Each bot comes as a separate installation, and a lot of the features between them are identical:
Multi-threading
CAPTCHA solver
Proxy support
SMS and email notifications
Size selector
Auto retry
Both the Nike and Supreme bots priced $299 and $99 respectively, and work great with quite a lot of locations. The AIO bot is where we see a high price with not so great support. The list of supported websites is excellent and covers over 100 sneaker websites, but for Adidas, it only works on the US website.
Regardless of which bot you purchase, the license will bring you six months of free updates. OS support is confusing. One section of their website says Windows and Mac only, while another part says that Linux is also supported.
Taking the price and features into consideration, ANB would probably not be our first choice, but if the lack of Adidas supported regions are okay with you, then it is a decent contender.
---
We are starting off the list with probably one of the oldest sneaker bots available on the market. Existing for as long as they have means that if you purchase their bot, you will get a ton of features that will help you get the latest sneakers on the market.

A veteran in the field, this bot has quite a lot of features that they developed over the years. The main features it has are:
Multi-monitor
CAPTCHA solver
Smart Login
Easy task editing
Bypass checkout queue
In-bot monitor
Easy to use software
Available for Windows and Mac
An impressive set of features, but there is one big flaw. The bot is called Nike Shoe Bot, but it does not work with Nike sites. Apart from that one, you can make purchases from Adidas, Supreme, Footlocker, and over 100 other Shopify websites.
Priced at $499 per year, the Nike Shoe Bot will undoubtedly give you an advantage when looking to get a new set of sneakers.
---
This next company is offering a mix of standalone applications and chrome extensions. Heated Sneaks has several varieties of services, including an all in one bot and a few dedicated apps.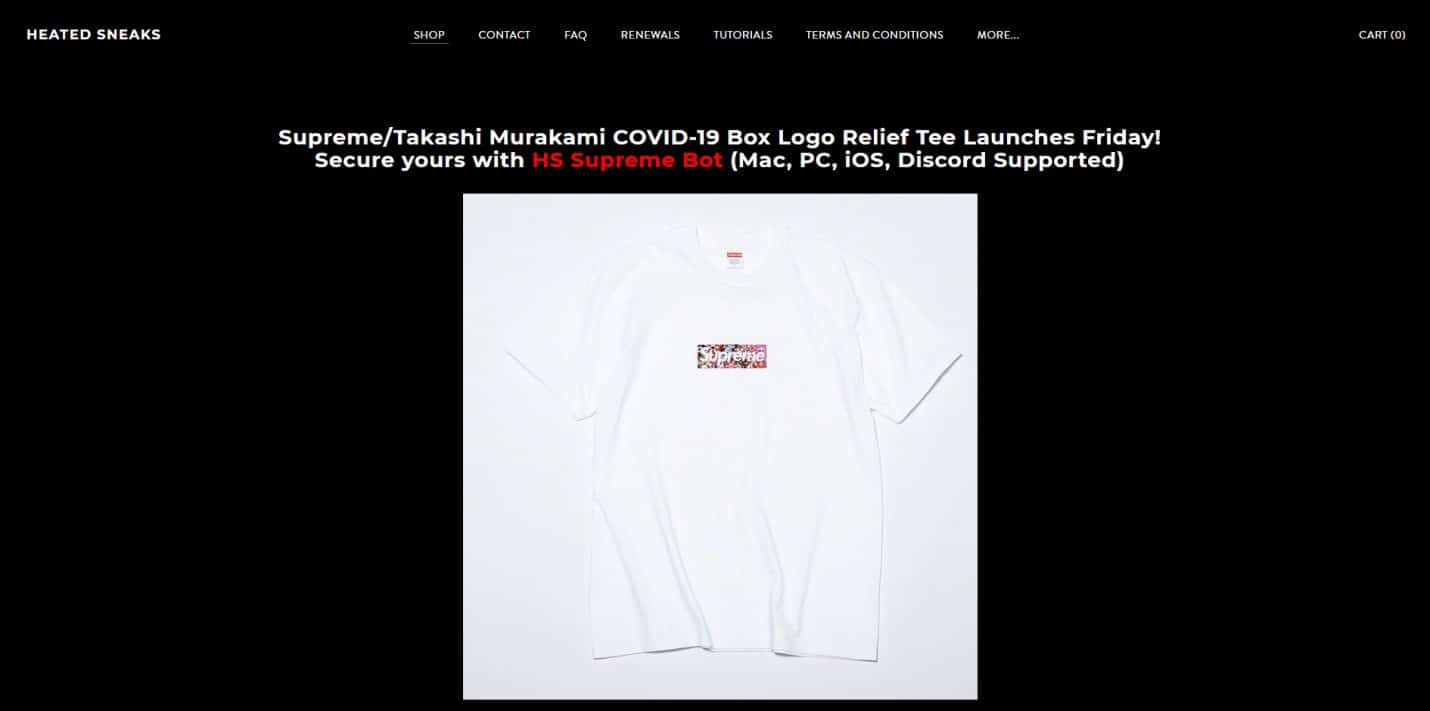 The all in one solution is the chrome extension providing support for quite a lot of the more popular sites like Adidas, Nike, Converse, Yeezy, and over 40 more. The feature set is pretty standard and for the price of $125 you get:
Auto-purchase and retry
Stock monitor
Human-like typing
Anti-bot detection
Unlimited usage
Checkout delay
Start timer
Being an extension means that you can run this bot on any kind of device that supports Chrome extensions, and for the price and features, it is an excellent choice.
A Shopify and Supreme bots are also available, and those are the standalone applications. Prices for both are below $100, and you get an excellent set of features quite a lot, similar to the extension. The Shopify application works on a lot of sites, which is very helpful to have. You can have both of them running on a Windows and Mac computer without the need to run it on a virtual machine.
If you want everything that Heated Sneaks offers, you have a bundle worth $200, which includes all three bots in one package.
Overall, Heated Sneaks is an excellent choice for almost everyone. The low price, in combination with the superb set of features and massive support for websites, makes it a favorite.
---
The next bot on the list is another all in one bot with a different pricing option than the rest of the bots on this list.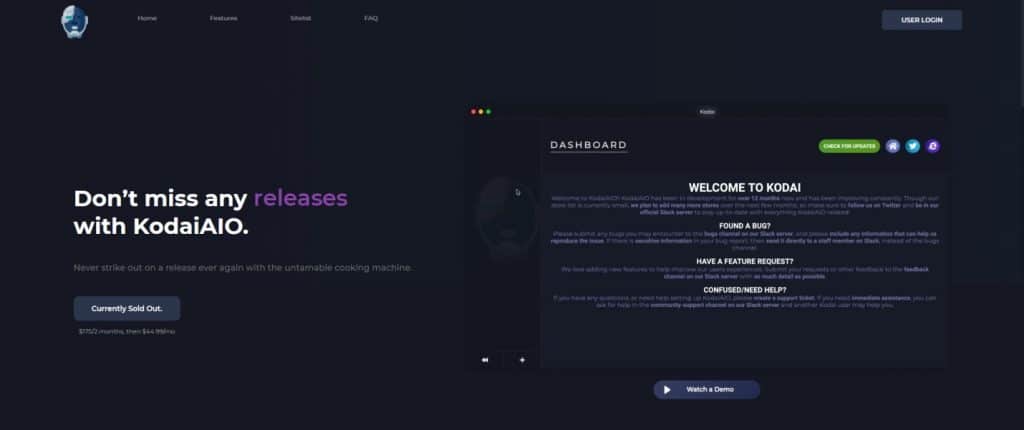 Kodai AIO is a standalone application available for Windows and Mac machines with an extensive list of supported websites. The main selling point is that it covers Adidas, Supreme, and Footlocker shops from quite a lot of countries. Nike is not supported at the moment, and there is no announcement that it might be in the future. Apart from those, Kodai AIO also supports over 100 Shopify websites.
For the price of $175 for the first two months, you get a decent set of features including:
Easy to use dashboard
Proxy support
Proxy tester
Size selector
Calendar with upcoming releases
CAPTCHA solver
The pricing is a bit different here. Once the two months are up, you can renew the license for $45 per month, making it a decently priced sneaker bot. the support for the operating system is pretty standard – you can install it on a Windows or a Mac computer.
Kodai AIO is not a bot that will win any prizes for the price and functionality, but it is still about that will get the job done.
---
Here we have another bot with a similar pricing approach as Kodai. Sole AIO is a company that offers two bots, Nike and all in one bot.

Both the Nike bot, called Sole Sneakers and the Sole all in one bot have a similar set of features and both can:
Make an automatic purchase and retry
Solve CAPTCHAs
Support proxies
Bypass queues
Sole sneakers support purchasing from Nike websites in over 30 regions, most of them in America and Europe. On top of that, you can get it for £80 with a three-month license making it the best pick out of all Nike bots on the list.
Sole AIO is an all in one bot offering support for a lot of major sneaker sites. You can use the bot on Adidas, Footlocker, Supreme, and over 50 different Shopify websites. Region-wise, Sole covers most of the significant regions for the more prominent retailers, so there is a slimmer chance that you would run into an unsupported region. The pricing for this bot is £240, and that includes the license for the first six months.
Unfortunately, there is some bad news. Unlike most of their competitors, Sole AIO only works on a Windows machine, so Mac users would need to look elsewhere.
In general, it is an excellent bot with tons of supported websites for a relatively low price.
---
Project Destroyer is a sneaker bot that claims it will destroy the competition, and there are a few key points that make them say that.


For starters, their bot supports sneaker purchases from over 200 websites, including a lot of Adidas and Footlocker regions, Supreme and a ton of Shopify websites. A significant disadvantage over other bots is the fact that it does not work with Nike. For the price of $200 you can get the bot with some advanced features that give it an advantage:
Waterfall monitor
CAPTCHA harvester and solver
Proxy support
Bulk task editing
Cookie jar
Task scheduler
Unlike Sole AIO, Project Destroyer can work on Windows and Mac computers.
If having a bot that cannot provide support for Nike, then this one is an excellent choice.
---
The last bot on this list is a dedicated one. Hyper Cop Bot is a sneaker bot explicitly designed for purchasing from Supreme websites.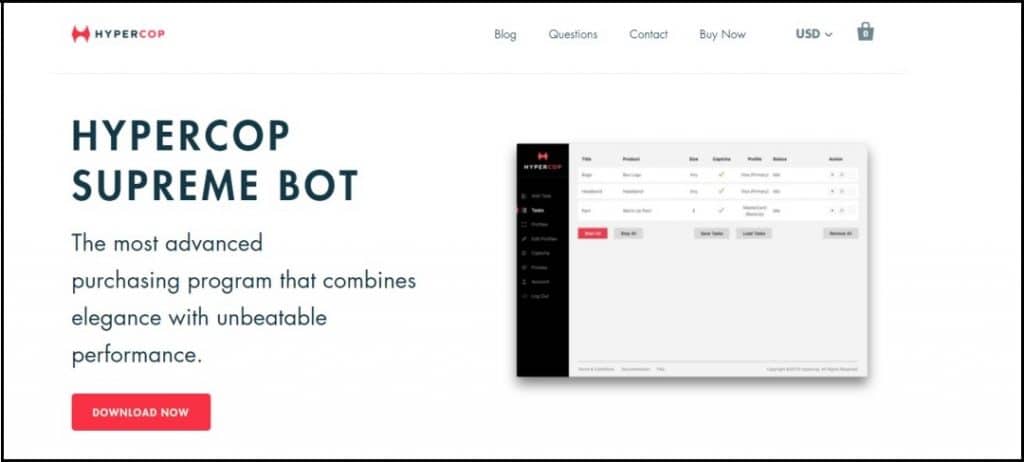 Compared with other bots that support Supreme websites, Hyper Cop Bot has a high edge. For starters, it covers all regions where Supreme is available. Another advantage is the price. For $199 you get a bot with a life-time license as well as:
CAPTCHA prevention
Proxy support
Advanced stock monitor
Advanced keyword search
Color and size selector
Completely autonomous
On top of all that, the bot can be installed on a Windows and Mac computer, and with it, you have no limit on creating tasks.
If you are a regular on Supreme websites and have very little interest in the others, then Hyper Cop Bot is the perfect bot for you.
---
Frequently Asked Questions
Is it legal to use sneaker bots?
Yes, sneaker bots are completely legal. Legality aside, sneaker sites are not fond of people using bots to purchase sneakers. Many implement measures to detect and ban bots from accessing their sites which is why most bots have an AI algorithm that tries to make it look like a human is making the purchase.
Is it safe to use sneaker bots?
Yes. All the information that you input in the bot goes through an encrypted connection, so no one would be able to steal your personal information or credit card details.
Which is the best sneaker bot?
There is no such thing. Each bot is unique in its own way. Some have more features, some have less. Some can work from Nike or Adidas, while others work with Supreme or Footlocker. When choosing a sneaker bot, make sure that it fits your needs and will work with the websites that you want to purchase from.
Will the sneaker bot get me the sneakers for sure?
No. Sneaker bots can only give you an advantage, but will not purchase the sneakers for sure. They work as an automated system that constantly checks when the item is in stock and quickly fills in the info and makes the purchase. The purchasing procedure is the same, just as you would do it by hand, but an automated software does it for you faster than you would.
---
Additional Tips
Now that we have gone over the list of the best and most famous sneaker bots, here are two tips for when you are on the lookout.
Price
All bots are priced differently, some are more expensive, some are cheaper. One thing all of them have in common is discounts. Developers often put the bots at a discounted price, which means that if you are not in a hurry to get a bot, you may save a few bucks.
Stock
Even though these bots are usually sold as downloadable software with a license, there are times when they will be out of stock. In almost all cases, the bot stock will be topped up in about a month. So, again, if you are not in a hurry, you can still get your favorite sneaker bot once it restocks.
---
Conclusion
Sneaker bots have been helping people get their hands on the latest releases from reputable brands. The way they work gives you an advantage, but a 100% success is not guaranteed. The bots on this list are not the only ones available, and you might find bots that will do a better job than these: whichever the case, happy sneaker hunting.
---