Proxifier is considered one of the best proxy management tools, You have complete control over the resources, set rules for which app to run through the proxies, let's find out the proxies for Proxifier and how to set up proxy server with Proxifier here.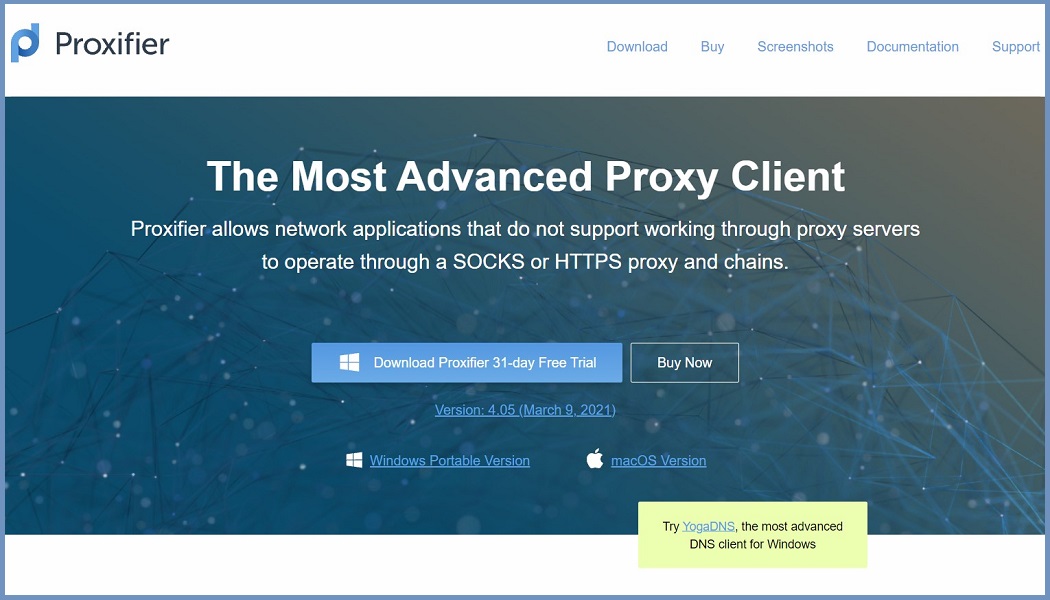 Considering that most of our lives are on the internet, regardless of whether we're talking about business or personal, there are some services that are essential.
Even though I say that they are essential, not all people use them. Take proxies, for example – some people cannot imagine their internet endeavors without them. One of these services is proxies.
There are several reasons why people rely on proxies. The use cases include anonymity, accessing geo-restricted content, managing multiple social media accounts, and more.
In these cases, constantly changing the proxies manually can be problematic, especially if you want to save time. The good news is that there are tools for this, called proxy managers, and in this article, I'll talk about Proxifier.
---
In the world of proxies, Proxifier is considered one of the best proxy management tools. What sets this tool from most of the others is what it offers and how it's packaged.
First of all, Proxifier is a paid service, meaning that it would be an excellent option for enterprise solutions for the most part. I'm not saying that individuals won't be able to utilize it, but if you're looking for a budget-oriented solution, this isn't it.
The price is $39.95 for a license of the latest version, and it's a one-time payment that will give you full access to the tool along with some minor updates in the future. To test the tool before purchasing, you have a 31-day free trial, giving you full access to all of the features.
As for the features, Proxifier has everything. You have complete control over the resources, set rules for which app to run through the proxies and which to exclude, choose faster routes, and a lot more. It is compatible with windows and mac, so it can run a wide variety of devices. On top of that, the installation is lightweight, meaning that it won't slow your system down.
Having a proxy manager is one thing, but it's only a part of the story. To get the whole experience, you also need proxies. For this article, I've chosen 6 proxy providers that you can use with Proxifier. 3 of them are residential, and the other 3 are datacenter ones.
---
Best Residential proxies for Proxifier
---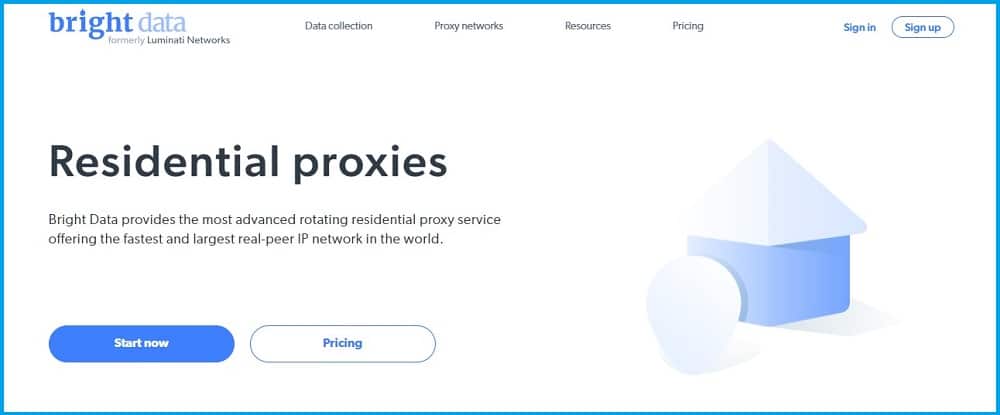 This is a proxy provider that needs no introduction, as long as you're following the proxy trends. Bright Data is an older provider with a new name. Previously known as Luminati, this is an excellent option if you want access to one of the biggest proxy networks in the world.
By going for this provider, you will be getting access to over 72 million residential proxies that you can use with Proxifier. In addition to that, country variety is excellent because Bright Data has IP addresses in every country globally.
This is a provider with a proven record of performance and plenty of features. The most attractive one for most people is geo-targeting. Unlike most of its competitors, Bright Data provides you with an option to choose a specific country, city, or provider, depending on your needs. With a feature like this one, you should expect a higher price tag.
Bright Data is often considered to be one of the most expensive proxy providers you can find today. Despite that, it manages to offer excellent packaging options so that it would work for most people.
You have 4 packages to choose from, where they all get access to the entire pool and the same set of features. The difference between them is the amount of included bandwidth and the price per GB that you pay. If you need more traffic, there is another package to customize the amount of bandwidth you'd need.
In addition to that, Bright Data also offers a flexible package for people who don't need constant traffic. The pre-paid package enables you to load up the account with a certain amount of traffic and use it as you need to.
When it comes to trials, Bright Data is a leader. You'll get a 7-day free trial for you to test the proxies, which is the longest in this industry.
Pros
7-day free trial
Pre-paid package
Over 72 million proxies
Cons
Unlimited bandwidth isn't available
Prices are higher than most competitors
---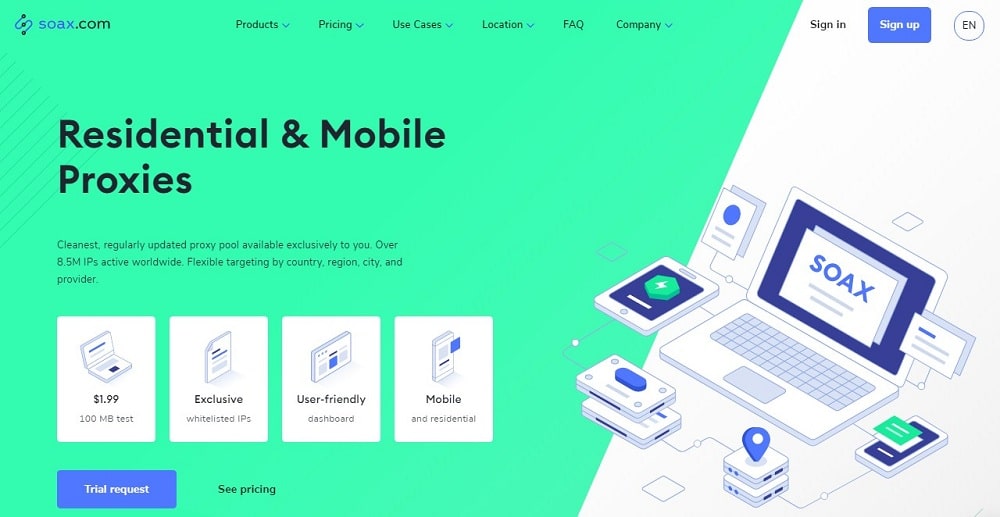 Next up is a provider that sits comfortably somewhere in the middle of the table. Soax has some decent offerings that should be more than enough for most customers at an acceptable price. Even though it won't win any prizes for being the best, it's an excellent option for Proxifier.
In Soax's IP pool, you'll find over 8.5 proxies, which are a combination of residential and mobile proxies. There are around 5 million residential and 3.5 million mobile IP addresses. They come from over 120 countries worldwide, so you are getting a decent variety in terms of location.
As I mentioned, the price is affordable, which is because you aren't getting the biggest pool of proxies nor some premium features. Like with the previous provider, there are 4 pre-defined packages for you to choose from. They are structured based on the amount of included bandwidth. You have the option to ask for more, but going for the custom option, but don't expect an offer with unlimited bandwidth.
Trying before buying is an excellent policy, but unfortunately, with Soax, it isn't free. You have a trial option, but it will cost you $1.99. Despite that, it's an excellent option to test out the proxies before you purchase a full package.
Pros
Affordable
Proxies are a combination of residential and mobile
A decent number of proxies
Cons
A trial is not free
No option for unlimited bandwidth
---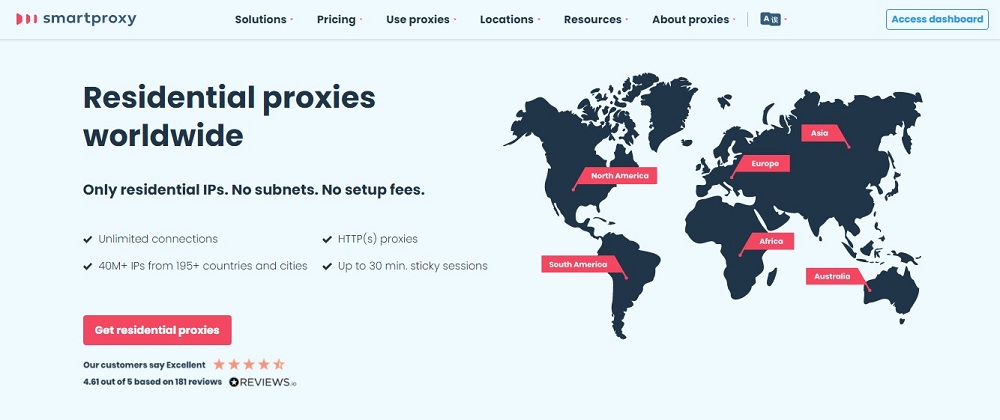 Smartproxy is a provider that needs no introduction. In terms of popularity, it's almost on the same level as Bright Data and is the last residential provider for Proxifier. It's an excellent choice if you're looking for something less expensive than the premium options.
Going for this provider will get you access to a pool of over 40 million proxies that come from over 195 countries worldwide. To be honest, the pool isn't as big as some of the other options, but when you combine that with a slightly lower price tag, it may be worth it to some people.
The set of features is nothing spectacular, and there are some efforts to give you access to premium-like features. Smartproxy has a city-level targeting like Bright Data, but unfortunately, you are limited to only 8 cities at the moment.
The price is acceptable, considering what you get, and you are getting a decent variety. Smartproxy has 3 packages, and like with most residential providers, they are based on the amount of included bandwidth. There is another package that you can customize and get more bandwidth if the largest one isn't enough. With that said, I would have liked to see an option for unlimited bandwidth.
Unfortunately, you won't be able to test the proxies for a fee. Smartproxy can only offer you a 3-day money-back guarantee.
Pros
A large pool of proxies for Proxifier
More affordable than Bright Data
There is a refund policy
Cons
Bandwidth is limited on all packages
A free trial option isn't available
---
Best Datacenter proxies for Proxifier
---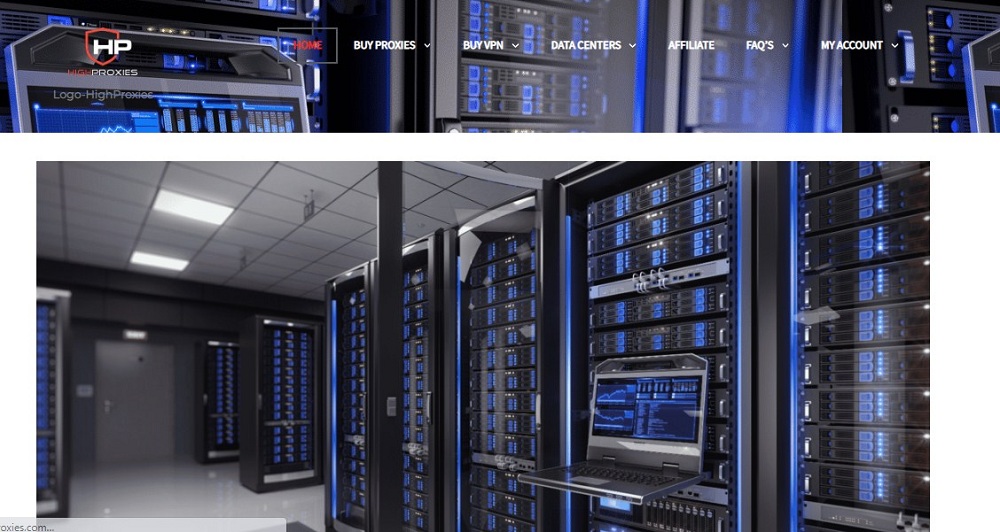 The first recommendation for datacenter proxies for Proxifier is HighProxies. It's a very popular option with plenty of packaging options meaning that you have a flexible provider. As for the pool and features, things aren't industry-leading.
HighProxies has around 85 thousand proxies in 39 locations, which isn't a lot, at least in terms of proxies. As for the locations, over half of the servers are in the US, and the rest are in Europe.
On the feature side of things, HighProxies is like the most typical datacenter proxy provider. The bandwidth is unlimited on all proxies, and all servers are equipped with gigabit speeds. As a result, you should expect excellent speeds.
HighProxies isn't the most budget-friendly option on the market, but there are plenty of packages to choose from. There are 9 plans, depending on the number of proxies that you want to get. One thing missing from the lineup is a custom package, where you can get as many proxies as you want.
When it comes to missing features with HighProxies, the one I'd like to see is a free trial. Even though it costs several dollars to get the smallest package, not everyone would use that to test the proxies. Instead, your only option is to as for a refund within 3 days of purchase.
Pros
Gigabit speeds
Flexible packages
You can authenticate with username and password or IP whitelisting
Cons
The proxy pool is not very big
No free trial
---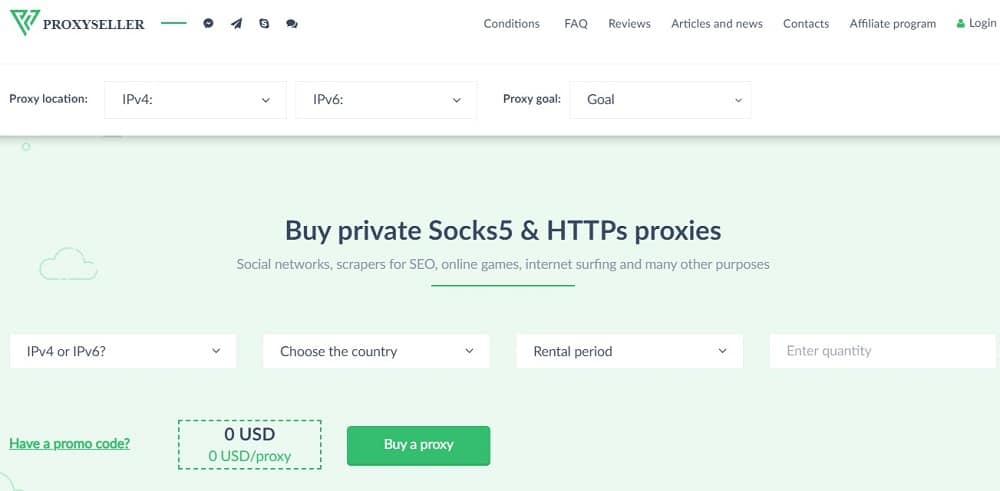 Unlike the previous provider, Proxy-Seller isn't one that most people know. Despite that, there are one or two things that make it an attractive choice as a datacenter proxy provider for Proxifier.
I'll start off with the negative side, and that's the number of proxies. Proxy-Seller doesn't disclose how many proxies it has, which is not something you'd want to see. As for the locations, it has an advantage over some of its competitors. There are over 50 countries in the list, meaning that there's excellent diversity.
The pricing structure is the best side of this provider. Proxy-Seller enables you to create your own package based on the number of proxies, their location, type, and how long you plan to have them. Since there are multiple duration options ranging from 1 week to 12 months, going for a longer period means that you will also have a discount.
In general, combining all 4 parameters means that you have an endless amount of packages.
Like with the previous provider, Proxy-Seller has no option for a free trial to test the proxies. Instead, you will have to rely on the money-back guarantee. You can ask for a refund within 24 hours of purchase, which is a bit limiting.
Pros
Excellent speeds
Over 50 locations
Flexible packaging options
Cons
Only 24 hours money-back guarantee
Free trial isn't available
---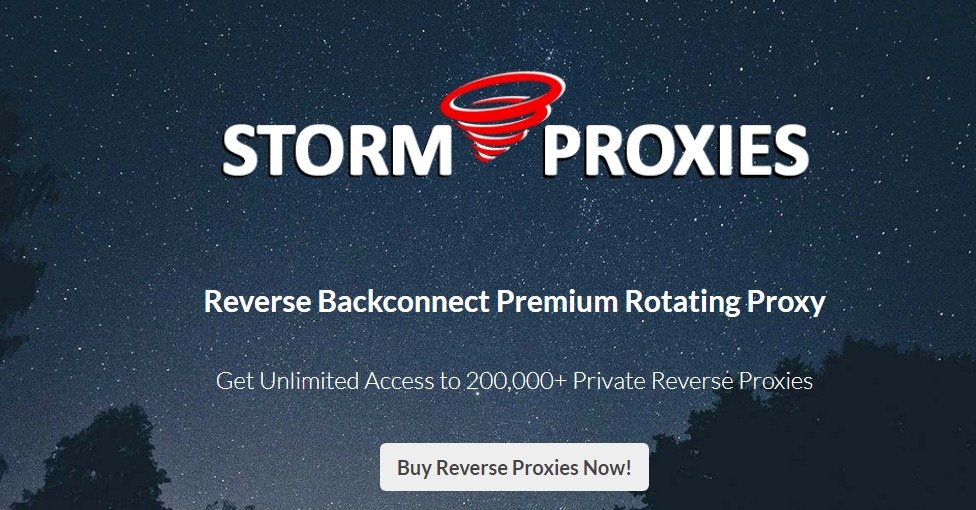 The last proxy provider that I'll be mentioning is Stormproxies. Even though the provider has residential proxies as well, I'm putting it here because I believe that the datacenter ones are a better option.
Stormproxies doesn't outline the number of proxies it has in its pool, an identical approach to the previous provider. As for the locations, the IP addresses are only from the US. It isn't necessarily bad, considering that there are practically no geo-restrictions, and any website will work with a US-based IP address. The problem is that there are only 3 US locations, but the provider doesn't outline them on its website.
On the features side of things, Stormproxies offers everything you'd ever need from a datacenter provider. The proxies are dedicated and come with unlimited bandwidth, regardless of which package to go for. There is also an option to choose between IP whitelist or username and password type of authentication. All servers are connected to gigabit networks, meaning that speed won't be a problem.
The prices aren't the cheapest, but they are not the most expensive either. You have 8 packages to choose from, and the difference is in the number of proxies included. Stormproxies doesn't have a customizable package in case you need more proxies than the biggest one.
Don't expect a free trial because Stormproxies doesn't offer it. Instead, the provider suggests purchasing the cheapest package and testing it. If you're not satisfied with the performance, you have 24 hours to ask for a refund.
Pros
IP whitelist and username and password authentication
Dedicated proxies
Gigabit speeds
Cons
US-proxies only
The number of proxies is unknown
---
Setting up Proxies with Proxifier
Setting up a proxy is a pretty straightforward process. Launch Proxifier and click on the "Proxy servers" icon, the first one on the left. A new window will open where you'll need to click on the "Add" button. Here you will have several options and information that you'll need to take care of.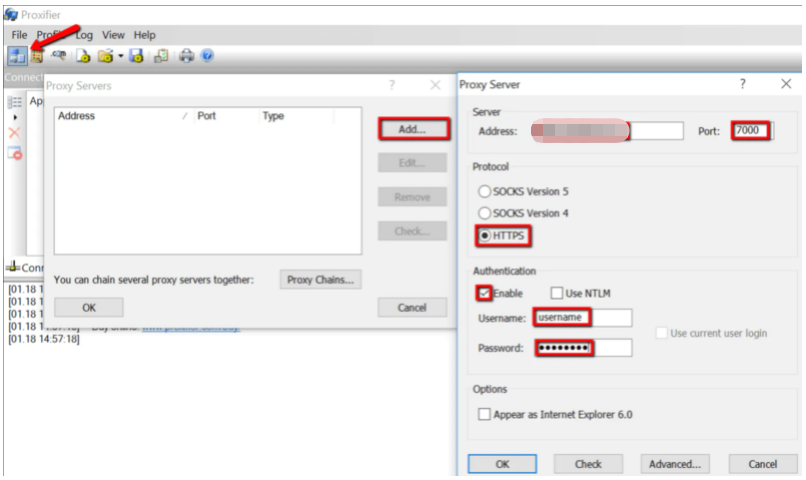 First is the proxy address and the port. The address will vary depending on the provider, and in some cases, it can be in the form of an IP address, while in others, it will look like an URL.
The next information is the protocol which in most cases will be HTTPS unless the proxies you have are SOCKS. For the authentication, if you are using a username and password, then you'll need to enable that option and enter the credentials.
For IP whitelist, you'll need to have that option off, and the whitelisting will be done through the proxy provider's dashboard.
Once everything is done, you'll need to click on "OK."
Proxifier will ask you if the proxy you just entered will be the default one, meaning to be applied for every application on your computer. If you want that, you'll need to click "Yes." On the other hand, if you want only specific apps to run through the proxy, you'll need to click on "No."

To set up specific apps to utilize the proxy, from the main Proxifier window, click on the "Proxification Rules" the second icon on the left. From the new window, click on "Add."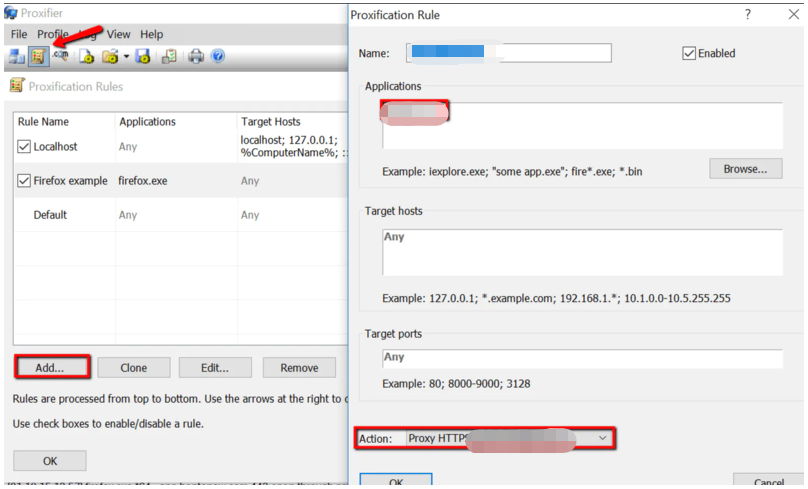 In the first section, you can enter a custom name for the rule you plan to add. Then click on "Browse," navigate to the .exe file of the app you want to use, and double-click it. Under Action, make sure that the option for the proxy you just entered is selected. To save the changes, click on "OK" on both windows, and you'll be good to go.
---