Are you new to Etsy? Have you found the perfect bot, but not sure which proxies to use? Our article of the best proxies for Etsy will help you with that.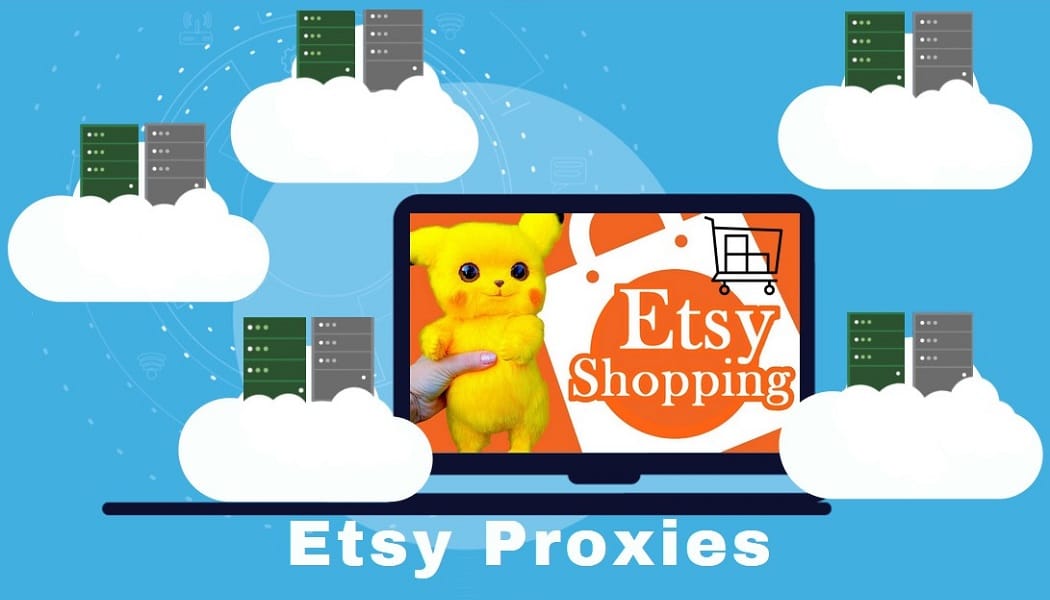 For almost 15 years, Etsy has been the industry standard when it comes to selling hand made and unique items. This e-commerce site provided a platform for many talented individuals that did not have the means or sources to start their mini-businesses.
Even though Etsy provides the platform, the task of growing your account remains a task for you. Some people start that venture manually and go through the tedious task of growing their profiles for years. In recent years bots began to arise. Just as you would typically get a bot to grow your Instagram account, not you can have a bot for your Etsy account. The end result is different, though. On Etsy, you sell what you create, so as your profile grows, you start to sell more, which in return increases your profit.
Another type of bots you can use for Etsy are bots for making purchases. Similar to sneaker bots where you use automated software to make a purchase of a reputable retailer, Etsy purchase bots are used to get your hand on a unique piece of item that you and only you will own.
Regardless of how and for what you use bots, there is one essential thing that always goes along with them – proxies. In order to have the Etsy growth bots function correctly without getting detected, it is imperative to use them. Proxies act as a gateway between you and the internet and successfully mask your original IP address from any server or service that you want to access.
To help you in the search for the best proxies for your Etsy bots in this article, we are going to cover the top three residential and top three datacenter proxy providers.
---
Residential Proxies for Etsy bots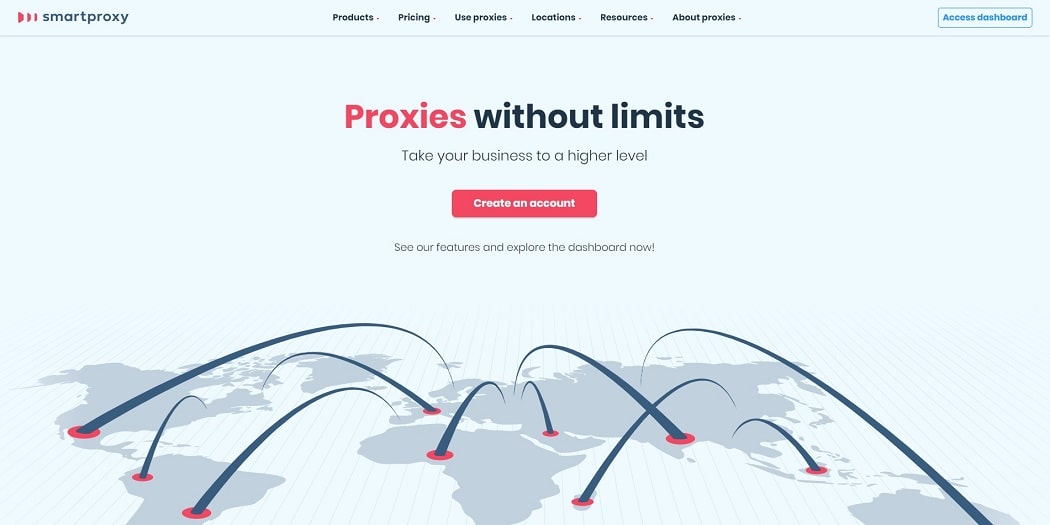 The first Etsy proxies we are going to recommend come from Smartproxy. This proxy provider may not exist as long as some of its competitors, but it is still an excellent provider that we can recommend. The pool of residential proxies consists of over 10 million IP addresses in almost 200 locations around the world – meaning that your bot will seem like it is working from everywhere.
The advanced IP rotation and geo-targeting, combined with the fact that everything goes through a real desktop or laptop device, will only make things look more authentic. The best of all is that these Etsy proxies are not as expensive as some of the others on the market, making them affordable even for people on a tight budget. There are a few downsides, though. Even though you get unlimited connections and threads, there is a cap on the bandwidth. Also, the city level geo-targeting is limited to only a handful of cities.
Read more: How to configure & Use Smartproxy residential Proxies?
Pros
10 million proxies in almost 200 locations
Cheaper than most competitors
Username and IP whitelist authentication available
Advanced rotation control
Cons
City-level geo-targeting limited to only several cities
All pricing plans have a limit on the bandwidth
No trial, only 3-day money-back guarantee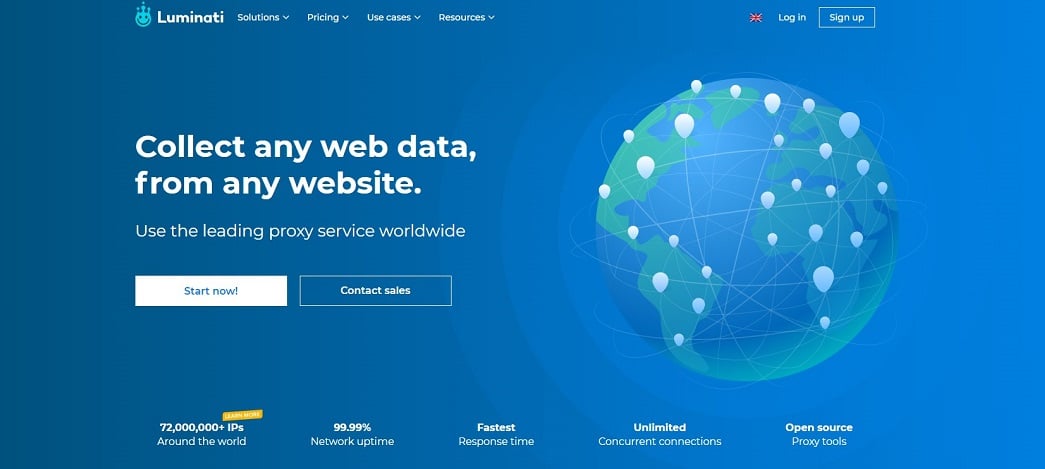 Luminati is not the most popular provider for Etsy proxies; it is the most popular proxy provider in general. Among the many things that make this provider stand out is the number of proxies in their pool. With an IP pool of over 72 million proxies, this is the largest network you can find anywhere on the internet. best of all is that the proxies can be found in literally every country in the world. These two things alone make Luminati an excellent provider for Etsy proxies.
Set up for limitless rotation and advanced rotation options, you will have absolutely no problem using them for your Etsy purchase or growth bots. As with all providers, there are some downsides. Having so many proxies does not come cheap, and Luminati is among the most expensive providers on the market. The advanced rotation settings might be a problem to find because the dashboard seems like it could use a bit simpler layout. Even though bandwidth might not be crucial to your Etsy bots, Luminati's pricing packages have limited bandwidth. On the flip side, you can test drive the proxies with your Etsy bot for seven days before purchasing.
Read more: Luminati Guide: What is Luminati & How to use Luminati Proxies?
Pros
The largest network of proxies on the market
Advanced rotation and geo-targeting
Excellent performance
7-day free trial
Cons
The dashboard can be overwhelming for some users
Expensive
Limited bandwidth
The last provider for residential Etsy proxies is Geosurf. Compared to the other two providers on our list, this seems like a new contender. In reality, Geosurf has been around for quite some time, and it is a decent provider. The 2 million available proxies in over 130 locations around the world are not breaking any records, but they are more than enough for any Etsy bot.
Combine this with the rotation AIO offered by Geosurf, and you are ensuring that you will never be detected. The pricing is not this provider's strongest suit. If we compare Geosurf to Luminati, we see that they are similarly priced, but with not the same options and features. With the price aside, there are still things that can make you reach out to them to get your Etsy proxies. Geosurf will offer you the option to test their proxies with a 24-hour trial limited to only 1 GB of bandwidth.
Read more: How to configure and use Geosurf Proxies on Windows 10?
Pros
Easy to use dashboard
IP addresses in over 130 locations
Decent geo-targeting options
Cons
Expensive for what it offers
Much fewer proxies available compared to competitors
Trial too limited
---
Datacenter Proxies for Etsy bots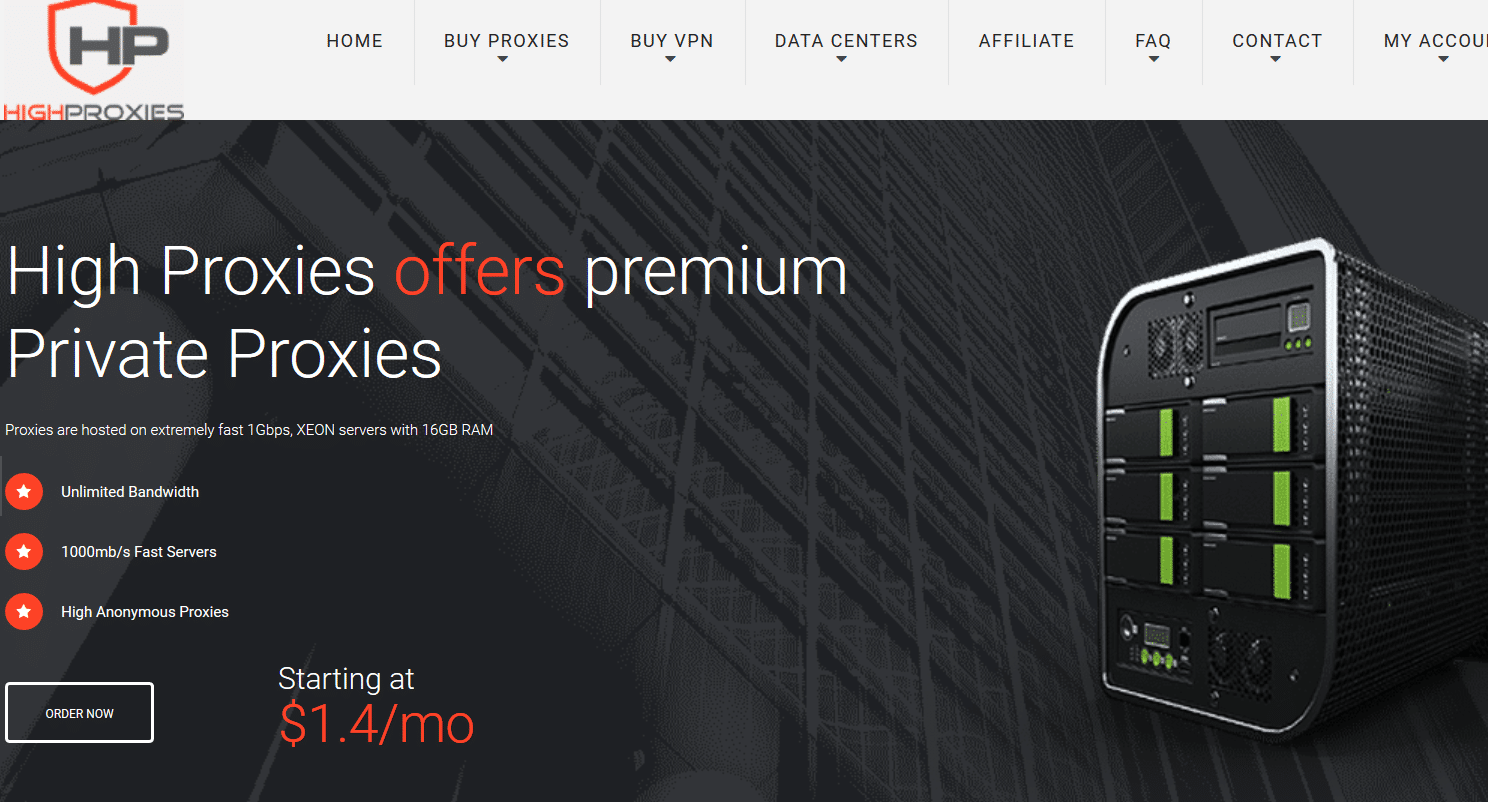 The first of datacenter proxies on this list come from Highproxies. This proxy provider offers an IP pool of 100 thousand proxies in 40 locations in America and Europe, making it a decent provider for datacenter Etsy proxies. You have the option to get private or share proxies where the shared proxies are only limited to several cities in the US. Unlike the residential proxies, Highproxies offers all packages with unlimited bandwidth coming from their servers connected to gigabit connections.
Each month you will get a new set of proxies that you can use in non-sequential order. If you consider the limited locations for the shared proxies and the fact that other people would be using them, we recommend getting private proxies for your Etsy bot. a trial option is not available, but you do get a three-day money-back guarantee option in case you are not satisfied with the performance.
Pros
Competitive price
100 thousand proxies in 40 locations
Unlimited bandwidth
Cons
Limited accepted payments
No trial

The next Etsy proxies provider is MyPrivateProxy. Right of the bat, we see some advantages that MPP has over Hihgproxies. The available proxies is one of them. MPP has over 250 thousand proxies in 24 locations. More proxies, fewer servers. What they do have in common is the fact that both offer private and share proxies coming from their servers connected to gigabit connections.
You get decent geo-targeting capabilities and quite a lot of pricing plans to choose from, no matter if you decide to acquire private or share proxies. Both types give you access to multiple locations, and each month you get a new set of non-sequential Etsy proxies. A free trial option is not available, so you can only get a refund within three days of making the purchase.
Pros
Cheaper than the competition
More than enough available proxies
Unlimited bandwidth
Cons
Fewer locations than some of the competitors
No trial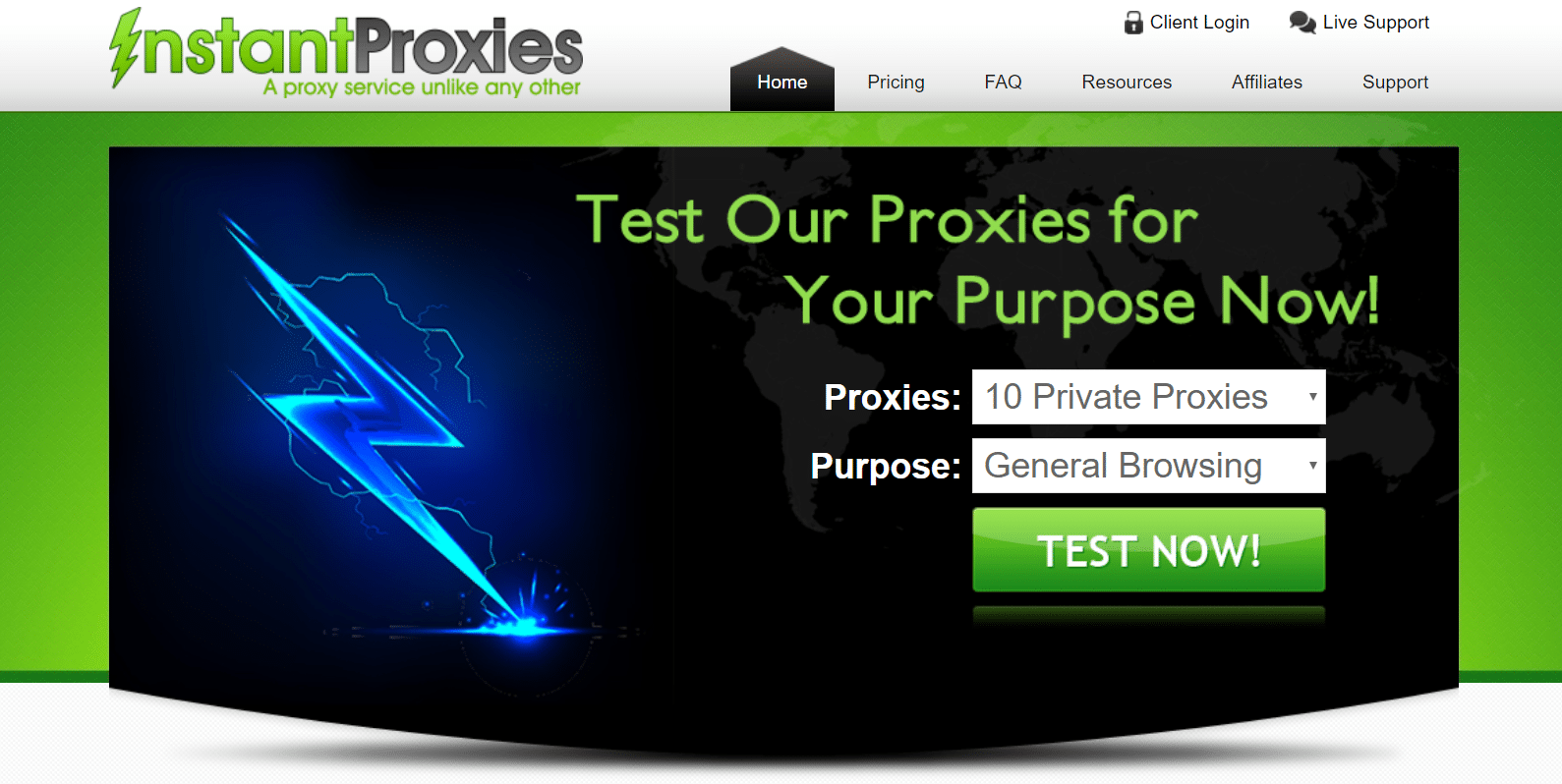 The last Etsy proxies we are going to outline today are InstantProxies. This proxy provider is often overlooked and with good reason. While most of the other proxy providers highlight the number of available proxies and locations, InstantProxies do not do that. That information is not disclosed, so people as suspicious. The only thing they do say is that their proxies are fast and have a 99%+ uptime, so that should be good enough.
Unlike the other two proxy providers in this list, InstantProxies only sell private proxies, which are the ideal datacenter Etsy proxies. The pricing is simple, and you pay by the number of proxies you purchase. All of them come with unlimited bandwidth and a few restrictions when it comes to geo-targeting or available subnets. A trial option is not available, as well. Instead, they can offer you a proxy tester, which is good, but it would still not paint the entire picture.
Pros
Cheaper than its competitors
Unlimited bandwidth
7-day money-back guarantee
Cons
No information on the number of proxies and locations
No trial
Which are better proxies to use for Etsy?
Residential proxies are always better. Since they are IP addresses from active internet connections from other people's homes, the chances of Etsy finding out you are using a proxy and bot are almost non-existent.
Can I use free Etsy proxies?
You can, but it is not recommended. Free proxies are notorious for being much less secure and not as anonymous as paid proxies, so it will only be a matter of time before you are get caught.
How do I tell which bot works with which proxies?
No need to look into that. If the bot you intend to use has support for proxies, then you can use any proxies on it.
Will I be able to use my bot without a proxy?
Yes, but not for very long. Proxies are used due to the fact that you need to hide your location and operate multiple locations at once. If you try to do that from one IP address, Etsy will ban your IP address and will most likely suspend your account.
---
Conclusion
As we mentioned, regardless of what kind of an Etsy bot you are using, make sure to get a decent set of proxies. The list of providers in our article should keep you covered and provide you with decent Etsy proxies, but keep in mind that these are not the only available providers on the market.
---