Are you a regular on Shopify shopper? Check out our list of the best Shopify bots that you can use to help you get your favorite sneakers.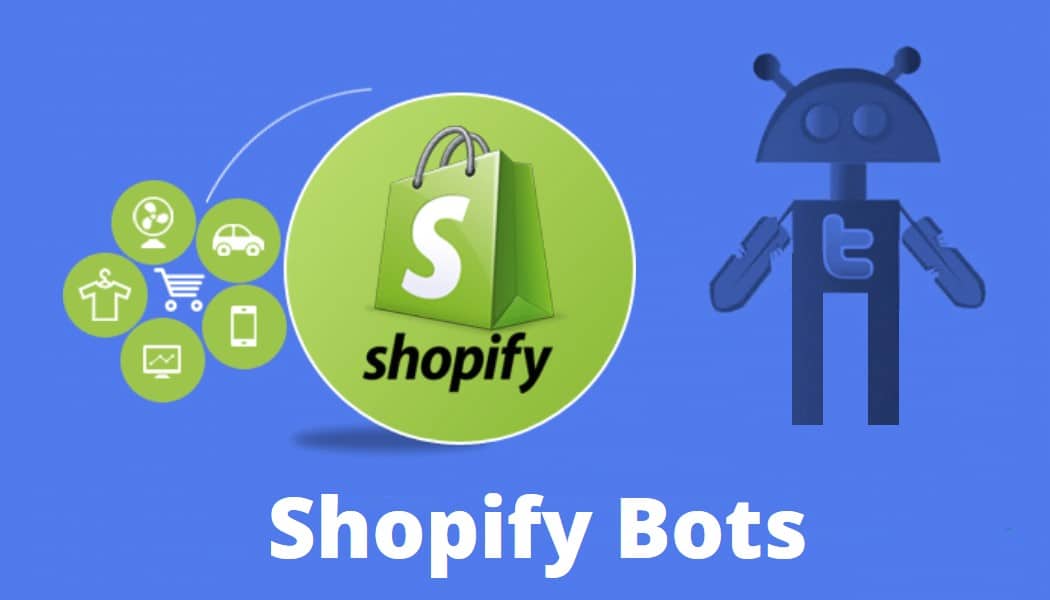 Shopify, as an e-commerce platform, has been around for over a decade. It enables companies interested in selling goods to get started with a complete platform avoiding most of the programming hassle.
Once Shopify's popularity started to pick up, the need for a software that can make a purchase before an item is sold out began to increase. That is where Shopify bots came into play. These bots are automated pieces of software that have a specific set of features that will enable you to make a purchase as past a possible. The advantage of using a Shopify bot is to be able to get the purchase before they run out of stock without the need to be in front of your computer and check every five seconds.
To help you in your shopping for shopping bots, we have compiled a list of the best and most popular Shopify bots the internet has to offer.
---

Praised for its speed and functionality, AIObot is often the first choice for many people as a Shopify bot. Equipped with a multi-threaded technology and the support for up to 100 accounts, this bot will be more than enough for any purchasing needs that you may have. On top of that, it can bypass Shopify queue, solve CAPTCHAs, retry if the website crashes and let you monitor stock on a certain product. This easy to use bot is available for Windows and Mac.
Pros
Fast
Lots of features
Works with non-Shopify sites
Cons
Not the cheapest
Mac version needs to run from a virtual machine
Not a lot of Shopify sites supported
Read more: Ultimate Guide to Cop Shoes Via AIOBOT V2
---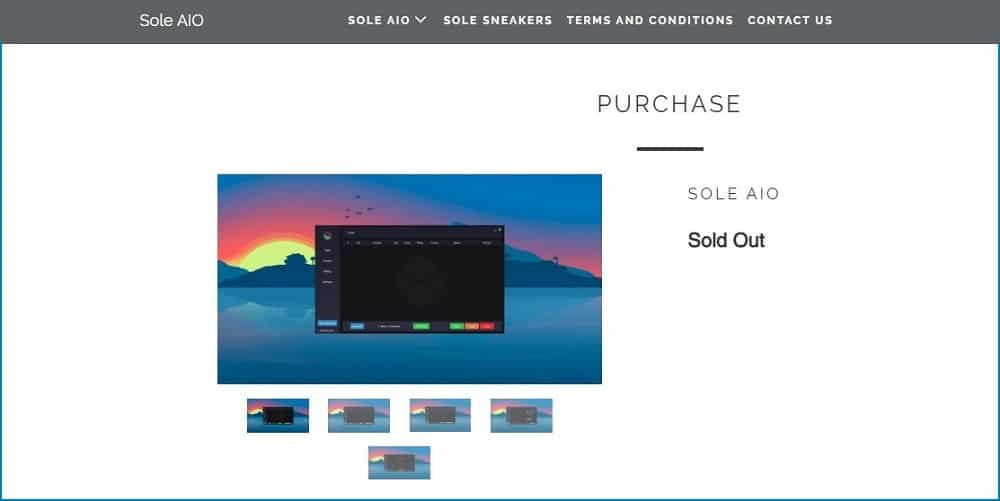 Often considered as a direct competitor of AIObot, Sole AIO is a Shopify bot that can surpass others with ease. One key area is the fact that is supports over 50 Shopify sites. Packed with a decent set of features as you might expect, it is a bot that will provide you access to a lot more Shopify sites than its competitors. Among the many features are queue bypass, proxy support, CAPTCHA solving, auto-retry, and many more. A big downside is that it only works on a Windows machine, so if you are a Mac user, you should be looking for an alternative.
Pros
Support for over 50 Shopify sites
Easy to use and navigate
---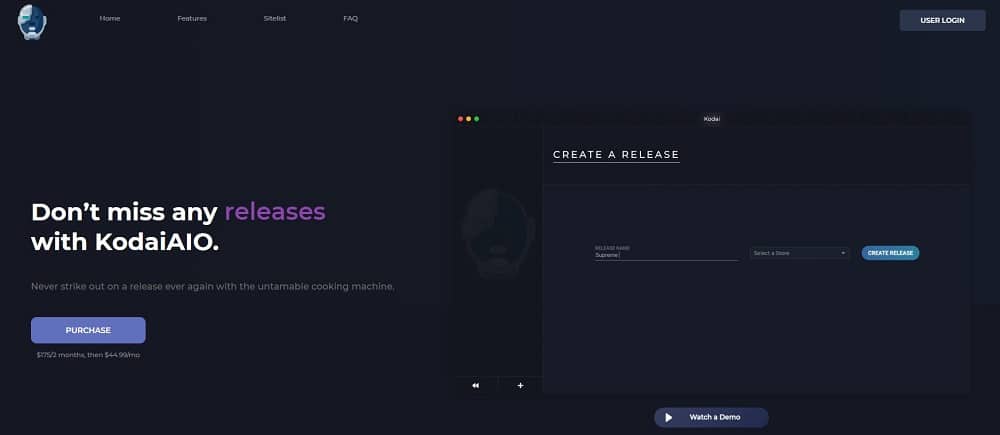 On the surface, Kodai AIO does not seem like it could compare as a decent Shopify bot, but in reality, it can bring much more. The proxy tester, combined with the ability to choose the size, solve CAPTCHAs, or provide you with an overview of upcoming releases, make it a very powerful bot. Best of all is that is supports well over 100 Shopify websites for a reasonable price, enabling you to pay monthly instead of getting a yearly or a 6-month license.
Pros
Over 100 supported Shopify sites
Clean and simple user interface
Cheaper compared to other bots
Native Mac application
Cons
Due to high demand, they are often out of stock
---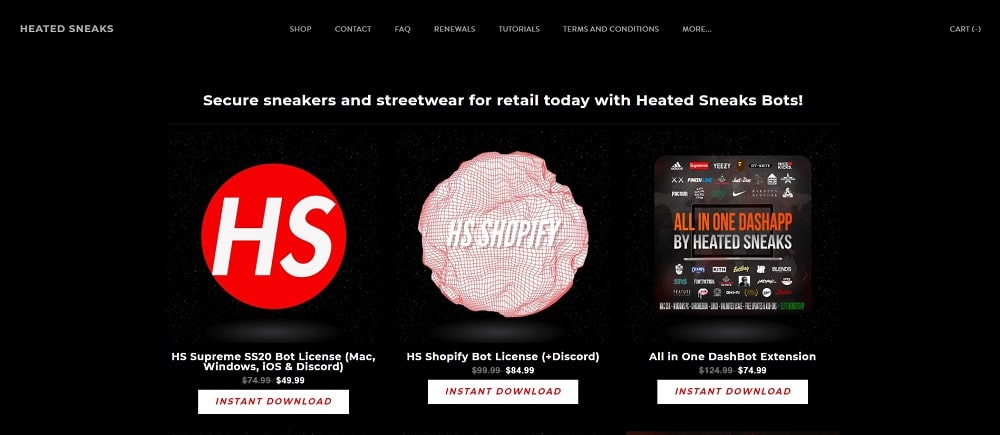 As part of the Heated Sneaks product lineup is HS Shopify bot. What makes this bot stand out from the rest is the price. Unlike them, you can get HS Shopify for an onetime payment with lifetime updates and unlimited usage. As for the other features, it has what you would expect – proxy support, CAPTCHA solving capabilities, bypass queue, and so on. A remote dashboard is also available so that you can control your bot from anywhere. The support for Shopify websites is limited to around 40 of them, but there is a beta option to add additional sites.
Pros
Elegant and easy to use user interface
Ability to add Shopify site by choice. Note: this option is still in beta
Lifetime updates
Windows and Mac native application
Cons
Support can sometimes take time to respond
---

Going back to the all in one bots we have CyberAIO. Developed with a super-fast multi-threaded option,CyberAIO is a Shopify bot worth mentioning. The price might not be very competitive, but if you take into consideration that it can solve CAPTCHAs and the ability to run tasks for as much as you want, you might use it for when you need to visit a Shopify store. Speaking of, the list of supported sites is not disclosed, and you can only run it on a Windows machine. An upside is that you get a mobile app that you can use to control the bot installed on your computer. In addition to that, the bot will monitor for restocking in case the Shopify products you wanted are out of stock.
Pros
Mobile app for remote control
Unlimited threads
Cons
Works only on Windows
Not the cheapest option on the market
---
The next bot on our list is the EasyCop bot, a relatively new Shopify bot on the market. Regardless of how "young" it is, the set of features is just as you might expect, such aslink monitor or multi-threading. Combined with an elegant user interface and the ability to run as many tasks as you want, it is a bot worth checking out. One thing that might make you think is the fact that for a new service, this Shopify bot is among the pricier we have seen. Out of the box, it supports over 100 Shopify sites, with the ability to add custom ones. A Mac version, alongside Windows, is available.
Pros
Windows and Mac native apps
Unlimited threads
Cons
Slightly pricy for a new contender
---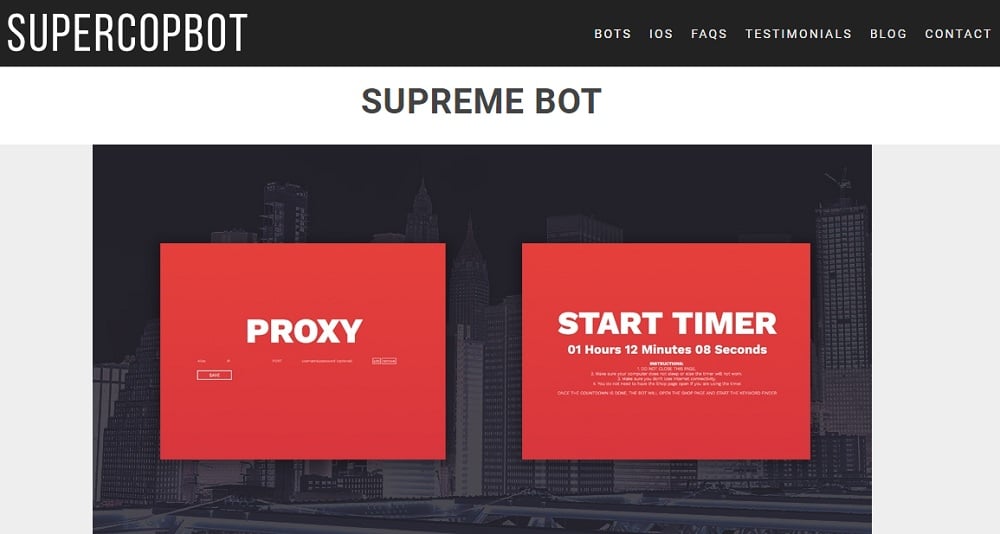 Existing for several years, SuprCop bot has shown that it can throw a punch against the bigger Shopify bots in the industry, but not in every field. Feature-wise it is packed as much as it can be. With this bot, you can select the size, search for keywords, get unlimited usage – everything required to automate the purchasing steps. Unlike the other Shopify bots, we mentioned, SuperCop supports only a handful of Shopify sites with more sites to come sometime in the future. Also, unlike the others, this one is a Chrome extension.
Pros
Usage is unlimited
Relatively cheap
Cons
Chrome extension
Not a lot of Shopify sites supported
---

Aimed to destroy the competition, Project Destroyer is just the bot that might be able to do that. The sleek interface, combined with the custom CAPTCHA harvest logic, ability to edit tasks in bulk, as well as the support for proxies, are among the many things that make this bot great.
The list of Shopify sites that it supports out of the box is not outlined, but it can work with custom Shopify sites if you need it to. Regarding the operating systems, it can work on Windows and Mac, but you will need to run it in a virtual machine on your Mac.
Pros
Option for custom Shopify sites
Decently priced
Cons
Only Windows native app, Mac runs from a virtual machine
---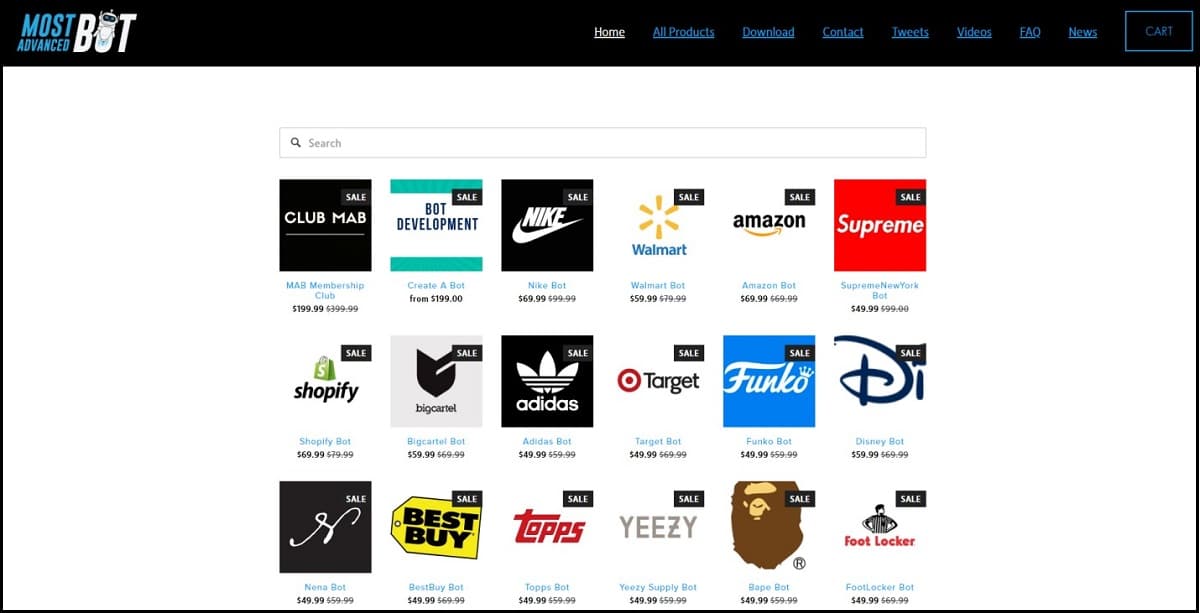 Among the lineup for available bots from Most Advanced Bot is their Shopify bot. Just like most of their other bots, the Shopify bot is a Chrome extension providing the standard functionality that can be expected from this type of bot. The process is automated, and the Shopify bot can add to the cart and make the purchase automatically, and in case the product is not available, it will refresh the page until the product is back in stock. You can also select your desired size and color. The list of supported sites is a list containing over 50 Shopify sites that you might use.
Pros
Supports a decent amount of Shopify sites
Cons
Works only on Chrome as an extension
Not the cheapest Shopify extension available on the market
---

Do not let the name confuse you, even though this is a Nike bot; it is also an excellent Shopify bot. Being able to make fast purchases and bypass Shopify queue are one of the most sought out after features in any Shopify bot. Among the other features, you get bulk edit option, multi-monitor, ability to automatically login to Shopify sites, and a lot more, combined in a nicely designed application that will be very easy to use. Out of the box, you get over 100 supported Shopify sites with the ability to use this bot on other Shopify sites as well. The application can be downloaded and installed on Windows and Mac.
Pros
Lots of supported Shopify sites
Native Windows and Mac application
---
FAQs About Shopify bots
Is it legal to use a Shopify bot?
It is not legal, but it is also not illegal. Even though Shopify bots are being sold regularly and legally, a lot of sites are not too happy if someone is using a bot to purchase goods from them.
Can a Shopify site see that I am using a bot?
Probably no. Shopify bots have come a long way since their early releases, so now they are quite capable of "hiding" themselves from the service that they want to make a purchase from.
Will a bot guarantee that I get a product from a Shopify website?
No. Bots are designed to give you an edge when shopping for products from Shopify sites, but no bot will guarantee that it will make a purchase for sure. That is why most of them are equipped with monitors so that once the product is back in stock, they can try to make the purchase.
How to tell if a website is Shopify?
You have two options for that: you can either use a website or an extension. An example of a good website that you can use to check is BuiltWith.com. just paste in the URL and click on "Lookup" and the site will provide the details for it. As an alternative, you can use Wappalyzer. It is an extension that you can use on Chrome, Firefox, and Opera. When installed, it will use an icon on the browser windows to show you which platform the site is on.
---
Conclusion
This concludes our list of the best Shopify bots on the market. Be wary, though; these are not the only bots that are available, so you might find a bot that better suits your needs and requirements. Another thing to bear in mind is the stock of the Shopify bot you intend to purchase.
Even though the bots are software, the licenses are limited, so you might see them out of stock. Most reputable companies restock their supply within a month, so if the bot is out of stock, check back in a while. With that in mind – happy shopping.
---