Project Destroyer is a hyped bot with many great customer reviews. So, what makes it stand out in such a way? Get more insight from this review.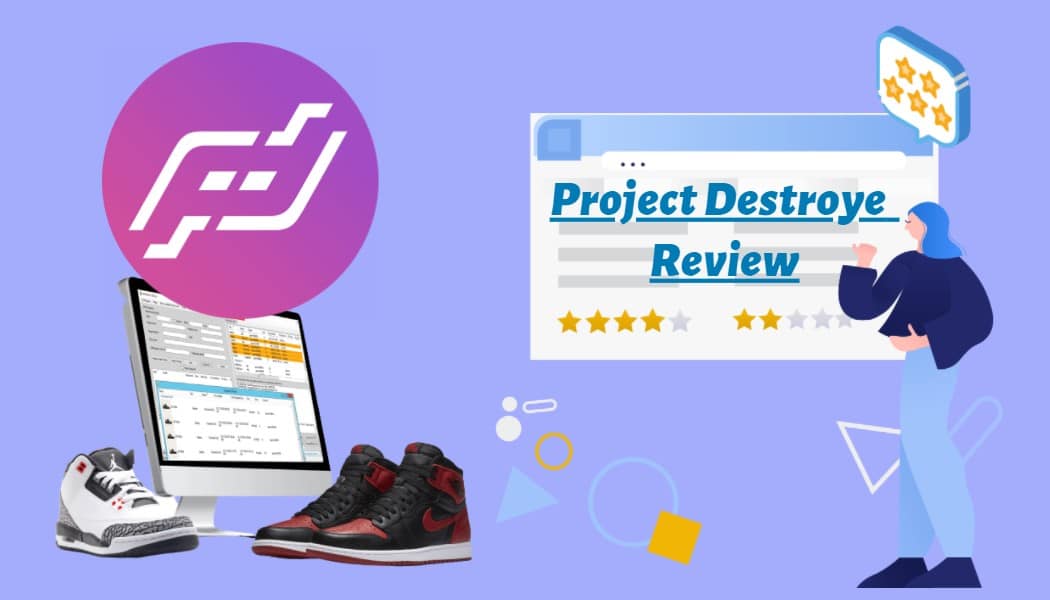 Project Destroyer is a well-known sneaker bot in the industry and has been in operation since 2017. Its developers have managed to keep up with the latest technology available, ensuring that the bot is always viable. It is the best in terms of efficiency, all thanks to the frequent updates.
Online Shopping has been on the rise and has had a positive impact on how people shop around the globe. The market for sneakers is just out of this universe, and people have had to develop and implement strategies for getting hold of them. This ensures that they do not overlook the newest special editions. Sneaker bots were created to assist kicks fans in not missing out on the latest releases.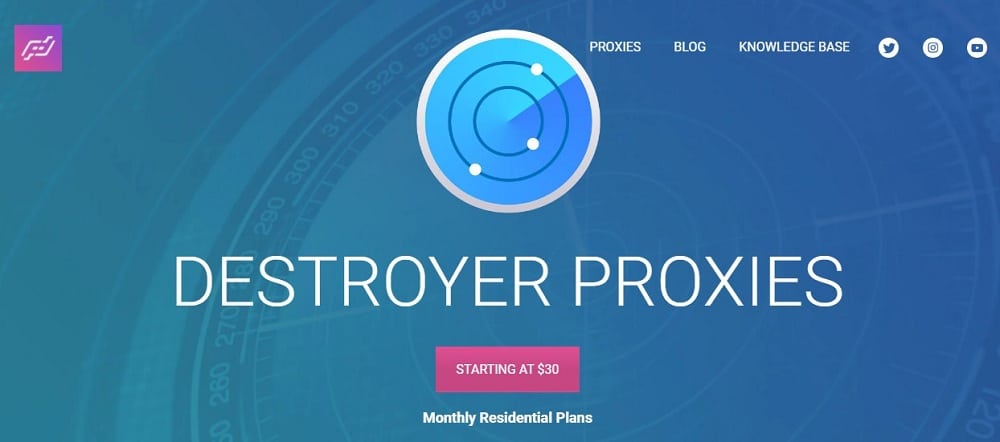 Project Destroyer is one of the best sneaker bots available on the market today. It has multi-threading, proxy configuration, multitasking, and override capabilities. Users will also have direct exposure to a platform and society for all of their needs. It is also a well-known AIO bot that continues to support over 200 websites. Sites supported include Nike, Adidas, Supreme in-store sign-up, Footsites, a wide variety of Shopify sites, and many more.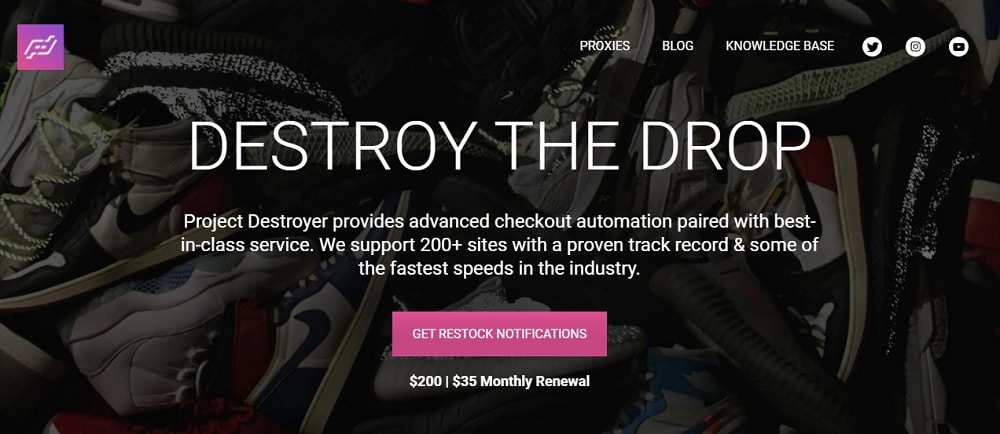 It also comes with some of the best features that make it stand out from the rest. The bot has one of the fastest speeds and convenience you can find in the market. Apart from that, it offers the best data privacy and security for your copping process.
Pros
It supports many online platforms selling sneakers.
Enables users to control and delete proxies through customization.
Privacy and security are featured when shopping online.
Multitasking and batch execution of multiple tasks with no delays.
Its user-friendly dashboard is favorable for new users.
Cons
Slow replenishment.
It has no support for mobile phones.
Pricing of  Project Destroyer
The Project Destroyer costs around $200. After that, one must renew their subscription for $35 per month. On the other hand, a lifetime copy can be obtained from a reseller for around $500. Paying the extra money for the lifetime copy is relatively cost-effective.

The lifetime version will save users money on renewal fees, which can be expensive for those on a tight budget. Numerous people consider the cost to be a bit high, but considering the advantages, it is well worth it. Sadly, Project Destroyer is currently out of stock due to high demand. However, while users wait for a restock, they can still rent or buy from the resale market.
Feature of Project Destroyer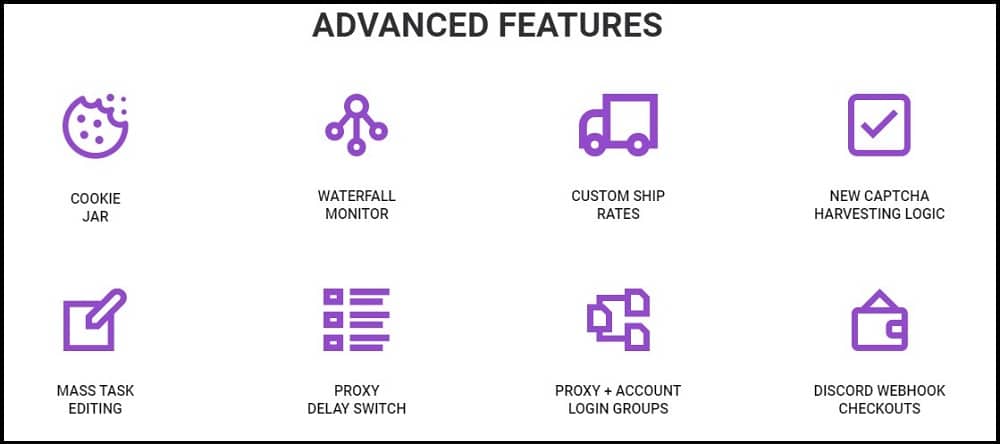 Project Destroyer supports over 200 significant sites, including Adidas, Supreme, Shopify, Demandware, Mesh, foot, and Nike. It is nearing the completion of its app's development and subsequent release. This release will aid in the resolution of captchas that cause problems during the payment page and log-in. This bot's adaptability makes it one of the most popular on the market.
2. Proxy Configuration Support
Proxies are ideal for hiding one's IP address or using a different IP address. How many times have users attempted to access certain websites only to be denied? How many are there? Proxies, on the other hand, will assist you in circumventing such limitations. Users will also have different IP addresses throughout this case for the various bot tasks. Because of this, you will be able to obtain as many sneakers as you desire.
3. The Task with Multiple Threads
Because project destroyer is multi-threaded, users can undertake an infinite amount of tasks. Nevertheless, for this to work correctly, users must designate proxy servers to different tasks. Remember that the project destroyer supports multiple sites, and therefore you must create functions for each of them.
4. Support for Multiple Platforms
It works well with Mac OS, Windows, and Linux, making it convenient for all users. Therefore, it is easily accessible among users from different platforms.
5. Special Site Characteristics
The Project Destroyer bot's plethora of features is what makes it so intriguing. It adds more to the table than the basic features like task creation and a data analysis page. Continuous advancements and improvements have been implemented to ensure that the bot remains ahead of the competition curve.
The ability to add account groups and proxies is included in the most recent updates. Its goal is to enable the institution of group accounts for particular websites. Users can initiate the capabilities to each account inside the group while creating activities in a group. This reduces the burden involved in dealing with each account separately. Also, it decreases the possibility of using the same performance twice, lowering the risk of bot identification.
This feature is useful when tracking drops that share the exact key phrases. The Project Destroyer bot focuses on a single task or keyword rather than many keywords and phrases. This option is critical because it reduces the likelihood of being discovered and blocked from the website. While using Proxy plans, the waterfall monitor minimizes the amount of proxy data used.
How Does Project Destroyer Work?
Using this project destroyer is quite simple. To start using the bot, install it on your computer and follow these simple steps.
Open the dashboard and enter your log-in details.
Open the taskbar and create a task.
 Select profile tab signs up user name and address where applicable.
 Open proxies tab and paste, then save.
Log in and create a group name.
 Special shipping rates.
Enable V3 captcha
 Start running the tasks and checkout to complete the purchase.
Despite being very successful, Project Destroyer is constantly working on developing and advancing the bot. It has many top-tier features that make it stand out from the rest. Although it is a bit expensive, the cost is worthwhile for the quality you get. However, it can be advisable to get a lifetime copy, which will help you avoid the renewal fee.
Features

Pricing

Reliability

Support
It is undoubtedly a good bot based on what we have experienced using the bot and looking at customer reviews. Their customer support is also great, meaning you get help in real-time. For that, we highly recommend this bot for serious sneakerheads and bot users.
User's Reviews & Rating
Stupid Proxy
Average rating:
0 reviews
---