Want to spoof fingerprint when surfing? We've handpicked 10 best antidetect browsers for you. Here we go!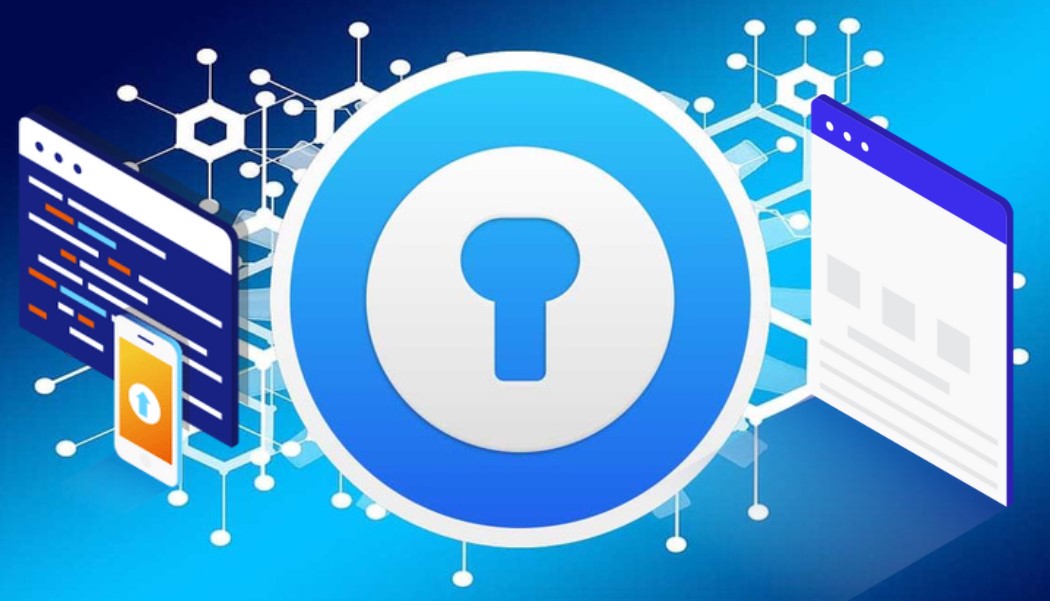 Browsers are a crucial part of our daily routines on our computers. Whether we're using them for work or fun, a browser is an application that we cannot imagine our internet life without.
Living in an age where a handful of companies are leaders in the internet space means that most people rely on their products. The same goes for browsers, as most people use only the most popular options. Chrome, Firefox, Safari, Opera, and in recent years Edge are the dominant browsers.
While they are good and most people like them for the features or look, they are not the only option on the market.
The browsers I'll be talking about today are the ones that not too many people use. Their main goal is to provide anonymity when browsing the internet. It's an excellent feature for people looking for confidentiality or running multiple accounts at the same time.
Without further ado, here is my list of the top 10 antidetect browsers to save money for virtual machine.
---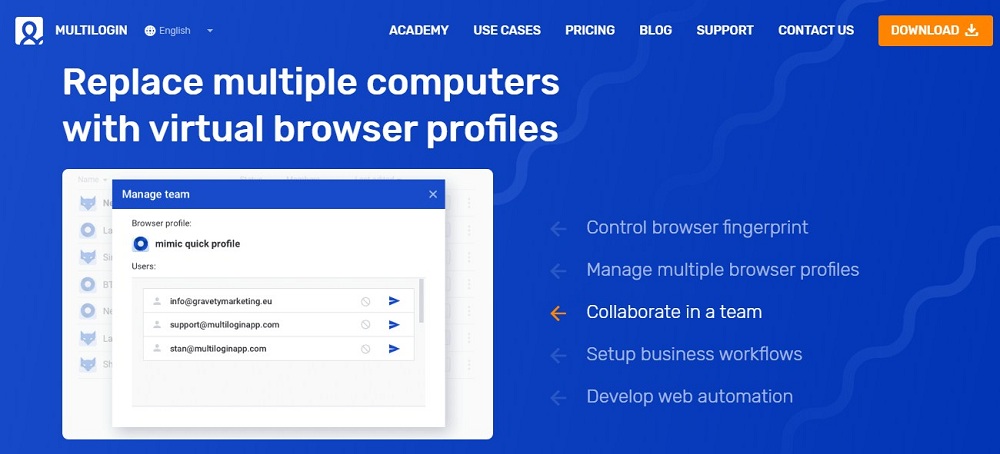 This browser's main selling point is that it offers services for people who need to manage multiple accounts. The way it achieves this is by enabling you to have a different browser environment for each account. As a result, you are minimalizing the chances of one or more of your accounts getting banned.
Multilogin doesn't hide the browser fingerprint as some others do. Instead, it modifies it so that your original fingerprint remains safe.
On the business side of things, this antidetect browser features automation. Any repetitive task can be automated, meaning that you reduce the strain of doing certain things manually.
Browser with this many features isn't free. You can choose between teamwork or automation plans. For teamwork, you can choose the number of browser profiles you can create, ranging from 100 to 1000. If those are not enough, you can customize a plan. There is only one plan for automation, with plenty of features, but there are a few limitations. If you need more, the option for a custom plan is available here as well.
A free trial option is available, and you can play around with Multilogin, but it will be limited to 10 browser profiles only.
---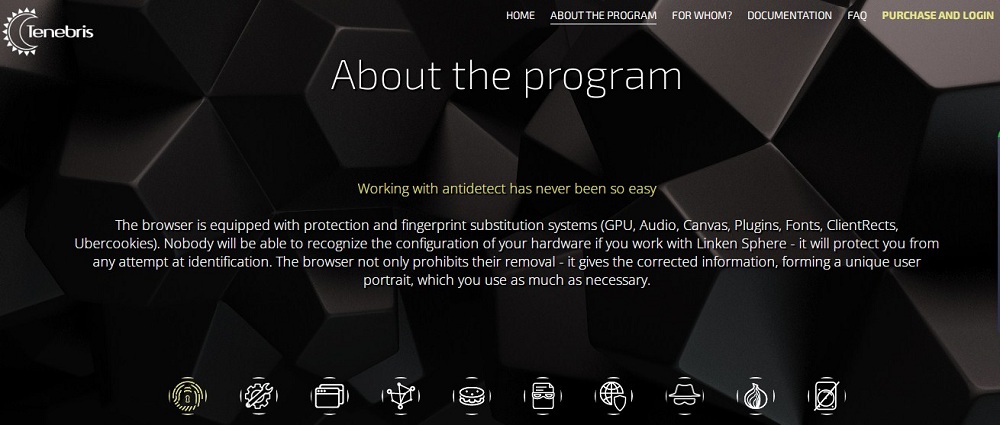 Linken Sphere is the type of antidetect browser that takes things very seriously. Unlike the previous browser, this one isn't entirely limited to a single application. This type of browser can be used for anything from multiple account management to bypassing anti-fraud systems or ad verification.
The browser isn't hiding any of the information that services would ask of it. Instead, it will provide a fake "browser persona" based on your inputs and go with that. The idea is to give the service a false impression about who you are and keep your real information hidden.
There are plenty of other features that some people would find helpful. The one worth mentioning is a fake IP leak. Linken Sphere will do an IP leak through WebRTC, and naturally, the IP address won't be your original one.
Linken Sphere does anonymity very good something that is evident from the payment options. The browser is paid-only, so a free trial beforehand is not available. As for accepted payments, your only option is to purchase it with Bitcoin.
As for the packages, there are 3 to choose from, and they offer a wide variety of options. Each package has a different set of features, and naturally, going for the more expensive one will open up more of them. You also have the option for monthly, 6- or 12-month payment options with a 1-month free trial available for the second package.
---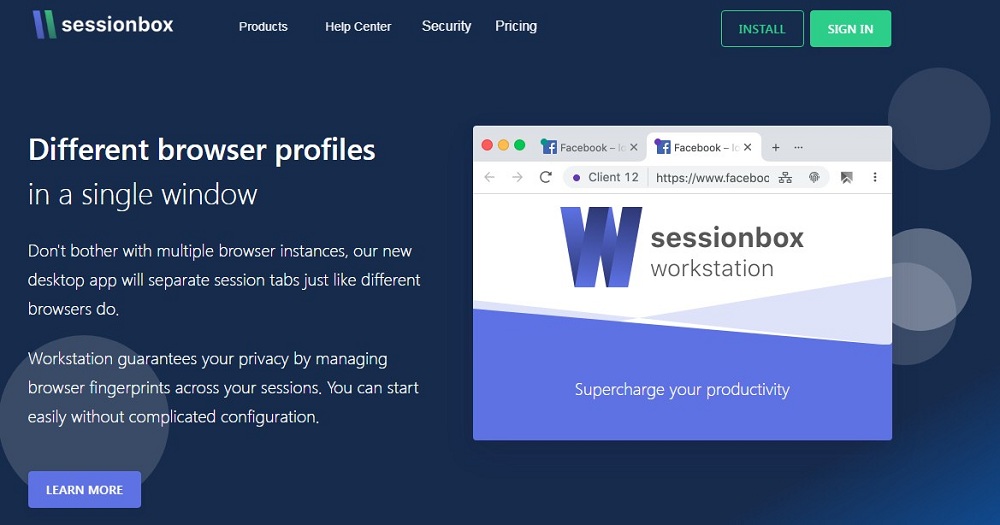 Sessionbox is another antidetect option that offers an antidetect browser capable of providing multiple instances of the same website. It achieves this by separating each tab into a new session. For each one, you have the option to set up a unique set of device IDs, ensuring that you won't get detected. Sessionbox offers two products: Workstation and Extension.
Workstation is a standalone app that you install like a regular browser. With it, you will have access to all the features that are baked in. in addition to the multiple fingerprint generation feature, Sessionbox also included a proxy manager.
With this, you can use proxies that you already have and trust and not rely on other companies' offerings. There is only one pricing plan, which is basically the unlimited one. Workstation costs $89.99 that gives you access to unlimited sessions and fingerprints.
If you're interested in something cheaper and are prepared to sacrifice some of the features, then the Extension may be a good option. As you may have guessed, this is a browser extension that gets installed on the browser that you already use.
The features are limited, and you are only getting the different session options. It means that you won't be getting the rest of the protection features like with Workstation. The best part is that it's a free extension, so it may be a good option for some people.
---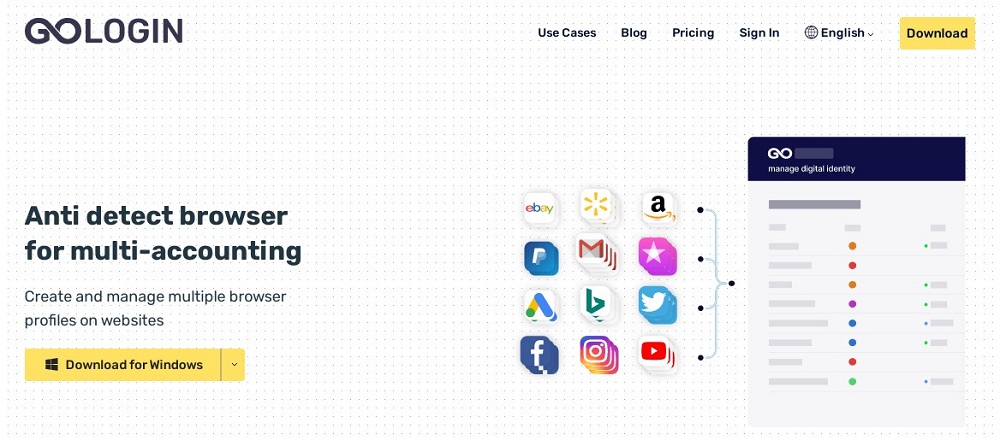 If you're looking for an antidetect browser with multiple applications, then GoLogin may be a good option. Thanks to the set of features, this tool can be used for scraping, social media management, dropshipping, and much more. GoLogin doesn't introduce anything revolutionary, so the set of features isn't something you haven't seen with other antidetect browsers.
There are over 50 connection parameters for you to choose from, meaning that each session can be as unique as it gets. The profiles get saved on the cloud, meaning that none of that info is stored on your device. This is an excellent way to keep your sessions as anonymous as possible. Considering that the profiles are stored on the cloud means that team collaboration is easy. You can share or assign profiles to whoever you need to.
Like with most antidetect browsers, you will need to pay to use GoLogin. There are 3 predefined pricing plans, where the difference is in the number of profiles, team members, cloud launches, and some of the features. If none of them work for you, there's an option to customize the plan.
One thing I like about GoLogin is the free trial option. You can use the browser for up to 7 days and get full access to all the features. This is an excellent option to test if this is an excellent solution for you.
---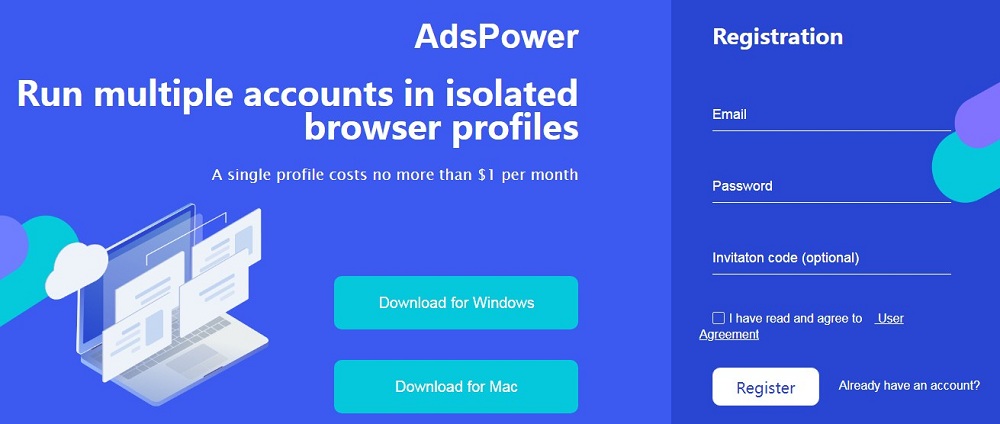 AdsPower is another antidetect browser aimed mainly at e-commerce professionals looking to manage things from one device and browser. Each social media account or session, in general, will be paired with a unique fingerprint. That way, each one will run in a different session, and the services will see that each account is from a different machine and location.
Speaking of locations, IP addresses play a crucial part in that. AdsPower will use a different IP address for each session to avoid detection and potential ban. The browser has built-in proxies from several locations, meaning that you can be sure that two accounts won't get the same IP address. There is also support for IPv6 for users who want to utilize the newer protocol.
Among the many features that AdsPower has is automation. You can set up a specific set of rules and have the software do tasks automatically. The service also offers excellent customer service and support. Even though it's not 24/7, a technician will be with you to help as soon as one is available.
The pricing structure is not so different than what we've seen so far, with one small difference. There are paid plans which include a different number of included browser profiles and a few other features. You can go bigger than the most expensive package and get a custom one. The slight difference I mentioned is the free package. Even though it's limited to only 2 browser profiles, it's an excellent way to get yourself started with AdsPower.
---

Undetectable is an antidetect browser that offers a solution to virtual machines or expensive hardware. The software provides a way to have multiple instances of the same website running on the same machine but with different fingerprints. It makes it an excellent choice for social media managers, bonus hunters, ads, anonymity when surfing the web, and a lot more.
The browser comes with an easy-to-use profile manager where you can tweak the details for each session. You have a plethora of information to manage, including which are the proxies. To ensure that, Undetectable has a proxy manager, where you can set up the proxies that you already have.
Since teamwork is essential in this line of work, the browser has an import and export function. It provides a quick and easy way to share profiles between team members.
Undetectable has another feature that helps you set things up faster. The browser has a cookie bot where you'll need to provide a list of URLs, and it will start visiting the websites and save the cookies. It's a great feature because it will save time for when you need to start using the browser.
Since Undetectable offers unlimited profiles, the pricing packages differ based on the number of users and free configs. There are 3 predefined plans and a 4th custom one where you can get as much as you want. All are monthly-based subscriptions, and if you go for a 6- or 12-month period, you can get a discount.
---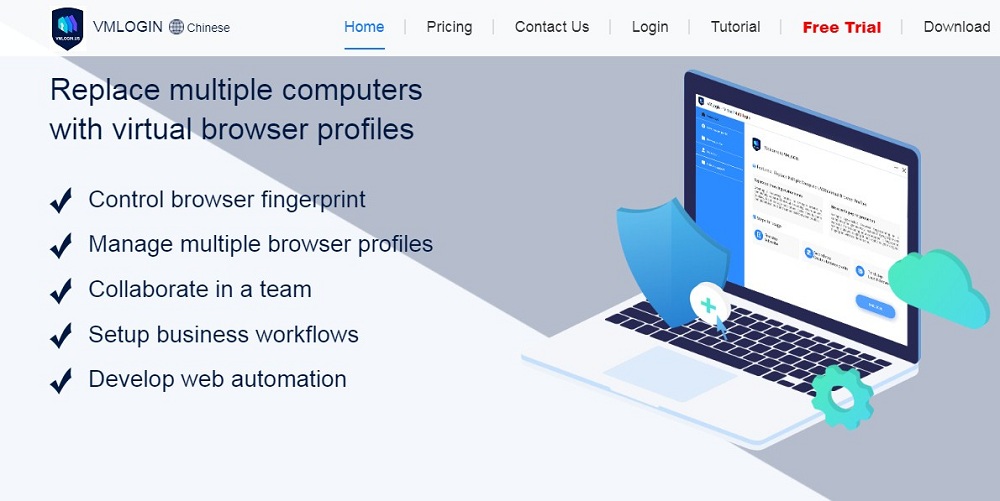 Next up is VMLogin, another multi-profile browser designed for scarping, affiliate marketing, brand protection, etc. Like most of the entries on this list, it's an excellent alternative to running multiple virtual machines or using multiple physical devices.
VMLogin's main feature is the option to provide a different environment for each session. The browser does this by creating a mini-virtual session where it separates the cookies and cache, providing a truly separated browsing experience.
To ensure that everything is unique and seems legit, each session creates a separate fingerprint. That way, you can run multiple accounts from the same browser and avoid detection. Your original fingerprint will remain hidden, and the browser will provide the services with fake ones.
The browser also has a built-in automation feature, which helps with repetitive tasks. You can set custom tasks up based on your need directly through the browser or with a third-party automator.
When it comes to pricing structure, it's very similar to the others. There are 3 predefined packages that vary in the number of included profiles and sub-accounts. You can get a bigger package and customize it as you need. There is also a free trial option that gives you access to the features for up to 3 days.
---
Even though at first glance, Kameleo seems like most of the other browsers I've outlined, there is one unique feature about it. Like the rest, it's an antidetect browser capable of providing websites and services with fake fingerprints. You get this feature without the need to use multiple browsers.
Each session can be set up to run with a different fingerprint while remaining in the same application. This is an excellent feature for people or teams that manage multiple accounts and want to avoid the hassle of creating virtual machines for each one.
To protect your information, Kameleo not only uses different fingerprint, but it also provides services with a different IP address. The use of proxies means that to the servers, each account will look like it's coming from another country.
The unique feature I mentioned in the mobile profiles. Kameleo can be installed on a mobile device, meaning that you can get all of its features on the go. The automation option is also available here, so you won't miss out on anything if you go with this browser.
Kameleo comes in a variety of 3 packages, mainly depending on the set of features you want to get. Each package comes with unlimited profiles, but the more expensive ones have additional features like faster support or automation.
---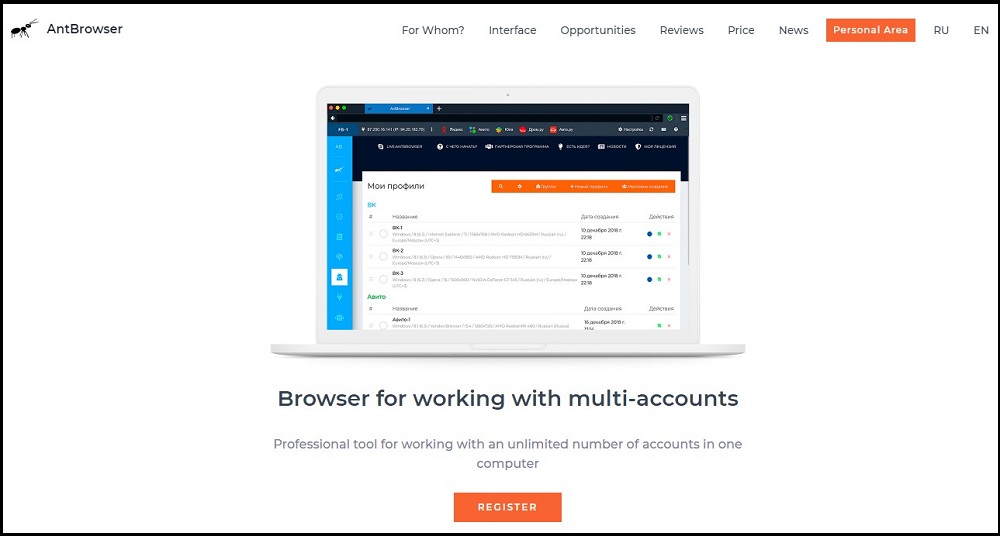 Next on the list of the best antidetect browsers is AntBrowser. It's a simple but powerful tool that can help you remain anonymous online, regardless if it's for personal or professional use. The multi-account-oriented browser will enable you to run multiple instances of the same service without risking getting detected.
There are two sides to the browser – the multi-profile one and the automation.
On the multi-profile side of things, you have a browser where you can create a different profile for each session. This means that you can set it up to have a unique fingerprint that will be shared with the website. That way, you can ensure that the website won't know that you are running multiple accounts from the same device.
For automation, having a tool that can take some of the tasks into its own hands is a welcomed feature. Repetitive tasks can be set up to be completed automatically, meaning that you can save time with them.
Considering that these services are used by companies in most cases, AntBrowser has plenty of features in terms of teamwork. You can clone and export the profiles that you create and import ones that other people did. You can also synchronize data between multiple devices, an excellent feature if you need to use AntBrowser on multiple locations.
Unlike most browsers on this list, AntBrowser has one package. With it, you get full access to all of the features and unlimited profiles. To try before you buy, there is a 24-hour free trial period available as well.
---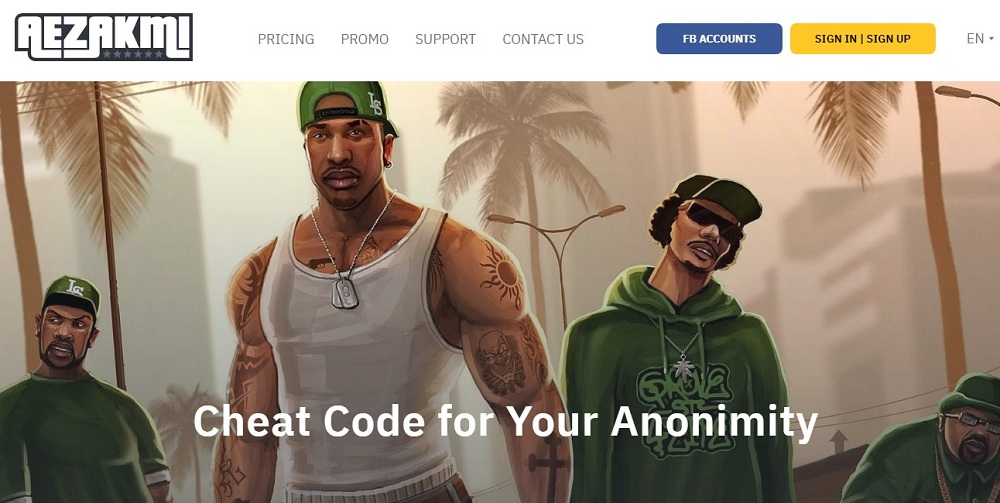 Last but not least is Aezakmi, and I don't mean the GTA cheat code. This is an antidetect browser capable of replacing virtual machines or different devices. You get a browser that can keep you hidden behind different sessions for each account, meaning that you avoid the risk of detection.
The main feature that makes this an excellent option is the ability to have multiple fingerprints in a single browser window. Each fingerprint is a different session, meaning that the services will see each session as a different person, on a different device in a different location.
This feature makes it an excellent option for people running multiple social media accounts.
With over 10 fingerprint details to control, you can create a plethora of unique sessions. This also includes proxies, which is an essential part of this. Using a different IP address for each session is crucial in avoiding detection. If the service sees each session in a different country, the chances of detection are slim.
On the pricing side of things, there are 3 packages that offer the same set of features. The only difference between each one is the number of profiles you can create. Some people may need more, in which case the option to create a custom plan is also available. To test how the browser works, you have a 2-day free trial where you can create 2 profiles and see how the browser works.
---