Need proxy or VPN to reduce your game latency? VPN or Proxy to choose? Learn different Gaming VPN and Gaming VPN, then Pick the best gaming proxy and Best gaming VPN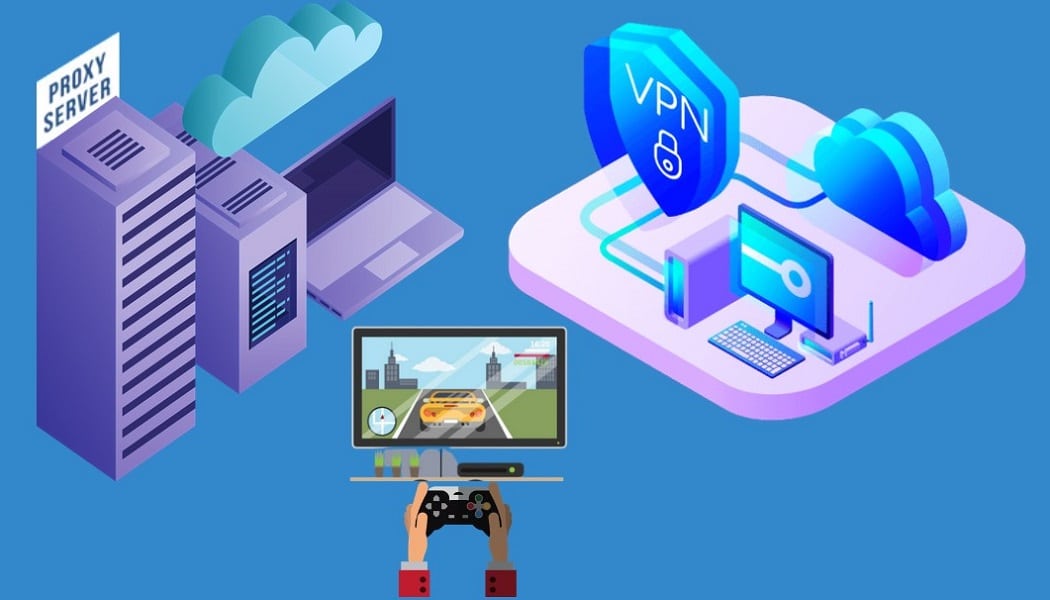 In the world of gaming, the terms proxy or VPN were relatively unknown for a long time. Most of the games were offline-based in the olden days, meaning that you didn't even need a working internet connection. Modern games work differently. We get tons of features and multiplayer options by getting games that can be played online.
---
Proxy and VPN to Bypass Geo-Restrictions
The main issue some people have with that are restrictions. Either the games or the game services may get limited or entirely blocked in certain countries. To remedy the problem, you can either go with proxies or VPN.
In this case, the proxy and the VPN will have the same effect – to change your IP address and make it look like you are accessing the services from another location. It is ideal in cases when you need to bypass geo-restrictions, or your local IP address is blocked.
While both will have the same effect, What is the difference?
---
Today we will be outlining several providers from each side, but before we do that, here's a crash course into the difference between a proxy and a VPN.
The biggest difference between them is the encryption. VPN services pass your traffic through an encrypted tunnel, meaning that if someone manages to intercept the packets, they won't be able to use them.
Here are some more differences,
| | | | |
| --- | --- | --- | --- |
| | Speed | IP address | Good for gaming? |
| VPN service | 6/10 | Shared Datacenter IPs | Yes |
| Datercenter Proxy | 8/10 | Private Datacenter IPs | Yes |
| Residential Proxy | 2/10 | Private Residentia IPs | No |
With that out of the way, let's dive into the best proxy and VPN services for your gaming sessions.
---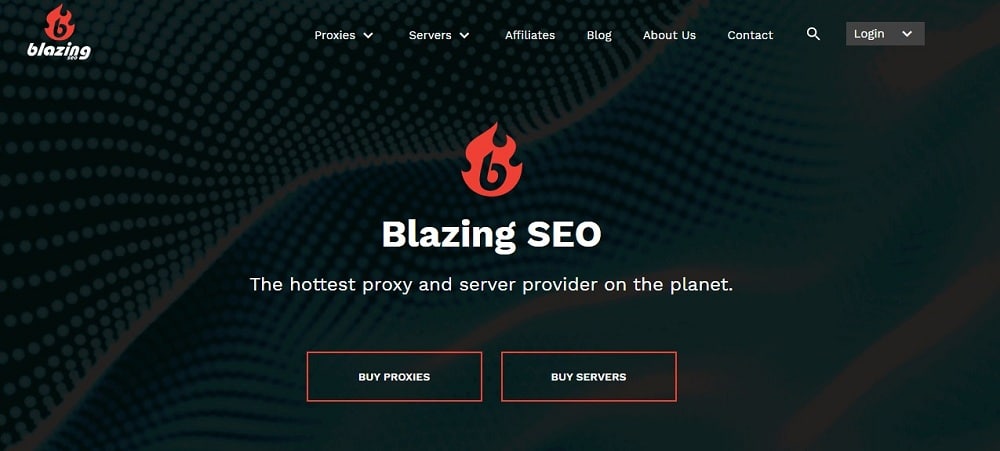 We are kicking off the list with a decent gaming proxy provider. Blazing Proxies is not the most widely known go-to place for proxies, but it should be mentioned considering the quality of service.
Even though it's not a bad proxy provider, the numbers are far from the best you'd find. Location-wise there are 13 servers across Europe, Asia, and America offering a decent range of locations to choose from. A slight downside is that they don't advertise the number of proxies in their pool.
If we look at the packages, we can determine that the numbers are decent, but it is still only a guess. As for the packages themselves, there are 3 to choose from and an option to customize your own package. For your gaming sessions, the first one is probably the best, as you will hardly need more than one or two gaming proxies. Depending on how long you want to pay in advance, you could get a discount.
All proxies you purchase will come to have unlimited bandwidth and threads. Since you will be using the proxies for gaming, the servers' gigabit connections will ensure that you get excellent speeds with lower latency. Blazing Proxies also provides a free trial. To test their gaming proxies, you will get a free account with 5 IP addresses that you can use for up to 2 days.
Pros
Fast speeds
Affordable
2-day free trial
---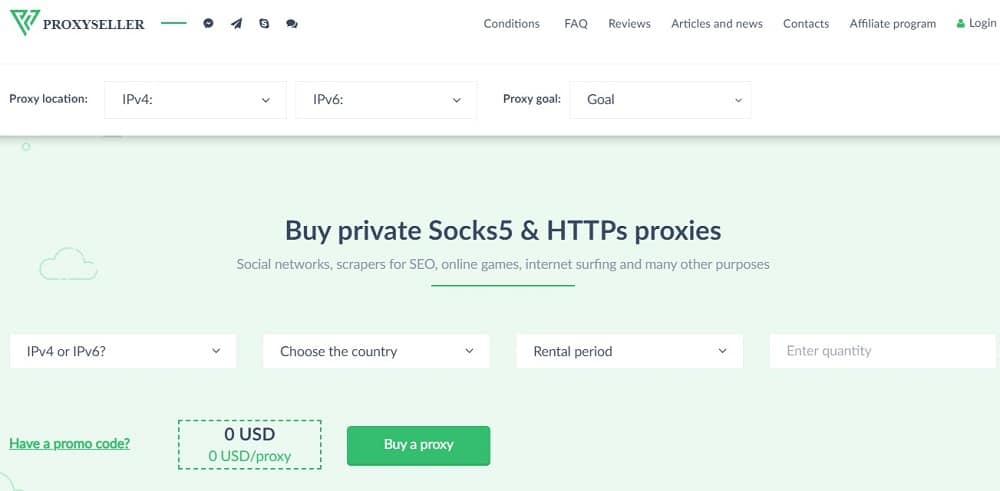 In the world of gaming proxies, Proxy-Seller is less popular than the previous one. If we compare them, we can see some improvements, meaning you could get more than Blazing Proxies.
Regarding the numbers, the story is the same, Proxy-Seller doesn't disclose the number of gaming proxies in their pool. The number of locations is greater, with gaming proxies from 26 servers. They are in the USA, Europe, Asia, and Australia.
One of the best things about Proxy-Seller is the pricing packages. While you can use the preconfigured ones, you can also make your own. You can get as little as 1 gaming proxy, and the duration ranges from 1 week to 1 year, and the longer the period, the more discount you get.
On the feature side of things, you get a relatively standard set. All gaming proxies come from servers with gigabit speeds with no limit on the bandwidth you use. In addition to that, you can choose between IP whitelist or username and password authentication.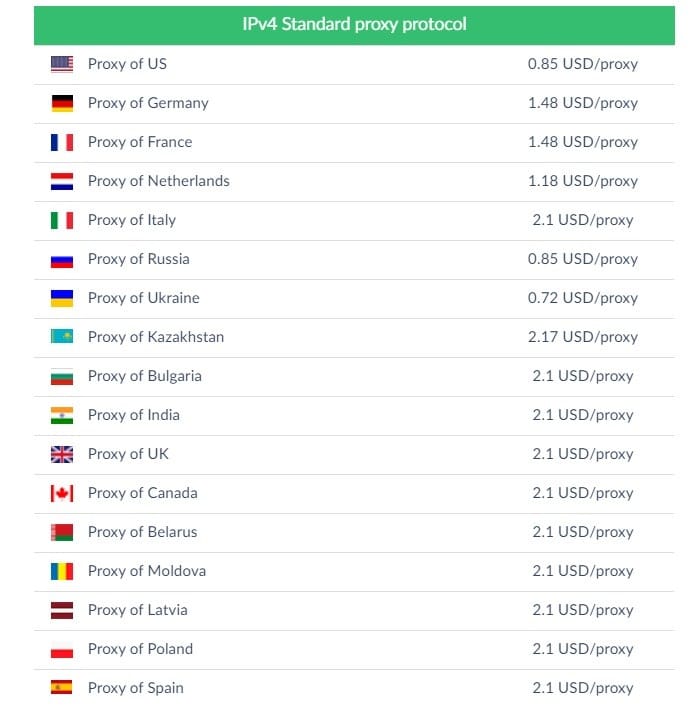 It's not all positive though, there is a downside, and that's the trial or the lack thereof. To test Proxy-Seller's gaming proxies, you'd need to purchase a package, which is not a problem since there is a refund policy. The problem is that you only have 24 hours to ask for a refund.
Pros
26 servers across 4 continents
Unlimited bandwidth
IP whitelist and username and password authentication
Cons
Refund period very limited
---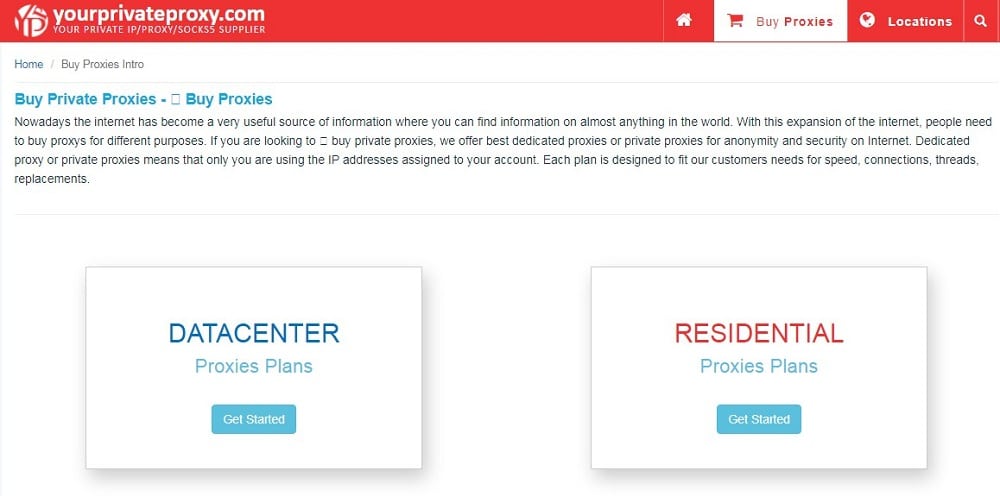 We often mention YPP as a decent provider, so the same can be said about their gaming proxies. It is not on par with the Blazing and Proxy-Seller, but the overall performance and experience are decent.
There is a pattern when it comes to the number of gaming proxies. YPP, just like the previous two, doesn't advertise the number of IPs in their pool. As for the locations, it's nothing to brag about. They have datacenters in 5 countries: Canada, Germany, the Netherlands, the US, and the UK. It may not sound like much, but none of these countries have any restrictions when it comes to gaming.
Since you will be using their proxies for gaming, you can get the smallest package with only one gaming proxy. If you need more, you have 8 more packages with up to 200 IPs.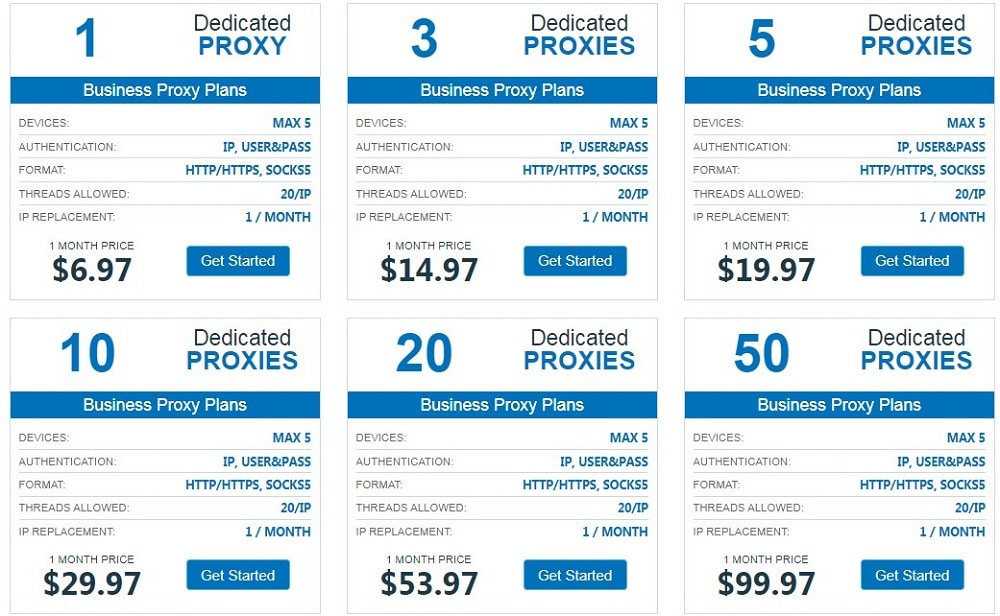 The set of features is not something unique, and you get the basic stuff. There are the standard 2 ways of authentication – IP whitelist of username and password. The bandwidth is limited, and you can use the same account on up to 5 devices. As for the speeds, they are the same as the previous two providers. The datacenters are connected to gigabit networks with high speeds and low latency.
The good news is that there is a free trial to test the gaming proxies. The slightly bad news is that it's limited to 24 hours only.
Pros
Free-trial available
2 types of authentication
High speeds and low latency
Cons
Free trial limited to 24 hours only
---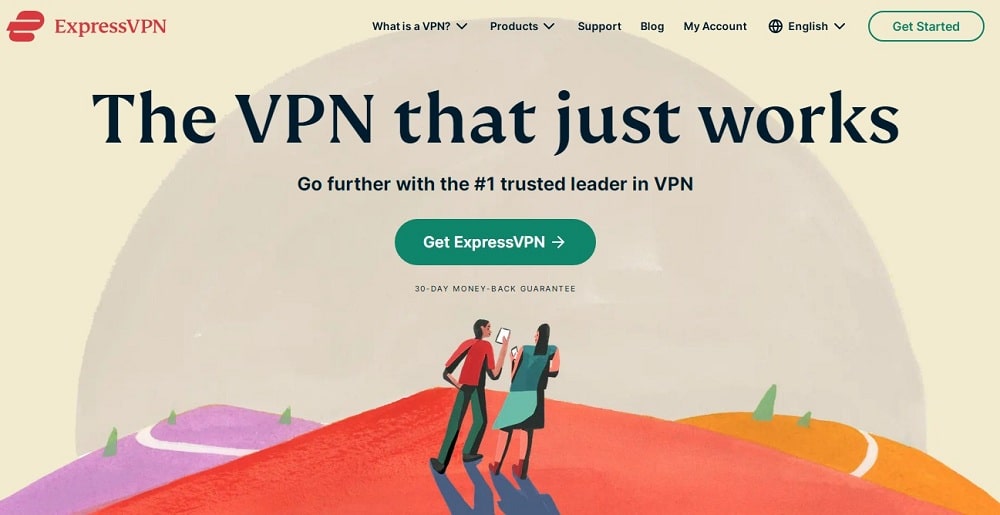 The first in the list of VPNs we'll be covering is ExpressVPN. In the world of gaming VPN providers, this is in the top 3 of any list and with good reason.
You will hardly find any information on the available gaming IP addresses that a VPN provider has, and it's the same with ExpressVPN.The locations and the servers offer over 3000 VPN servers in 160 locations across 94 countries.
On the feature side of things, ExpressVPN has a lot of offer. When using this gaming VPN, you get the best possible speeds it can offer with no limit on the bandwidth. The split tunneling feature is a nice touch as you can only set your gaming session to go through the VPN, while everything else can go through your local IP address.
Like most gaming VPNs on the market, ExpressVPN offers its own app, and it can be installed on anything. There is an app for all major computer and mobile operating systems, including extensions for the 3 most used browsers: Chrome, Firefox, and Edge. On top of that, it can be installed on most smart TVs, game consoles, and directly on a router. Once installed, all you need to do is choose a location and activate the service.

Unlike proxies, where you get multiple pricing packages depending on the number of gaming proxies, things are more straightforward with VPNs. ExpressVPN has only one package offering all features and locations. You can get a discount if you decide to pay for 6 months or an entire year upfront. You will not be able to test this gaming VPN without paying, but you do get a 30-day money-back guarantee.
Pros
Dedicated app for almost any device
Plenty of locations to choose from
Unlimited bandwidth
30-day money-back guarantee
Cons
Slightly more expensive than its competitors
Not the fastest speeds compared to others
---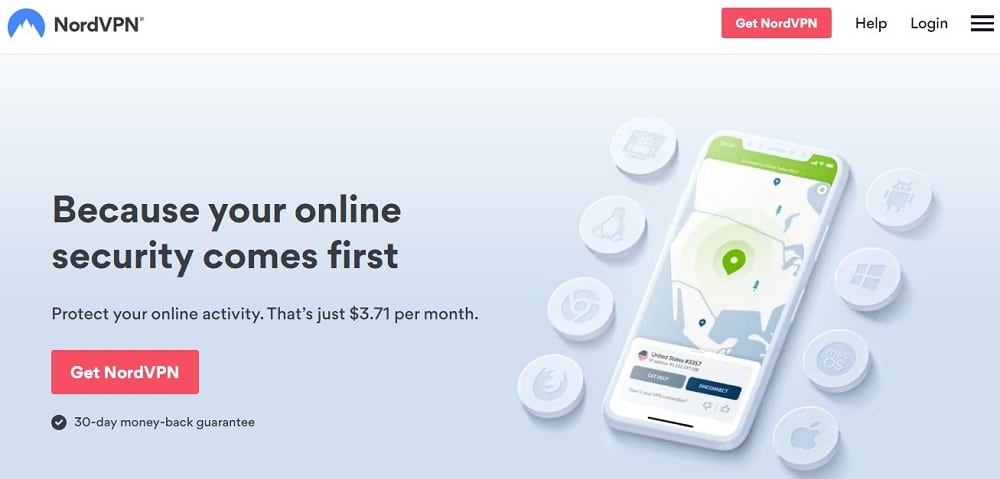 When we talk about VPNs in general, the biggest rival that ExpressVPN has on the market is NordVPN. These two gaming VPN services have been battling it out since the beginning of their existence.
Regarding the locations and numbers, NordVPN has more servers in fewer locations. There are over 5500 servers in 59 countries. The list of countries stretches across the globe, and you have servers in all 5 continents.
If we compare the features of these two, we find more or less similar offerings. You get the regular encrypted tunnel carrying your traffic, ensuring that no one can access it. Speaking of traffic, NordVPN doesn't enforce a limit on the bandwidth, making it perfect for gaming.
You also get split tunneling using the VPN for your gaming session and your regular connection for everything else. This gaming VPN can be used on up to 6 devices simultaneously. One thing that NordVPN excels in is the speeds. Out of all gaming VPNs on our list, this one has the highest average speeds.
As for using it, NordVPN isn't as flexible as the previous gaming VPN we mentioned. While there are apps for the most popular computer and smartphone platforms, getting it to work on a smart TV or a router can be problematic.

Good services are often more expensive, but that is not the case with NordVPN. Considering what it offers, this gaming VPN has an excellent price per dollar ratio. The monthly price is not all that cheaper than ExpressVPN, but as you go up in subscription length, the price difference is getting bigger. Like ExpressVPN, you cannot get a free trial; instead, your only option is their 30-day refund policy.
Pros
Over 5500 servers across the world
No limit on the bandwidth
One of the fastest gaming VPNs on the market
It can be installed on up to 6 devices simultaneously
Cons
Not as many countries
It cannot be installed on smart TVs or routers
---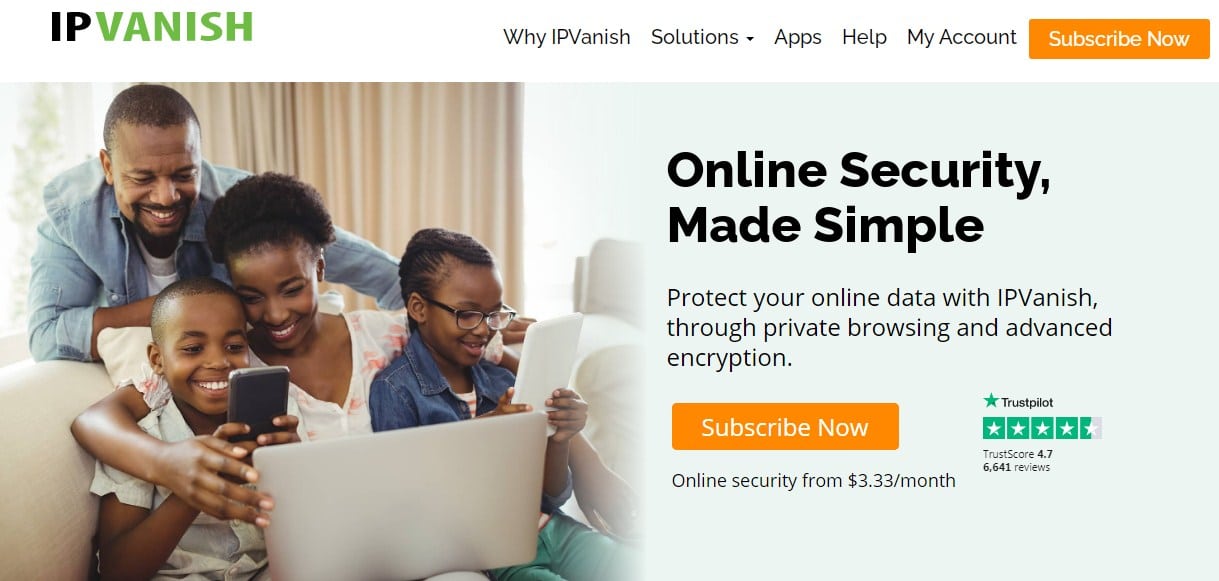 The last gaming VPN we are going to mention cannot compete with the other two regarding features. With that aside, if we consider the price, it may be worth it.
IPVanish is one of the rare gaming VPNs that advertises all the info regarding its services. It has over 40 thousand IP addresses coming from over 1600 servers in over 75 countries. The number of services is nothing impressive, but it does offer more locations than NordVPN. While the countries are not as dispersed as we'd like them to be, they are still found across all continents.
This gaming VPN doesn't offer too much on the features side of things, just the basics. The gaming VPN creates the encrypted tunnel and keeps your sessions secure, and changes your IP address with another one. Like the previous two, you can use it as much as you want as it has no bandwidth limit, just as it has no device limit.
As for the device support, it is decent and, in some ways, slightly better than NordVPN. You can install this gaming VPN on the most popular computer and phone operating systems. On top of that, it also works on amazon firestick, Chrome OS, and certain routers. Surprisingly, there are no browser extensions.

Price-wise it is cheaper than ExpressVPN and NordVPN and considering that it doesn't offer as many features as the other two. You can either get it for a month or a year, where the yearly subscription has an excellent discount. The problem is that after the first year, the price almost doubles.
One thing we didn't like was their support, which isn't as reliable as some of the competitors. Also, the refund policy only applies if you purchase the yearly subscription.
Pros
Affordable
Over 75 countries to choose from
Wide range of supported platforms
Cons
Not the best support
You can ask for a refund only if you have the yearly package
---
FAQs About Gaming Proxy and Gaming VPN
Which is better for gaming – VPN or proxy?
It depends on what you're looking for. The VPN wins as it only takes a few clicks to set it up in terms of ease of use and installation. On the other hand, proxies, especially datacenter ones, have much higher speeds with lower latency. For your case, it would be best if you get a chance to test both sides and see which ones work the best for you.
Are there any free gaming VPNs?
No, you won't be able to find free VPN services.
Can I find free gaming proxies?
While there are some free gaming proxies, using them is a bad idea. There are tons of security concerns regarding free gaming proxies, but the one you should consider the most is speed and latency. Free proxies are among the worst-performing proxies you'll find, meaning that your gaming sessions won't go as they should.
Is there I chance I get caught using a gaming proxy or VPN?
The chances are slim, but they are not non-existent. If the IP address gets flagged as a proxy or VPN, it will get banned, and as long as your account remains active, all you need to do is load up a new IP.
Are gaming VPNs and proxies legal to use?
Yes, both gaming proxies and VPNs are perfectly legal to be used. The only issue is that some game providers or servers may have terms of use section prohibiting their use. In most cases, they ban the IP address, leaving your account active.
---