Even before 911 S5 shut down, we had plenty of providers claiming to be excellent replacements for the service. Considering that the provider is now offline, we need to look at alternatives, one of which is Pia S5 Proxy.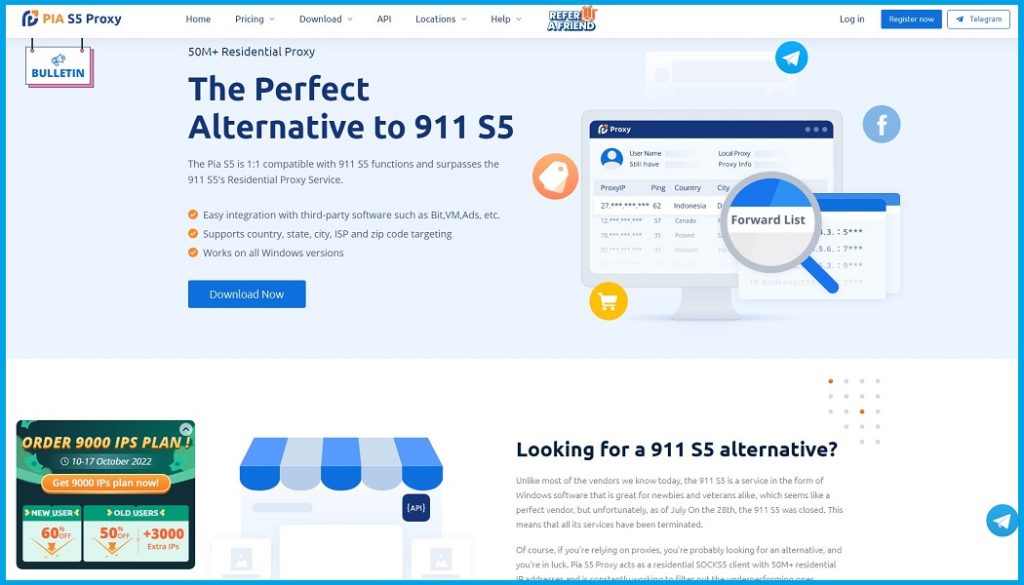 For many people, 911 S5 was the best SOCKS5 proxy provider on the market. It may not had the largest pool or the most locations, but the entire package and the anonymity it offered made it very popular with the community.
Recently the service went offline, so most of us were left looking at the other alternatives that claimed to be the same or better.
The proxy market has plenty of services, some of which seem like a good alternative, while others claim to be one.
Among the many you'll find here are services like Pia S5 Proxy, whose entire advertisement revolves around claiming to be "the perfect alternative to 911 S5".

Looking at the company's website, Pia S5 Proxy seems to be better than 991 S5, at least according to the claims made by the service. With that said, is it really better, and can it bring some improvements over our favorite SOCKS5 provider? Let's find out.
Pros
Over 50 million proxies from over 180 countries
Multiple payment options
Decently flexible packages
Unlimited bandwidth
Cons
The smallest package comes with 150 IP addresses
No option for a custom package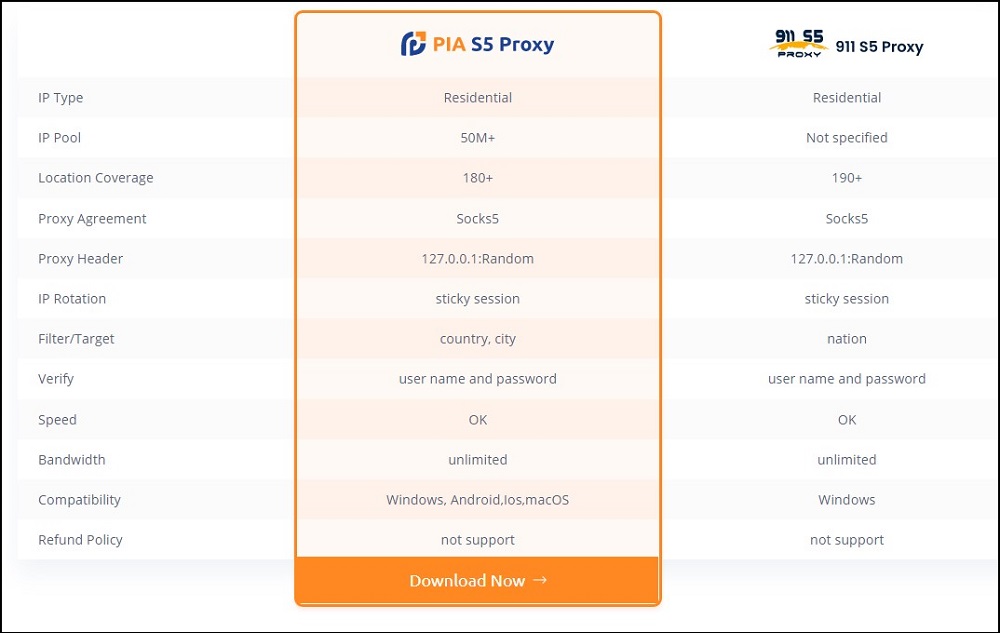 Even though I wouldn't classify 911 S5 as the most feature-rich provider, Pia S5 Proxy seems to be one that can offer a bit more, at least on paper. To some extent, that is good, meaning we, as users, would get more, which is a nice touch.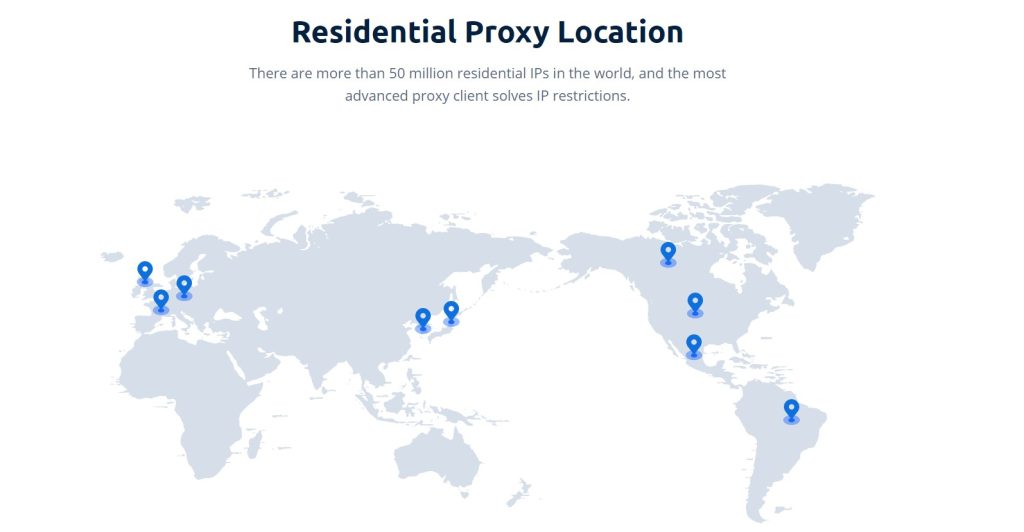 Some people critiqued 911 S5 for the lack of information regarding pool size, but with Pia S5 Proxy, things are different. The company offers over 50 million proxies from over 180 countries worldwide. Having that many proxies is excellent and helps with flexibility.
As far as locations are concerned, it is a bit down compared to its rival, but regardless of that, you're still looking at a proxy provider with comprehensive coverage.

For some people, getting proxies from any location is fine, but for others, there's a need for IP addresses from a certain country or region. This is where Pia S5 Proxy comes into play, offering an excellent geo-targeting option.
There are situations where an advanced geo-targeting feature can be crucial for some use cases, and Pia S5 Proxy can deliver. With this provider, you can choose your IP address from a certain country or city, depending on your needs. Keep in mind that not all cities are supported, but you'll easily find proxies from major cities across the globe.
Depending on the use case, many people are going for proxies with no bandwidth limit. This doesn't mean you'll use thousands of TB of traffic, but knowing you're not limited means you won't have to worry. Pia S5 Proxy has you covered in this regard, offering all packages with unlimited bandwidth, meaning that you're paying only for the number of proxies you're willing to get.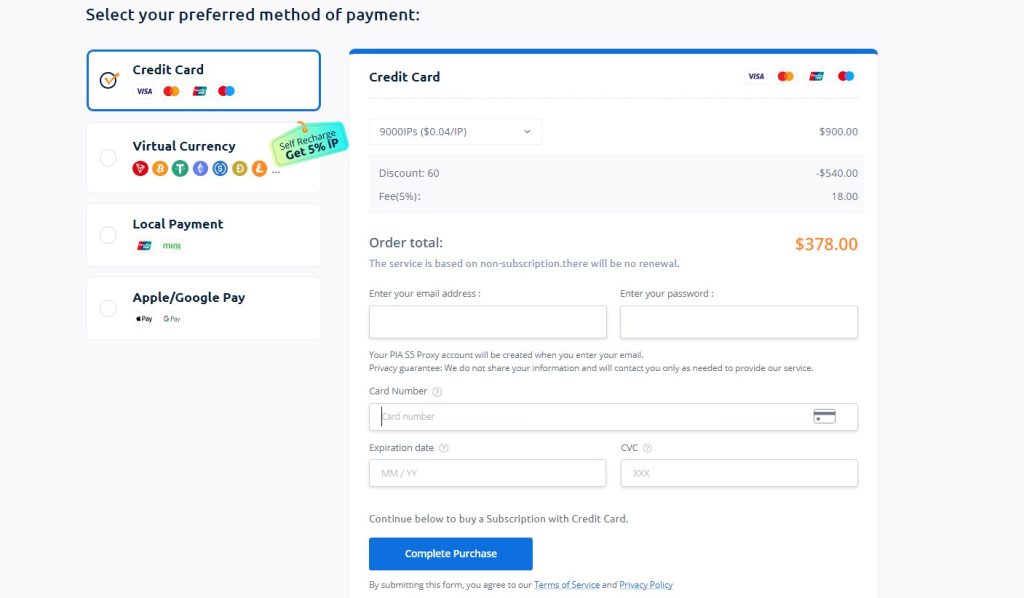 In a world with proxy providers that may have a limited list of payment services available, Pia S5 Proxy is a refreshing option. The company offers payment with several supported credit cards, which is probably the option most people would go for.
In addition to that, there is the option to pay with crypto, which is becoming a popular option these days. There are 12 supported cryptocurrencies, including Bitcoin, Tether, Tron, and more.
Local payments are also available, including Mint prepaid, and you can use Google and Apple pay services.
Services that usually come with a tool are a good option because you can install them on your device and use them as you need. The problem with most is that they usually cover Windows as an operating system, leaving out the rest.
The good news with Pia S5 Proxy is that you can use the service on a Windows and Mac machine. I would have liked to see it supported on Linux, but that's not an option at this time.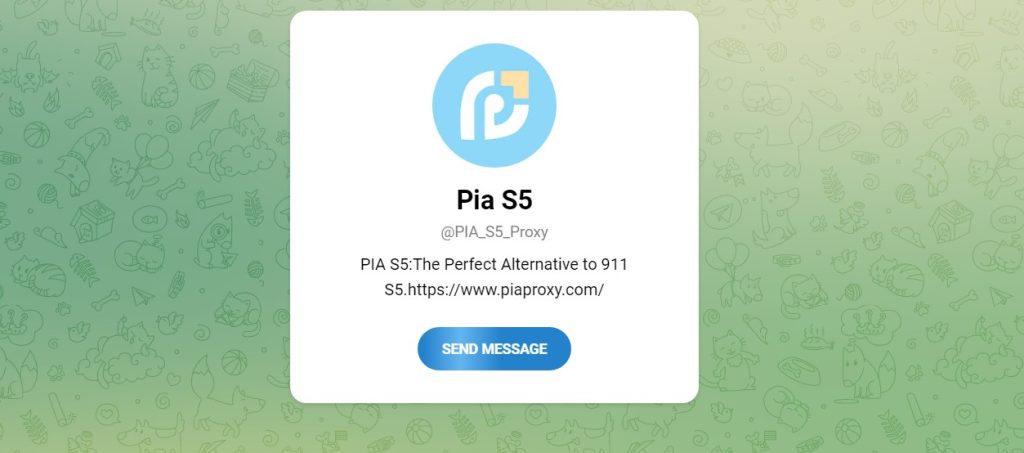 In most cases, people pay for the proxies and start to use them, but there are cases where you may need some help. Pia S5 Proxy does this decently, but there are some drawbacks.
The website has an FAQ and video sections that outline most of what a first-time user would need to know. This is a great starting point, and I have to say that Pia S5 Proxy did a great job. Things aren't as impressive when it comes to asking for additional support.
The only way to reach out is either via email or Telegram. It's not terrible, but some competitors even offer phone support.
Type of Proxies and Pricing

Even though Pia S5 Proxy offers residential proxies, there are two types that are slightly different in the way they work. The first type is the popular one, offering a larger audience and user base, while the second one is the latest, where the proxies' online time is between 6 and 12 hours.
If you're going for the popular plans, you're looking at a more affordable option. The smallest package you can get is 150 proxies which will cost you $0.24 per IP, totaling to $36. Going for the larger packages will give a discount where the price per proxy is lower. The largest package you can get is with 9000 IP addresses for the cost of $0.1 per proxy.
The latest proxies plan is a bit more expensive, but I'd still put this in the affordable category. Like previously, the smallest package comes with 150 proxies, but the price is $0.58, so it would cost you $87. The biggest package here is also 9000 proxies for a price of $0.2 per IP address.

One thing to look out for is the occasional offers where some packages come with more proxies than usual. At the moment, there is an offer where all packages except the two smallest ones get a bit extra. There are also discounts, and the one that's currently active is for the largest packages. The popular package with 9000 IP addresses gives you access to another 9000 proxies, so for the same price, you're getting double. On the other hand, the latest plan is at a 50% discount, so technically, you're paying for 4500 proxies but get 9000.
As good as all of this sounds, my only slight complaint is that I would have liked to see a smaller package. Some of us need a handful of proxies in some situations, so even the smallest one with 150 is way more than we'd need.
Another thing that I feel like it's missing is custom packages. Sure, 9000 IP addresses are a lot, but larger businesses will probably need more, so asking for a custom package is a feature I would like to see Pia S5 Proxy implementing soon.
Whenever we review these kinds of services, we become aware that they're not perfect, which is something we'll have to accept. The main thing to consider is if the drawbacks would impact your usage and if it's worth looking into a certain provider. Looking at Pia S5 Proxy, I feel it would cover many people's needs, despite having some cons.
Editor's Rating
Features

Pricing

Reliability

Support
The pool of proxies isn't the largest in the industry, but it's not terrible. Pia S5 Proxy offers over 50 million IP addresses in over 180 countries which is more than enough, even if the company has an extensive user database. They are wrapped nicely in a decently wide range of packages, covering small and large use case scenarios, and the best part is that it's not overly expensive. The only thing I would have liked to see here are smaller packages and an option to order a custom one.
You can get any package via multiple payment options, including credit cards, crypto, or prepaid services like Mint. The only downside here is that you won't be able to test the proxies for free, so you'll have to risk with the smallest package.
As a whole, Pia S5 Proxy is a solid provider that won't leave you asking for more. Sure, there are providers with larger pools or some that offer a free trial, but despite those downsides, I'd still recommend this company.
User's Reviews & Rating
Stupid Proxy
Average rating:
0 reviews
---