Space Proxies claim to offer many fantastic proxy features. But how true is this? We'll find out in this review. You will know more about this sneaker proxy provider and the features they offer.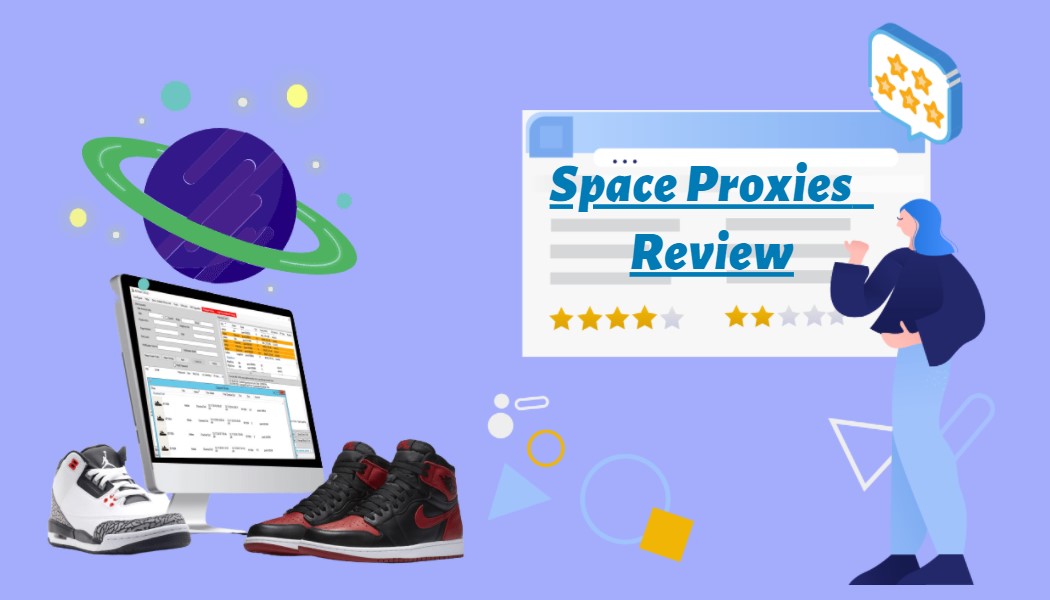 Proxies are essential for copping sneakers; there's no doubt about that. They are crucial, especially for sneakerheads looking to buy and resell limited-edition sneakers. Space Proxies have been in the game for a while and claim to offer many vital features.
They have unlimited bandwidth for all their proxy plans and support both EU and US locations. Even with this location, are they fast and reliable? Let us look at an overview of this hyped proxy provider.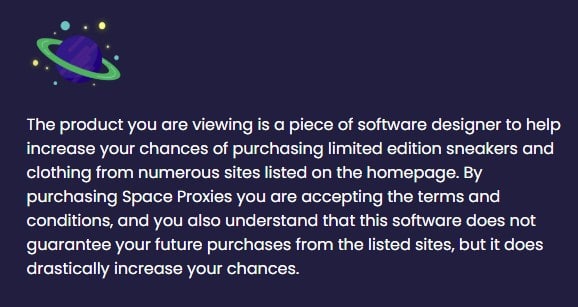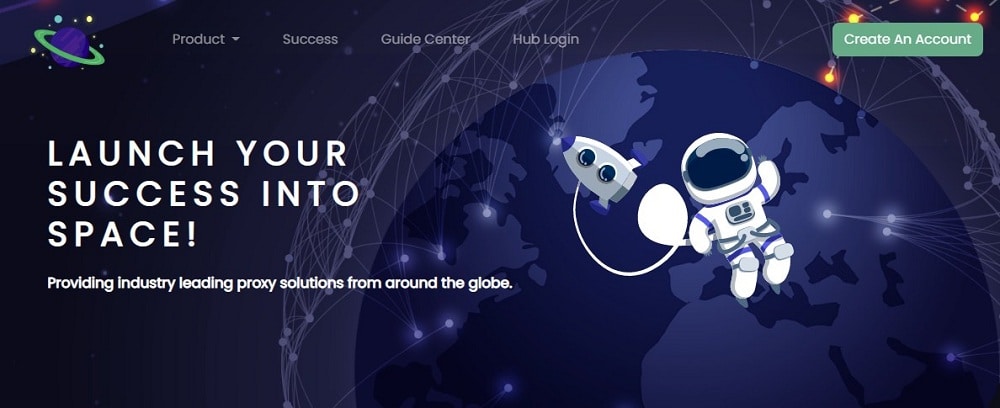 Space Proxies undoubtedly has many top-notch features, making it one of the best proxies to use for copping. It has an incredible speed which improves its success rate and checkouts. They also support multiple sneaker sites, including Shopify, Finishline, Yeezy, and footsites.
On top of that, their servers are located in various strategic places worldwide to offer excellent speed. It produces over 100GBPS, which is enough speed to bypass bot-filters and maintain 99.9% uptime. They also have an automatic captcha resolver which helps reduce checkout time and maintain anonymity.
Pros
Fast Speed: They offer super-fast connections with high connectivity.
Undetectable: the proxies are completely undetectable, which is due to their real IPs.
Customer support: they have excellent customer support, which responds to queries in real-time.
Many packages: several proxy plans are available, making it easy to choose one that suits you best.
Instant delivery: once you pay for a proxy plan, you get access to the account instantly without the need for manual activation.
Unlimited Bandwidth: They have an unlimited bandwidth that ensures you run as many tasks as possible.
Cons
No refunds: Once you buy a digital product, you don't get any refund. All sales are final.
Space Proxies Types and Pricing
Space Proxies have a variety of proxy plans. This includes Captcha, Gmail, Residential and DC/ISP, and Bulk proxies plans. In this review, we are going to keep our focus on residential and ISP proxies.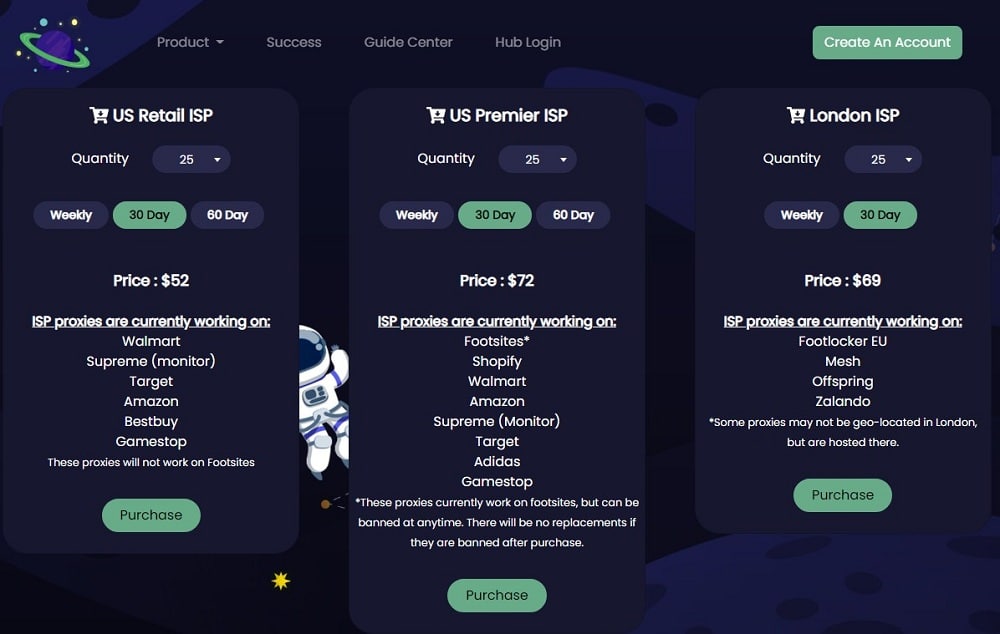 The ISP proxy plans have the lowest starting price at $17 / day. There is also a monthly data plan for $52 and a 60-day plan for 25 proxies for the same price.
With the ISP proxies, you can cop on a variety of websites, including Amazon, Gamestop, Yezzy Adidas, and more.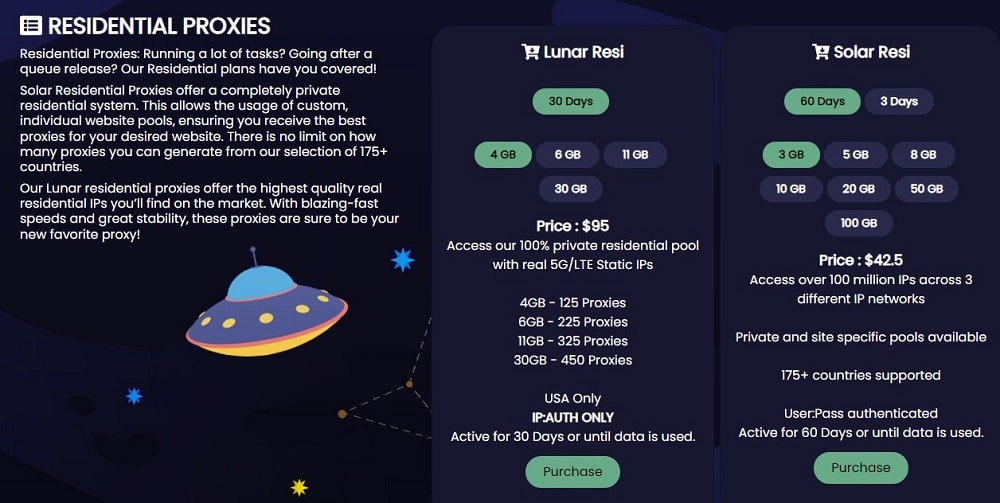 The residential proxies are essentially the best proxies to have for their anonymity and great speed. They enable you to run multiple tasks at once without any bottling or downtime. In addition, these proxies are available for over 175 countries around the world.
The price of these proxies starts at $52 for 3GB worth of data. Residential proxies can be used in almost all sneaker sites, including Footsites, Shopify and Supreme.
Space Proxies' Space Cadet plan is a premium service that gives you access to more features than other packages. For $15 per month, you may save 30% on all online transactions. You may also use the software to monitor various shoe websites, including Footsites, Nike, Supreme, Mesh, and Shopify.
More unique bot partnerships such as Wrath, Estock, Valor, BurstAIO will be available to you. This membership also provides early access to all significant sneaker drops as well as in-depth bot instructions.
Location of Proxy Servers
If you are in search of a proxy provider with a wide variety of locations, then Space Proxies has got your back. They are available in over 175 areas worldwide. If you need geo-targeting in the USA and London, you have to use the ISP proxies.
Features of Space Proxies
They offer their customer support through Discord, which is an easy platform to join and used. You will get professional help from their polite customer support agents. Besides, they respond very fast and provide adequate and helpful details.

Space Proxies have no refund policy. While this may be a disadvantage, it helps keep jokers away from the platform. Therefore, it would help if you were sure of the services you need or ended up on the losing side.
They have highly anonymous IPs which cannot be detected or banned by sneaker sites. IPs are sourced from reliable Internet Service Providers (ISPs) and are legit. This means when using them; you appear as a regular user rather than a proxy.
Their proxies offer high-speed connections, which means you can complete various tasks efficiently. It also enables you to run many activities at a stable speed even when the site traffic is high. On top of that, fast connections give you an upper hand in quick checkouts and copping success.
5. Multiple Proxy Packages
They have multiple proxy plans that enable you to choose to form the one you prefer. This means you can get access to a plan that is within your budget. All these packages also come with classic features which let you enjoy them without issues.
Space Proxies have two different types of authentications. For residential proxies, you get username and password authentication, which is much easier to use. Datacenter/ISP proxies come with IP authentication, which requires specific device IPs to access your account.
Both authentication methods have their benefits and demerits. Therefore, you should ensure that you keenly check each one before purchasing a package plan.
Space Proxies is an excellent sneaker proxy provider with many cool features. It has favorable pricing and comes with many data plans. With it, you also get flexible payment terms, including daily and weekly packages. In addition, they offer lightning-fast speed of over 100 GBPS, which is excellent for copping high-speed sites like Nike and Adidas.
Features

Pricing

Reliability

Support
They are also available in over 175 countries across the world and offer support to many sneaker sites. However, they do not have a refund policy, which is an issue of severe sneakerheads. Their platform is also user-friendly and offers great customer support.
User's Reviews & Rating
Stupid Proxy
Average rating:
0 reviews
---