Are you on the lookout for a reliable sneaker proxy service provider? Here we give you a detailed review of Oculus Proxies, including its benefits and other features.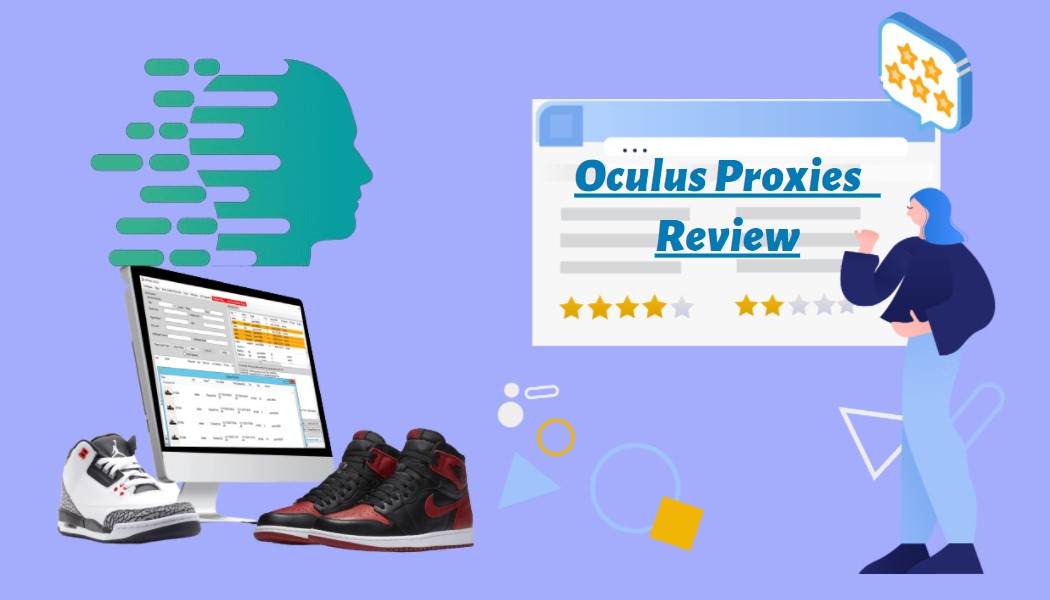 Oculus Proxies is among the proxy providers that claim to offer top-notch sneaker proxies. But are they true to their word? We are here to answer that question.
Among the promises given on their website includes fast connectivity and flexible payment. On a closer look at their services, they also offer a variety of proxies with different features. They give real-time customer support, instant delivery, among other features.
Of course, a good sneaker proxy provider offers more than just that. Continue reading this review to know more about this sneaker proxy.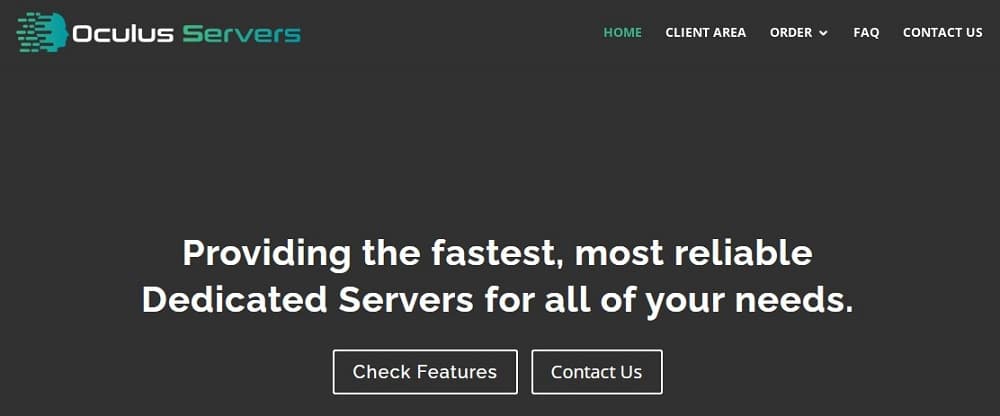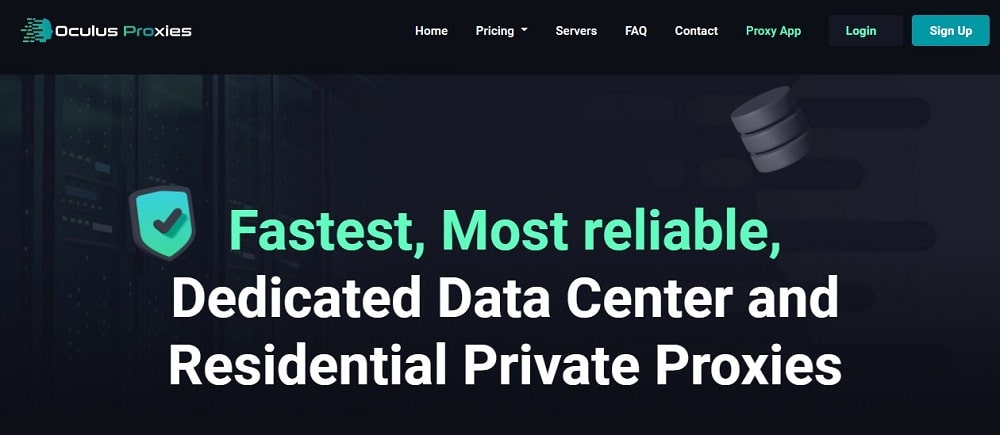 Oculus Proxies is a unique proxy provider offering different proxies with reasonable validity. They provide some of the best sneaker proxies that help sneakerheads cop many limited-edition sneakers.
In addition, their proxies are fast and able to bypass spam filters from various sneaker sites. They have sited their servers in strategic places, which helps optimize their connectivity. On top of that, they guarantee a 99.9% uptime for all their proxies. This means you will not suffer from downtime and network failure issues.
They understand that their clients may not require their proxies for long. As a result, they provide customizable options. This includes purchasing proxies with a weekly time frame. Despite their positive aspects, we have concerns regarding their proxies' dependability and compatibility. They perform poorly with most of the sneaker websites you'll want to use them on. As a result, before purchasing a plan, make sure to review the descriptions carefully.
Pros
They offer fast proxies with good performance even with massive traffic. They claim to provide a speed of up to 100 GBPS.
They also have flexible payment methods, including weekly and monthly data plans.
You get instant delivery, which means you start using your plans immediately after purchase.
The proxies are also highly reliable and work with many sneaker sites well.
They have highly responsive customer support, which offers assistance in real-time.
These types of authentications help you gain access to your account much quickly without having any issues.
Cons
Their proxies don't guarantee support for some Shopify and Supreme sites.
They do not have a refund policy. This means that you will be at a loss if you are not satisfied with their services.
Oculus Proxies Types and Pricing
Oculus Proxies offer three types of proxy plans, each coming with different features. They include; datacentre proxies, Premium DC ISP proxies, and Residential proxies. Let discuss these proxy plans and their pricing.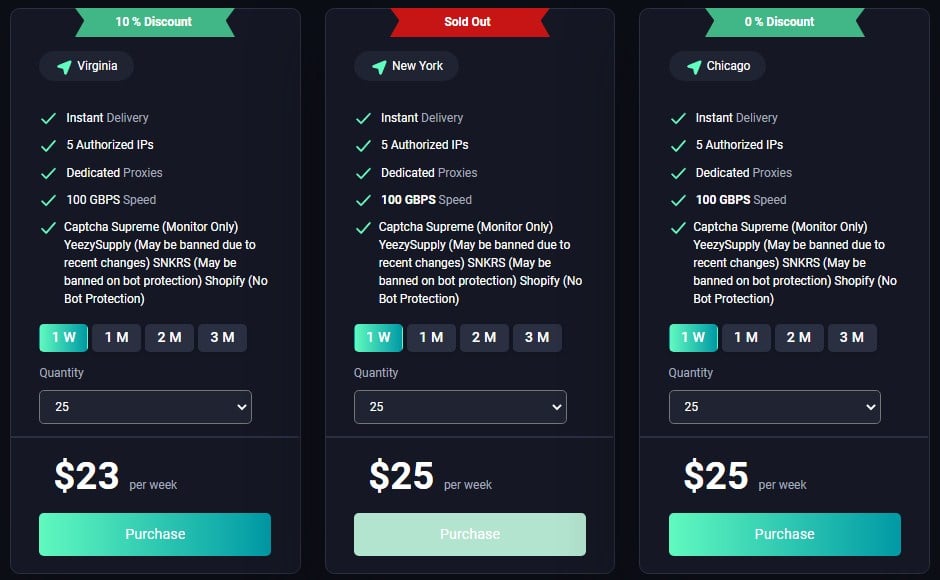 These types of proxies are sourced from different datacenters with real IPs. They can be used to cop on Yeezy and SNKRS websites. In addition, they can be used in Shopify stores with no proxy protection and Supreme sites.
For these proxies, you get to choose from weekly, monthly, 2-month, and 3-month plans. The price starts at $25 for the weekly packages.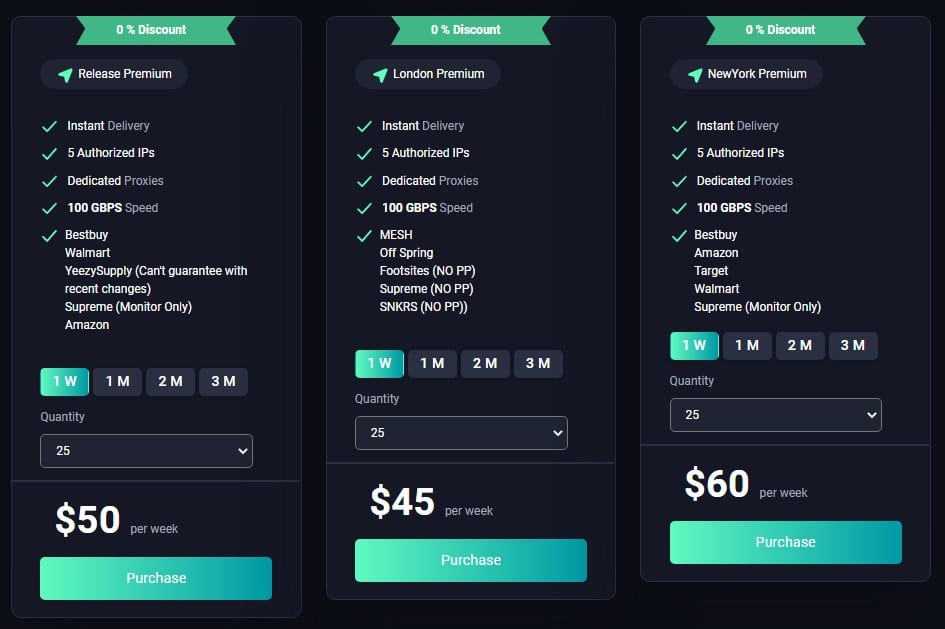 These are more expensive than the regular datacenter proxies. This is because they are more reliable and work almost as effectively as residential proxies. It can also be used for more websites, including Nike, Adidas, and Footsites. The starting price is $50 for the weekly plans and $70 for the monthly data plans.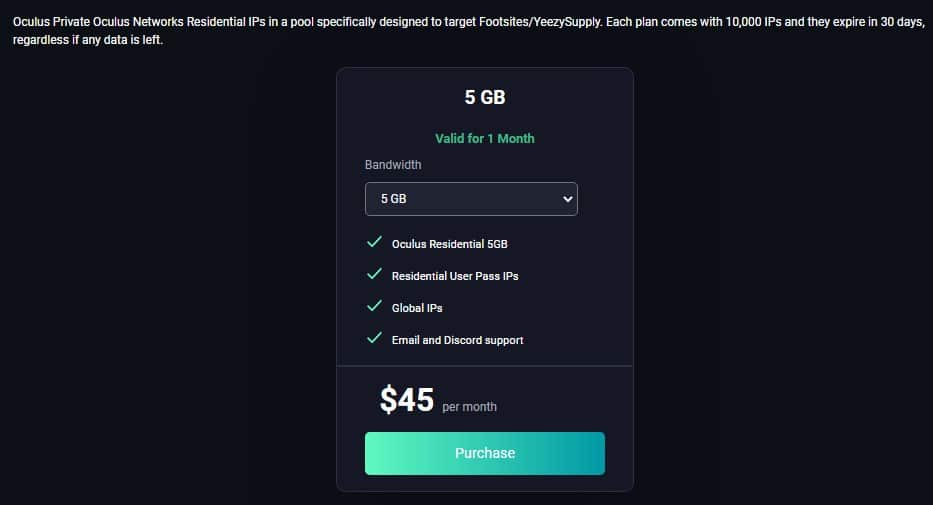 The residential proxies boast of having the lion's share of IPs. They have over 15 million IPs spread on several servers across the world. These plans are sold in terms of bandwidth. The lowest package is the standard residential proxies which cost $15/ month for 2GB of data. You can also purchase the Premium plans for $30/ month to get 2GB of data.
Location of Proxy Servers
Oculus Proxies offer a wide range of location support, including the UK and the US. The ISP proxies are available in locations such as Chicago, New York, London, and Virginia. For residential proxies, you get worldwide access.
Features of Oculus Proxies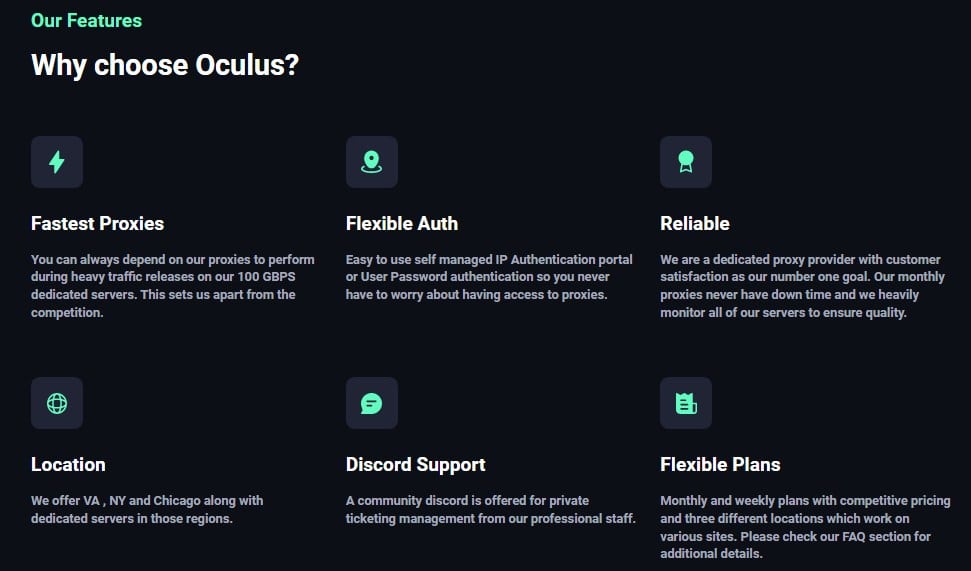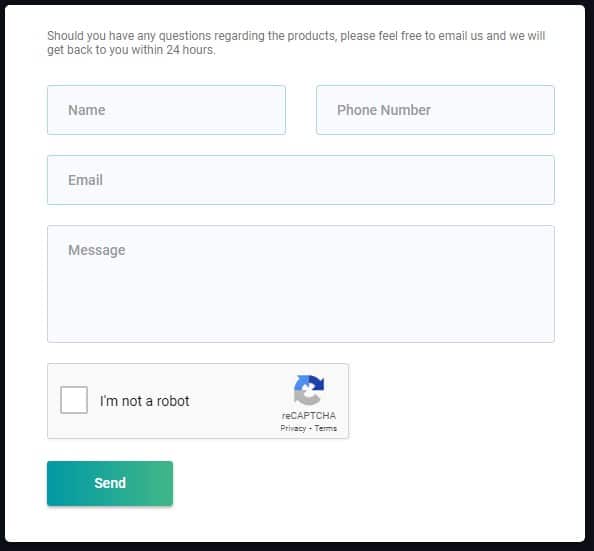 They offer very responsive customer support, which is evident from the review they receive. If you need assistance, you can contact them using Discord or Twitter platforms. In addition, you can also send them a message with your queries using their official email address.
Unlike many other sneaker proxy providers, Oculus Proxies do not offer refunds. This means you should read and understand the terms and conditions before any purchase. Once you have paid for a package, you will not have an option to get your money back.
They offer high-speed connectivity, which is essential for copping sneakers. Their high speed also helps you stay connected even when running in massive traffic.
For every data plan that you choose, you get access to unlimited bandwidth. Which means you can concurrently run as many tasks as possible. This feature helps you buy many sneakers, especially the limited-edition versions.
The proxies are updated regularly. This ensures they are in line with spam filters by sneaker sites. Besides, this helps in improving the speed of the proxies. It also provides that users get optimum connections and no downtime and network failure while on a session.
Oculus Proxies offer both username and password authentication as well as IP authentication. This allows you to choose how you can access your account. If you prefer IP authentication, you will connect up to five devices to the report. However, this may be inconvenient because you will not access the service if you change your device IP.
In a nutshell, there is no doubt that Oculus Proxies work well. It has been developed to work well for almost all sneaker sites with a reliable and compatible speed.
Features

Pricing

Reliability

Support
However, it does not perform optimally on Shopify and Supreme sites. In addition, they offer flexible, affordable payment methods. This feature is excellent, especially if you are looking to cop for a single release.
User's Reviews & Rating
Stupid Proxy
Average rating:
0 reviews
---