Do you wish to give Red Dirt Proxies a try in sneaker copping? Read on our review to decide if their proxies are worth your pocket.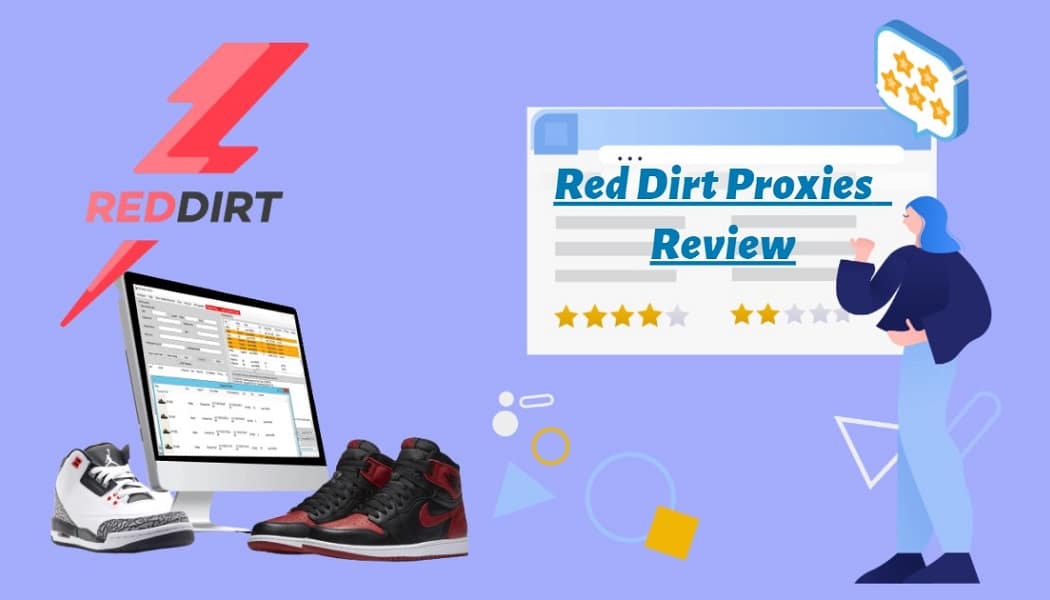 Today, we will look at Red Dirt Proxies overview, features, pricing plans, and many more. You will get the full scoop before trying out their services. Proxies are essential for optimal sneaker copping. Red Dirt Proxies are one of the options available on the market. Red Dirt Proxies have become popular among sneaker retailers.
Due to its popularity, we decided to purchase and test them. Our readers should get updated with the latest drops and sneaker gaming tools. This expert review will present you with unbiased findings,100% reliable.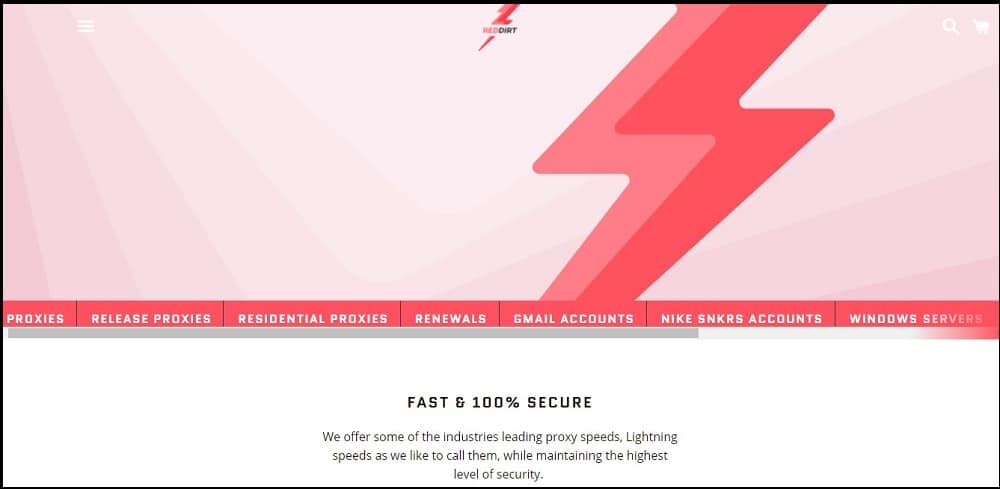 Red Dirt Proxies is a sneaker proxies provider among the sneakerheads in the market today. From their website, we learn that their proxies are 100% secure and come with lightning speed. They refer to it as the industry's leading speed. As well as they optimize on speed, they also ensure that their customers are kept safe online.
Although Red Dirt Proxies are effective, there are still areas where they need to improve. Once these few areas are considered, as we will see, their service will be perfect for sneaker copping. We will never hesitate to add them to our recommended list. This is because sneakerheads do not just need proxies but proxies that are reliable with stellar speed to evade detection and increase the chances of grabbing the drops.
There are many sneaker proxies providers, and Red Dirt is one of them. From the Twitter handle, their proxies work, but copping does not only want proxies that work. There is more of that than just working. Before we came up with this review, we looked at their location coverage, speed, authentication method, site support, and customer support. Our research discovered that Red Dirt Proxies specialize in three types: Residential, Datacenter &ISP, and lastly, Release proxies. We will deeply cover this in our next section.
Besides proxies, Red Dirt LLC also specializes in Gmail account generation. The Gmail addresses are verified and trusted. These accounts are efficient for splashing Yeezy Supply and ADC with instant delivery. Aside, they also have sneaker accounts, in which case they are not available in most cases. But window servers are always available for Virginia users.
If you are a short-term user, then Red Dirt Proxies are the best option for you. They have 3 days plan usage proxies that come with a reasonable price. Their release proxies work well on sneaker sites. As long as they do not guarantee customers, they don't also offer a refund. While residential proxies are metered, their datacenter proxies come with unlimited bandwidth. We recommend weighing their pros and cons below.
Pros
Multiple subnets
Cross-platform
Support ISP and location-based proxies
Unlimited bandwidth-Datacenter
Sticky and rotating residential proxies
Free proxy tester.
Cons
No IP authentication
No refund policy
No free trial
Red Dirt Proxies Types and Pricing
As earlier discussed, Red Dirt Proxies have three proxies with different pricing plans. Let us now look at them in detail.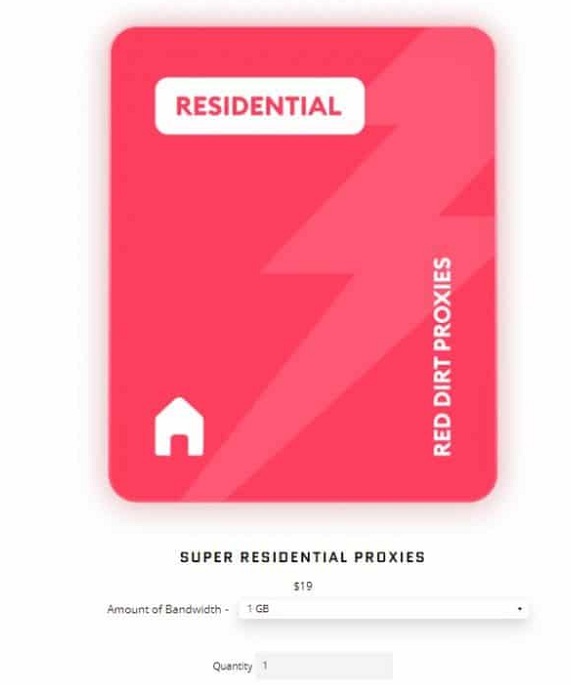 Red Dirt Proxies's residential proxies are primarily used for data scraping, SEO & SERP research, automation of social media, etc. And their IP addresses come from real users who are connected to ISP. They are both static and rotating.  These proxies are delivered instantly and activated within one hour upon purchase.
They rely on a pool with millions of ISPs that support many locations worldwide. The plan starts at $19 for 1GB. To access these proxies, you must be on their discord server. Unfortunately, residential proxies have limited data usage as pricing is based on bandwidth. The proxies are perfect for web scraping.
Datacenter and ISP Proxies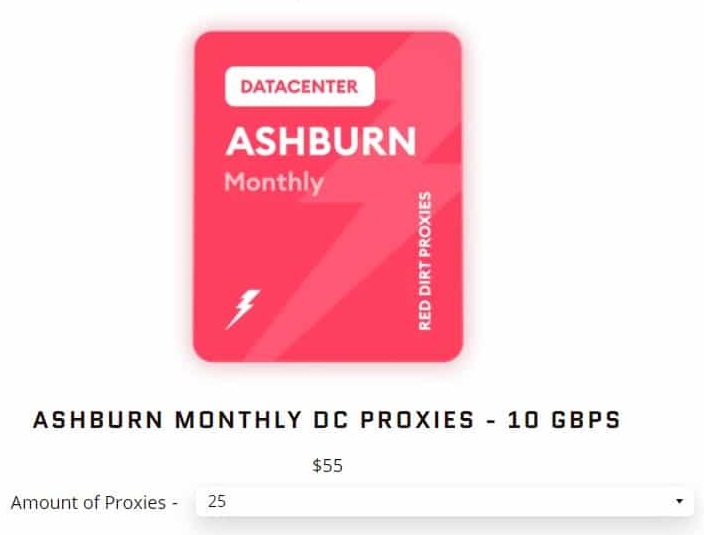 Datacenter and ISP proxies support a few sites like Adidas, Footsite, supreme, and YeezySupply via subnet only. The datacenter proxies are not used for advanced tasks. Instead, you can use them for cyber protection and enhancing anonymity. However, Red Dirt LLC does not guarantee customers due to volatility. You cannot run multiple tasks sending too many requests concurrently. Your proxies might get banned.
A good thing about them is that their refresh rate is too fast. As long as the proxies have unlimited access, they last as long as your subscription is active. Datacenter and ISP proxies are limited to London, NY, and Ashburn. They offer monthly, 4 days and 5 days plans.
Monthly Datacenter Ashburn proxies go at $55 for 25 proxies. ISP London proxies start at $60 for 25 proxies. Equally, a 4 days plan in NY goes at $22.50 for 25 proxies. While Datacenter has high-speed 10GBPs, ISP comes with a fixed speed 1GBPs. It's worth differentiating them.

Release proxies are optimized for sneaker copping on Adidas, Supreme, Yeezy, Footsites, Nike, Shopify, and many other sites. Release proxies allow multitasking; however, they are only limited to Ashburn. This is the most competitive package on the sneaker copping market. In most cases, it is always sold out. You must be available all the time on Discord to grab it. They have optimized Datacenter and ISP proxies for copping limited drops.
They are designed and keep changing depending on the release sites. Hence, the release proxies guarantee a high success rate. The 5 days datacenter VA Finishline proxies start at $25 for 25 proxies. They guarantee to work on most sneaker sites in Ashburn. Even though the refresh rate is fast, running many requests results in bans. The 4 days Datacenter NY package starts at $22.50 for 25 proxies, but they only guarantee to work on Shopify, Nike, and Supreme.
Both cases offer unlimited bandwidth, but speed differs. Again, ISP proxies start at $25 for 25 proxies active for 3 days. The package supports YeezySupply with no multitasking. For more details, check out their Release proxies pricing plan.
Location of Proxy Servers
Red Dirt Proxies has a good location coverage in sneaker copping business. Datacenter supports Ashburn, and NY is the US, but In the UK, it only supports London. While Residential proxies are not specified, but they claim that these proxies support many locations.
Features of Red Dirt Proxies
Red Dirt Proxies do not have a contact us page, not an FAQ page; instead, the customers can only obtain support via Discord or their Twitter handle. They don't have any business with you if you cannot reach out to them using the two means.
Red Dirt Proxies do not have a refund policy once you purchase a service. The only exception to receiving a refund is when you buy their Gmail account, which becomes unverified due to their fault.
The proxy provider has a good location worldwide. Datacenter supports three locations, Ashburn and NY in the US as well as London in the UK. While residential supports a good number of places, however, the list is not provided.
4. Unspecified Proxy Pool
The Red Dirt Proxies provider does not specify their proxy pool size compared to other alternatives. Rather, from the website, we can attest that they have millions of IP pools. This is not a perfect decision to expect from them.
5. Rotating and Sticky IPs
Their residential proxies offer both rotating and sticky sessions. Sticky proxies are suitable for sneaker copping while rotating are preferred for automation tools.
6. Optimal Spped and Uptime
A 99% uptime is excellent and reliable. The best feature that makes their proxies stand out is their optimal speed. 10GBPS is good for sneaker copping.
Red Dirt Proxies offer datacenter proxies with unlimited bandwidth as the pricing is based on the proxies. In contrast, residential price is based on the bandwidth.
Before using their proxies, You can download a free proxy tester from their site and test first. This is exceptional and one way to guarantee customers the reliability of their proxies.
Red Dirt Proxies only authenticate their proxies using the user: pass method. They do not support IP authentication. However, this is not a problem for sneakerheads.
Based on our test and research, Red Dirt Proxies work well. Their release proxies are perfect for sneaker coping. However, their customer support communication needs improvement.
Features

Pricing

Reliability

Support
Their location coverage is good as most targeted parts are supported. Unfortunately, they lack more features, and their pricing is awful for individual sneakerheads. If you need specific proxies for a particular drop, go for Red Dirt Proxies. While their speed is good, most of the time, their release proxies are sold out.
User's Reviews & Rating
Stupid Proxy
Average rating:
0 reviews
---