Having a hard time figuring out if AIO Bot is worth your investment? Don't worry; this review will give in-depth details about the bot, including its features and how it works.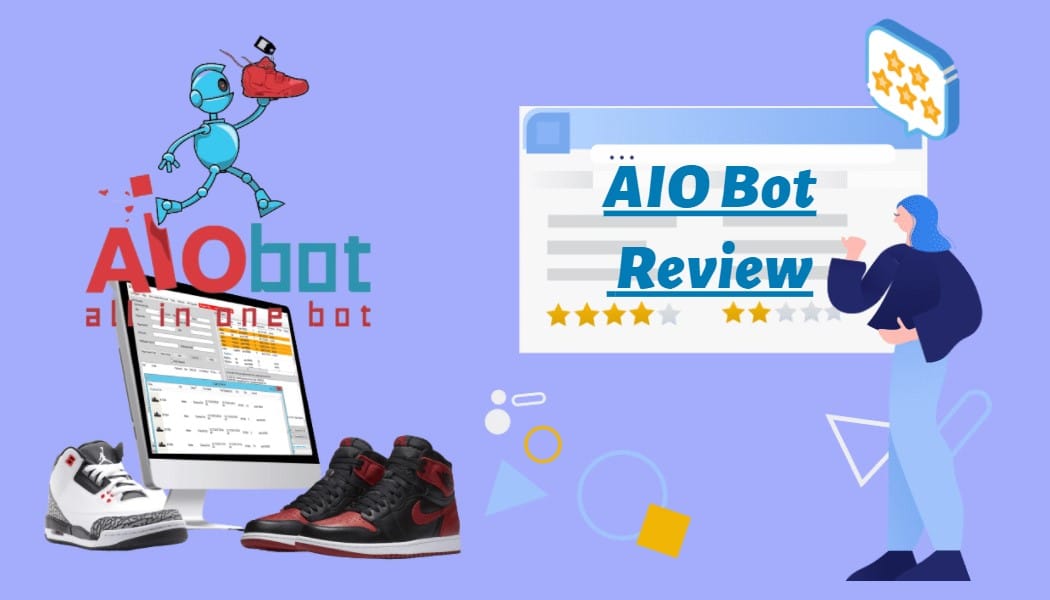 If you've been copping with yourself for some time now, the All-In-One bot might not be a new thing. AIO bot is a great sneaker bot developed by Another Nike Bot (ANB) to help cop with different sneaker sites. It is undoubtedly one of the best sneaker bots in the industry.
AIO bot comes with many features and functionalities which give it the top position in the bot industry. Proxies that enable you to buy many sneakers by changing your IP address increase your checkout rates and connectivity speed. They also support Windows computers, but to use it on Mac devices, you need to install Linux or use browser extensions.
So, how does the AIO bot work? What are some of its pros and cons? Is it a good bot to use for copping sneakers? Don't worry this review will answer all those questions.
The AIO bot supports more than 200 websites, and consumers have purchased over 300,000 pairs of limited-edition shoes. Its Twitter account is a testimony to the bot's success. It's also been covered by Forbes, CNBC, and a few other mainstream media platforms.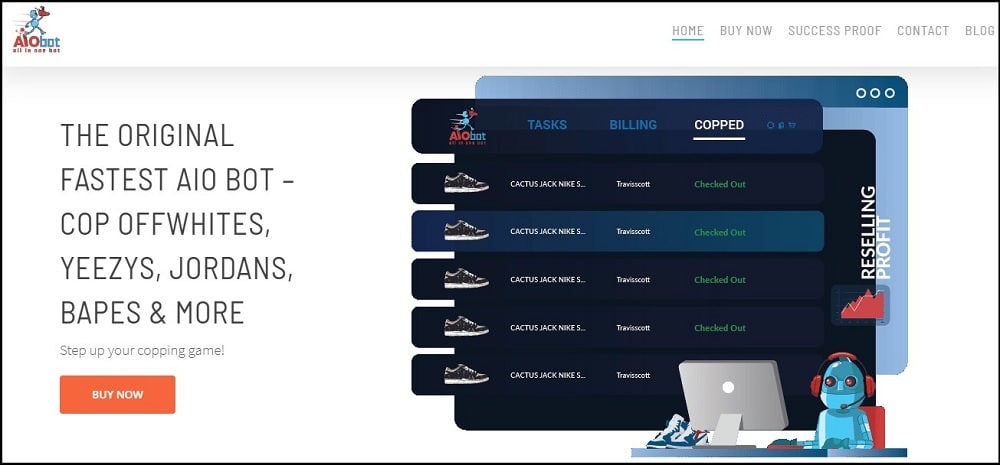 The AIO bot was built by a similar team that created ANB and perhaps The Shit Bot. The group has a solid record in the business and is widely regarded as the finest in their field. The bot's creators push out updates regularly and inspect them for flaws and problems that may arise.
The support crew is praised by consumers and regarded as the best in the market. Support staff may lag owing to the high volume of botter inquiries and customers' demand for fast assistance, especially during sneaker release seasons. Users, particularly new ones, frequently have issues with their bots.
That's why bot customer service agents are so crucial in determining their ultimate rating. The AIO bot has an outstanding rating of 74 percent on Trustpilot, with most of the testimonials praising the bot's fantastic support staff.
It is also considered to be the original All-In-one bot. With regards to popularity, it's comparable to the leading opulent sneaker bots. Its appeal stems from its incredible success rate and efficiency. From the original iteration, V1, the present version, V2, has shown massive progress. The bot has been optimized in the latest edition and uses some of the most sophisticated technologies and functions.
Pros
Super-fast connection speed with multithreading technology
Monitors sneaker sites to catch restocks and drops
Keyword search
Automatic checkout feature
Proxy support
Multi-captcha resolver
Responsive customer support
Cons
Expensive pricing

Only support Windows devices
The ANB AIO bot goes for a one-time payment of $325, which looks pretty reasonable. However, you'll have to spend an additional $70 every six months for renewal and updates.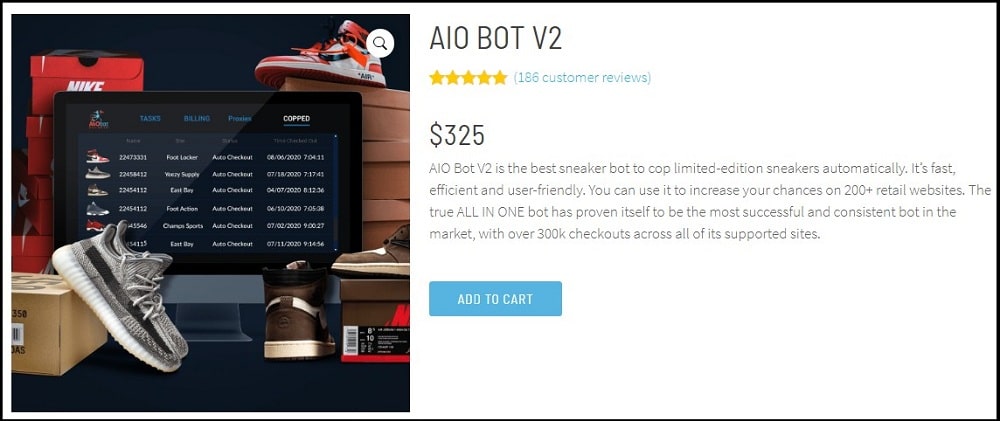 The bot will not function without updates; therefore, you cannot avoid the costs. Coping multiple sites also necessitates the use of proxies. You can save money by using a Google cloud host; you'll get $300 credits simply for joining up, which will serve you a long time. You may also buy your proxies for just $0.007 per hour and each proxy. You may alternatively select just to run the proxies once they're required, which can save you money.
The provider boasts quite a lot about how cheaper the proxies are, which, as I mentioned, is quite unique. There is a section on the homepage where Geonode compares its pricing plans with other providers. When compared to even the cheapest popular options, you are still paying less. As a bonus, this is compared with Smartproxy's limited package.


Just as the name suggests, AIO Bot provides support for multiple sites. It stands to be one of the top bots with the highest number of website support for the record. This saves you a lot of money as you don't need to use multiple bots for different sites.
Multithreaded for Multitasking Support

Are you looking to run many tasks simultaneously? If yes, AIO has got you covered. They have a multithreaded feature that enables you to run an infinite amount of tasks concurrently. This feature allows for every task to run independently without having to interfere with each other. It also maintains the same high speed giving you a smooth and fast checkout.
AIO Bot has a vast collection of features that make it a classic choice for many. Two of the most outstanding features in this bot are the Link Monitor and its Product Keyword Search. They also have proxy support which helps prevent bans and helps you, cop, more than one pair of sneakers. It supports Windows devices, and Mac computers can be kept using virtual computer features.
Since it is a popular bot, AIO bot has invested in having an easy-to-use interface. Their dashboard is easy to navigate, and one doesn't require any programming skills to use this bot. You have to install the bot, generate the log in detail, and get it suitable to the business.
They have a pretty detailed FAQ page that answers the most common questions and challenges that uses experience. This makes it easy to get help without having to contact customer support.
Using the AIO bot is very simple. Once you have installed it on your device and logged in, adding proxies only takes these few simple steps.
On the main menu, go to configure and select choose proxies
There will be a pop-up mane 'New List', which gives you the option to enter your proxies.
Copy your proxy list and paste it on the text area, and name it. In addition, you can select which sites the proxies should be used on.
Save and start copping
There is no doubt that AIO Not is expensive. However, this comes in handy as you get to enjoy excellent success rates just as promised by its experienced developers, ANB.
Features

Pricing

Reliability

Support
If you do not have an issue with the pricing, this is a reliable, secure, and user-friendly platform. Its excellent reviews and testimonials from various sneakerheads mean that it will perfectly work well for you too.
User's Reviews & Rating
Stupid Proxy
Average rating:
0 reviews
---