Are you looking to cop sneakers from several sites? You might want to consider AIO bots. Without them, you may end up using more money purchasing different sneaker bots, which isn't economical.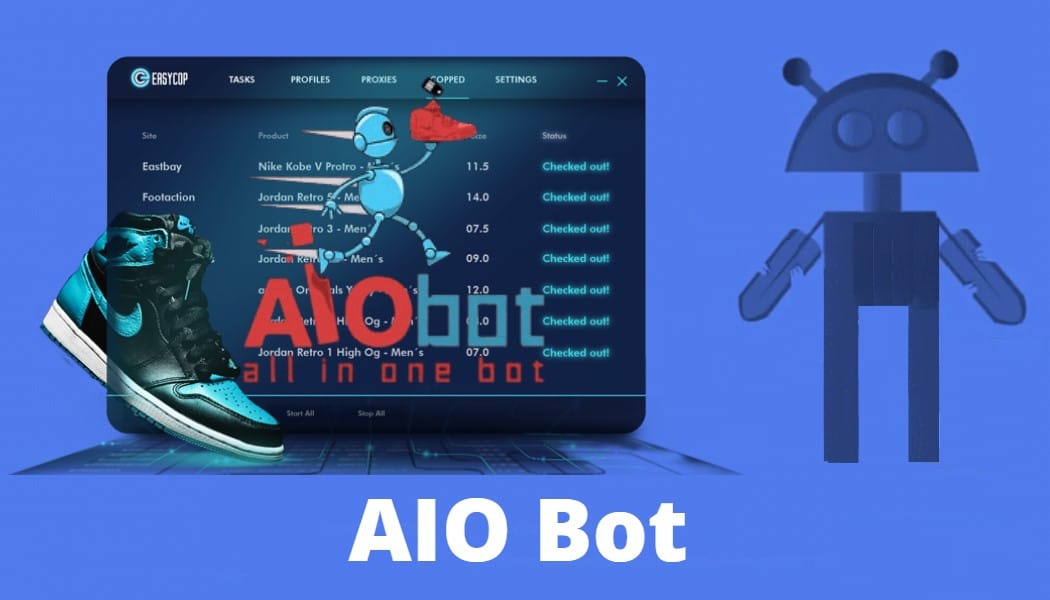 An All-In-One (AIO) bots are the best kind of bots to be used for copping multiple sneaker sites. They help you purchase sneakers without using many bots, thus helping you save on money. Many of them are available in the market and come with different features.
For bots to offer the best services, they should be in limited supply. This ensures that a minimal amount of people can access them, thus giving them an upper hand in purchasing sneakers. Nobody would benefit from a sneaker bot if everyone were to have a sneaker bot as the competition would be high.
For this reason, most sneaker bots sell out quickly. This means you should always follow their updates on platforms such as Twitter and Discord. By doing so, you will know when there is a new update or when the bots are available for purchase.
Despite stiff competition among bots, some stand out for their efficiency, affordability, and great features. Here we give you a glimpse of some of the best AIO bots available in the market and what they have to offer. We will also discuss how compatible they are with another site, their speed, and their efficiency, among other features.
---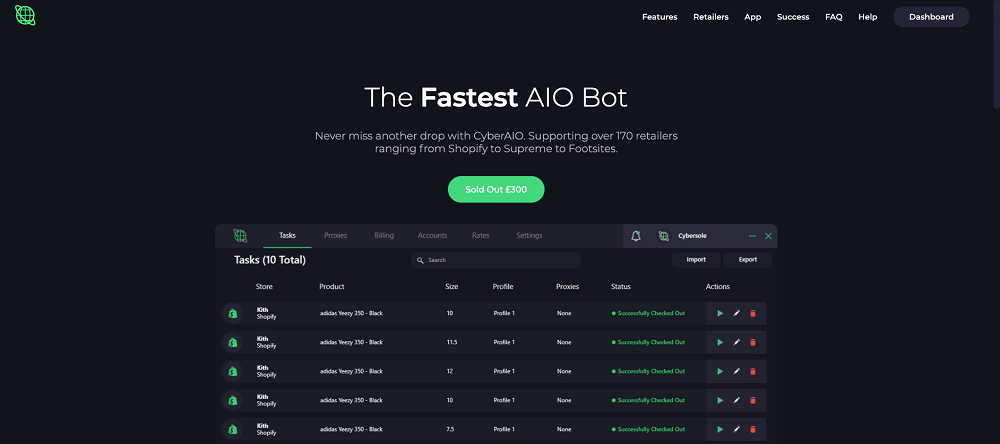 Cost: £300
Support: Windows Only
Updates: Regular Updates
Proxy Support: Available
Cybersole bot is among the most popular AIO bots available. This is due to its excellent success rate and speed of delivery.  The unique feature about this bot is its price; it provides the most affordable data plans compared to other providers.
This AIO bot boasts a lot of cool features, such as its super-fast speed. They offer multi-threaded connections to provide a consistent and rapid rate. You may also use the platform to perform infinite tasks with no downtime or network failure. It also comes with an automated captcha resolver, which makes copping much easier.
---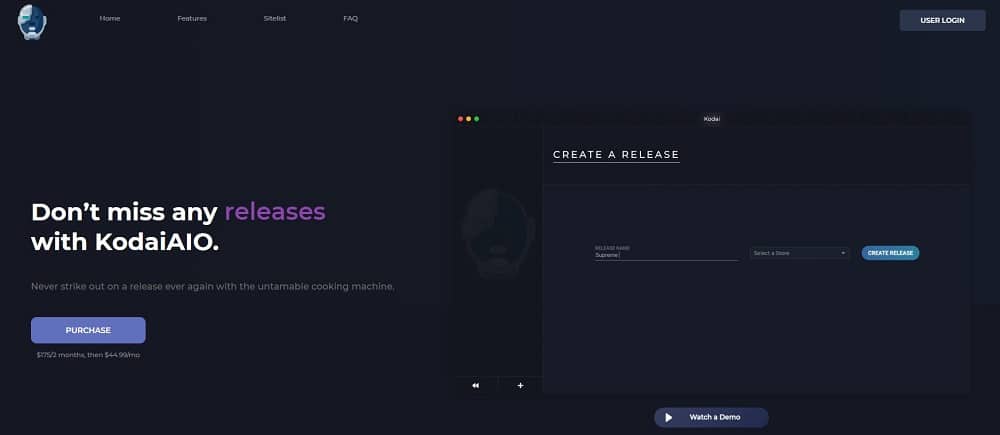 Cost: $175/2 months then $59.99/month
Support: Windows and Mac
Updates: Regular
Proxy Support: Available
Kodai AIO is a great AIO bot with a lot of positive feedback. It's also a popular sneaker bot that works with various retailers, including Footlocker, Supreme, Footsites, among others. The best feature offered by this bot is that it is compatible with most devices, including Windows and Mac computers.
Its user-friendly dashboard makes it simple to use the bot. Thus the platform is easier to grasp for newcomers. Kodai AIO also brags of a great deal of success. It has surpassed 210,000 successful user checkouts, propelling it to the top of the AIO bot market.
Regular maintenance is performed on the platform, making it continuously provide you with the best features possible. Its outstanding speed and ever-evolving techniques ensure that users are ever one step ahead of the competition during limited releases.
---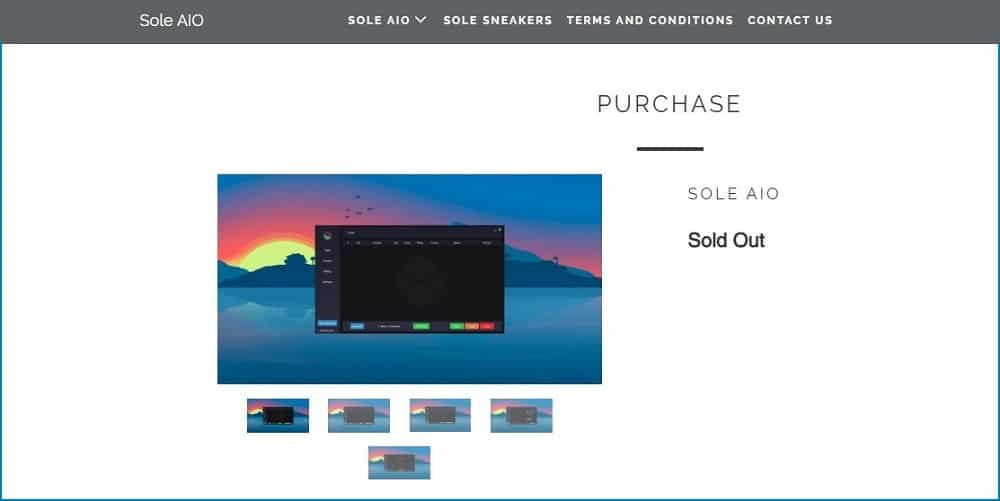 Cost: £300 per license and £125 renewal/ 6 months
Support: Windows
Updates: Regular
Proxy Support: Available
This sneaker bot is also among the top AIO bots in the industry; it has a performance specific to work on numerous sneaker sites. It has accessibility to far more than ten additional sites and may be utilized in purchasing sneakers from different companies. Sole AIO Bot runs on Windows PCs with a standalone system.
The bot comes with a convenient interface and enables lightning-fast connections. It also includes an outstanding captcha resolution that helps preserve your connectivity. Sole AIO offers upscale functionalities which allow you to carry out different tasks simultaneously.
---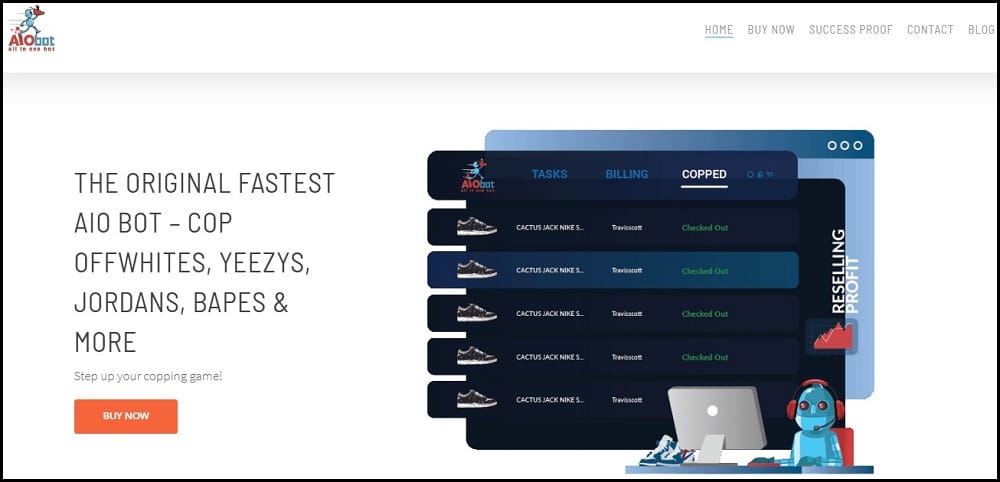 Cost: A one-time payment of $325
Support: Windows
Updates: Regular
Proxy Support: Available
It is the quickest and most dependable bot available. This is one of the oldest boats in the industry and offers a ready and easy installation process for anyone in need of it. To get this bot, you must make a license payment of $325, which is renewed every six months for $69. Because of its high copping success rate, AIO Bot is the most dependable bot for various limited sneaker releases.
The bot provides the best copping and quick connection rates. Its interface is also simple to use, thus easier for new clients to get started with the program.
---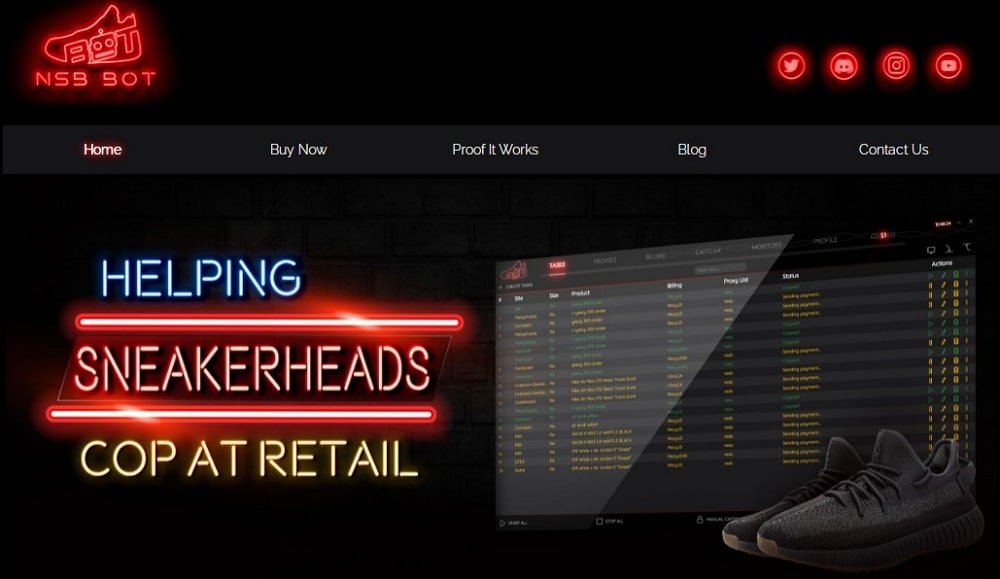 Cost: $499/Year
Support: Windows
Updates: Regular
Proxy Support: Available
The Nike Shoe Bot (NSB) is an AIO bot known for its excellent success rate. You'll be able to get limited-edition sneakers right away if you use them. It includes some of the best features, such as a captcha solver that assures a seamless buying procedure.
They feature an easy-to-use interface that is ideal for newcomers. Furthermore, they refresh their site regularly if sneaker retailers make adjustments to their buying methods. Customer service is also quick to respond and may be reached by Twitter, Discord, or email.
---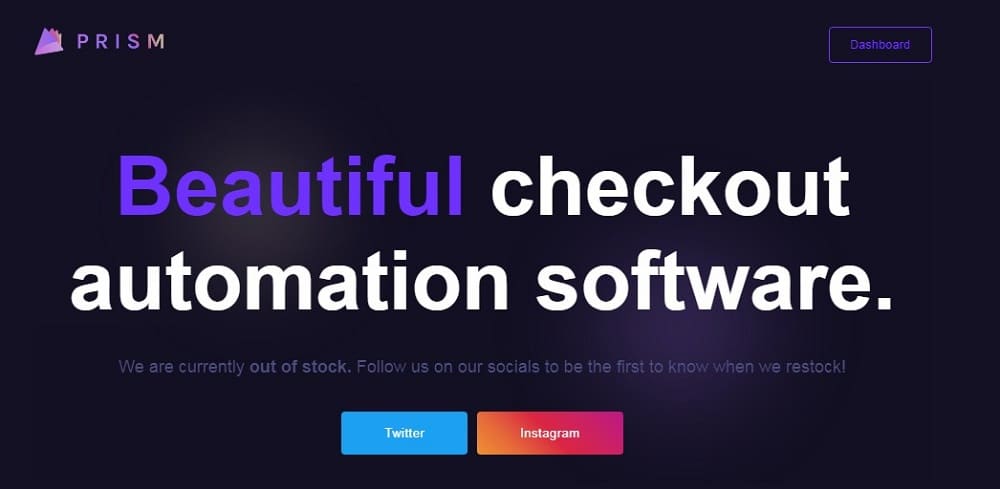 Cost: $500 initially and renewed 3 months for $150
Support: Windows
Updates: Regular
Proxy Support: Available
PrismAIO is among the most prominent AIO bots, and it is often limited due to its dependability. For its sleek, contemporary, and good features, many have grown to adore this bot. Remarkably, it's also simple to use and offers services for obtaining sneakers from various stores. This bot imitates human behavior on multiple websites, allowing it to get by the anti-bot filters.
They also have a record of over 70,000 successful checkouts, with an average of 250 checkouts per user. To know when the bot is available for purchase, keep a close eye on their Twitter and Instagram platforms.
---

Cost: £200 per license and £50 renewal/ month
Support: Windows and Mac
Updates: Regular
Proxy Support: Available
Torpedo AIO has risen to be among the best performing AIO bots available. It has incredible speed and excellent connectivity. The bot also offers many top features, including a captcha resolver and real-time anti-spam filter bypass.
Although it hasn't been in the industry for long, they have beat some of the oldest providers with their affordable rates. They have a good record of many successful checkouts and good reviews on Trustpilot. It is also considered one of the most accessible platforms to navigate as it offers a user-friendly dashboard. Their customer support is excellent; they respond to queries very fast and offer the best services.
---
Cost: €199.90 per license and €30 renewal/ month
Support: Windows and iOS
Updates: Regular
Proxy Support: Available
Flare AIO is also another great AIO bot that offers incredible connection speeds at pocket-friendly prices. They have a mobile app that helps ensure you don't miss out on limited releases by any chance. With this bot, you are guaranteed to efficiently undertake an infinite amount of tasks at no extra cost.
They also have an integrated account generator which will come in handy for generating accounts on multiple websites. Apart from that, the bot supports more than 30 worldwide websites. It is also compatible with Windows and iOS devices.
---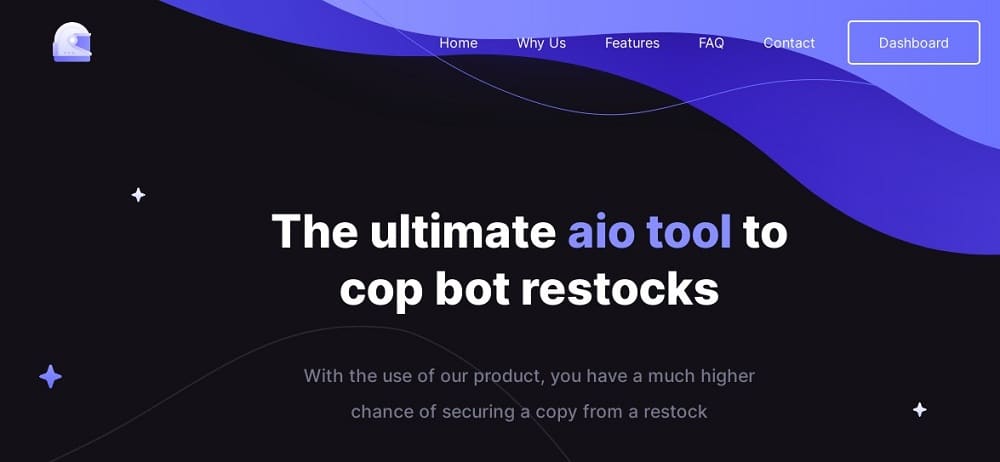 Cost: $25/ month
Support: Windows
Updates: Regular
Proxy Support: Available
Pulsar AIO is yet another great bot you can use to cop multiple sneaker sites. It offers incredible speed and has no downtime. It also has excellent features such as spam-filter bypass and captcha resolver.
The bot offers a great price which makes it one of the most pocket-friendly bots available. Their customer care is also great, and they offer support through various means, including social media platforms and email.
---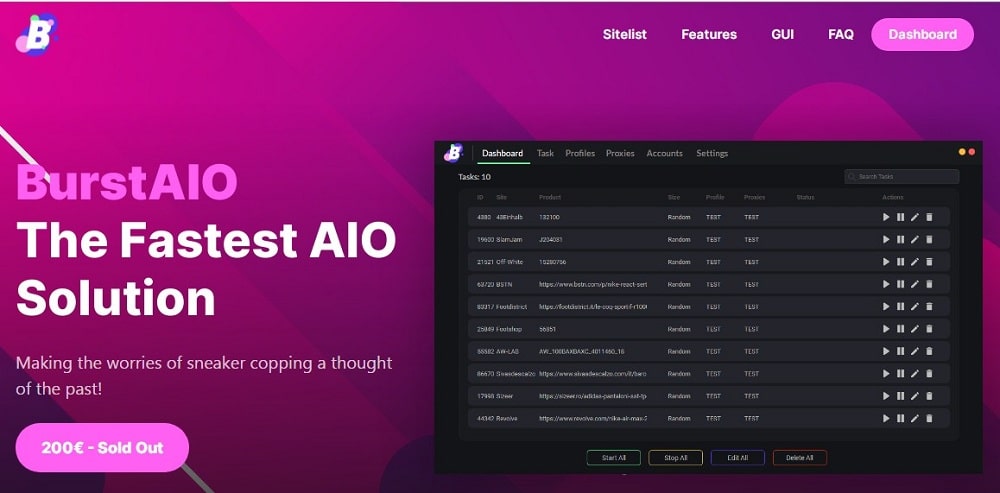 Cost: €200
Support: Windows
Updates: Regular
Proxy Support: Available
Do you want to stop worrying about sneaker copping? BurstAIO provides the fastest AIO solution that makes your copping process effortless and instant. They give you access to unlimited task creation, which makes it possible for you to undertake thousands of tasks at no added cost.
The bot offers one of the fastest connectivity in the market, ensuring that you checkout within seconds! They also provide an in-depth guide that enables you to understand all about the platform. If you are new to it, worry not because their user-friendly dashboard will make things easier. You will also enjoy 24/7 customer support in case of any queries.
Is it legal to use AIO bots?
In most countries, such as the US, sneaker bots aren't illegal. Although many retailers have strict policies against using bots for purchases, there is no specific law that prohibits the same.
Yes! Although sneaker bots do not guarantee a total success rate, they increase your chances of success. They are even better when used with sneaker proxies, making the process faster and more efficient.
Which is the best AIO bot?
Deciding on the best AIO bot is purely based on individual needs. Every bot has its own set of unique features in terms of price and sites they support. Therefore choose a bot that best suits your needs.
Conclusion
In conclusion, all the above AIO bots are great for copping sneaker sites. However, you need to be careful as most do not support Nike. The reason for this is because Nike has the best anti-spam filters in the industry, and only a few bot providers like Nike Shoe Bot can match its speed.
---