Have you ever wondered what a raffle bot is? Nice, raffle bots help increase your chances of grabbing the grails. If you manage to purchase one, you are a lucky sneakerhead in copping limited editions sneakers.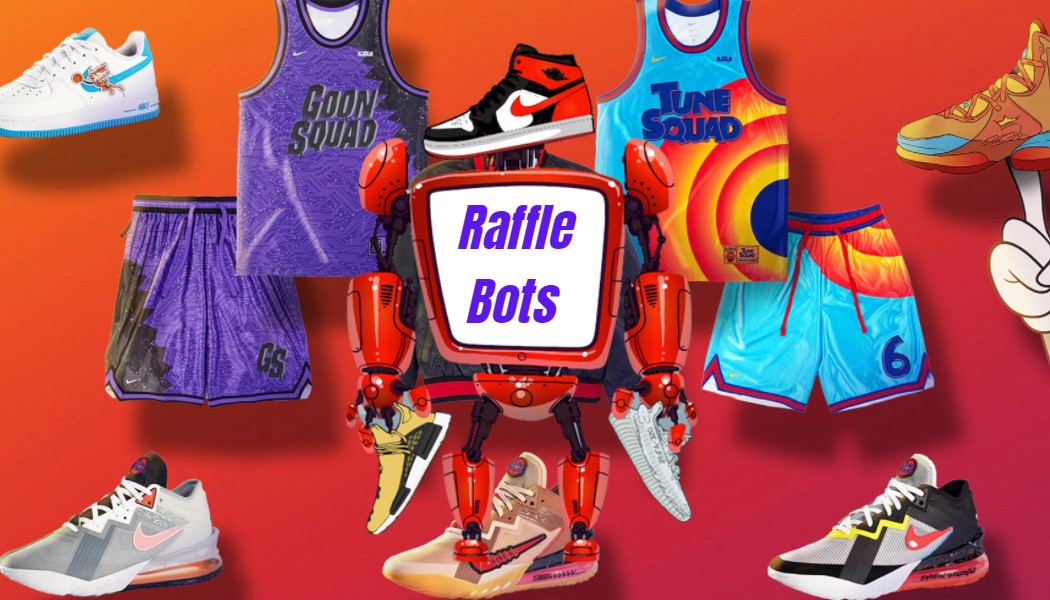 In most cases, resellers use raffles to promote and increase the probability of buyers getting limited drops even though there is high demand. Equally, raffles are used by sneaker shops and sneakerheads in copping enough sneaker stocks for resale. This means raffle bots are important in sneaker copping. This is because it increases the revenue of an individual directly. Getting a raffle ticket means you are increasing your chances of winning new drops.
Unfortunately, retailers are not paying directly; rather, when you win, you go and pick a single pair at a cheaper price( retail price). Raffle makes it easy to buy l; limited releases without much hassle. Therefore, the raffle bot plays a critical role in getting you multiple entries into the raffle. This increases the chances of winning the grails.
Just like sneaker bots, not all raffle bots are effective and recommended for creating multiple entries. You might experience hardship in deciding which bot to use. For that reason, we have carried out research and come up with the top 10 raffle bots that we highly recommend you to use. Let's dive deeper into it now.

Chrome Extension
Unlimited entries into raffles
Hyper raffle bot is the first on our list due to various reasons. First, this bot is software designed to help increase chances of winning premium sneakers and clothing majorly. It comes without server limits, and users can create unlimited raffle entries, increasing their chances of grabbing the drops. Another thing is speed. This bot is cloud-based running tasks on servers. Therefore, when you purchase it, rest assured of the stellar speed.
Since this bot runs on a website, all people can access it worldwide. You can access the web app from work, home, or anywhere. Besides, this raffle bot can be added as a chrome extension. Using this bot is simple, and the license comes with detailed documentation to guide you.
This is the best software with proven success, which lies in numbers. Since the bot is always out of stock, you can follow them on Twitter to stay updated when they restock. However, if you cancel your subscription, you revoke access to the services, and your purchase is final.

Multiple sites
Anti-zombie system
This is our second best raffle bot worldwide. It supports two platforms; windows and macs. Like our first option, this bot also increases the chances of getting the latest drops in the copping game. This is an exceptional sneaker bot made specifically to send the entries automatically to the sneaker raffles. Its speed is perfect for raffle draws. The main advantage of this bot is that it can send multiple entries within a short time.
This raffle bot has unique features, and since it is an automation tool, it replicates a web request of a sneaker retail app when the user sends requests. Its anti-bot system support makes this bot anonymous. The developers always protect your data against misuse or unauthorized access.
While they offer a one-month free trial to their users, automatic membership is renewed unless you cancel. The license fee costs $100, with the monthly renewal of $39.95. In case you want to access the regular updates, follow them on their Twitter page.

In-house Monitors
Custom-site Compatibility
KickRaffleBot is a fully functional raffle bot on the market. Even though it only supports Windows, it comes with adorable features. It runs on both supported sites like Footlocker, Naked, GoodHood, as well as custom sites. The bot has multithreaded raffle entries, which are combined with browsers.
The user has full customization on any entry data with ease and efficiency; hence have full control over the entries. In-house tools allow their users to create fully optimized and reliable activities. The support team is available 24/7, thus enabling a friendly environment. While elsewhere, users access notifications on flash raffles via in-house monitors.
This is one of the few raffle bots with regular updates that aim at nothing else but ensuring users experience the best. For any updates on when they open group buy, check them on their Twitter handle. Besides the EU, the bot also supports various sites across the world, including Australia and USA. The retail price costs £150  while the monthly renewal is $20.

1,000 stores, 30 raffles a day
Sneaker raffle mobile app

Sole Retriever mobile is also a good raffle bot. We could not end the list without mentioning it. Many customers prefer using this bot hence considered best with a perfect reputation. The bot can't let you down, and it accesses wide stores. However, it only offers the users 30 raffles per day. However, it sounds like a drawback, but as we have recommended for quality, this is among the top quality bot.
In 30 draws a day, you won't miss out on all. On their Twitter pages and website, you can access a lot of information like restocking dates, information on sneaker releases, etc. Above all, this bot has a detailed calendar that has information concerning upcoming releases.
Catch up with the new releases as this raffle bot makes all their users remain informed. They dig anything around the world in sneaker copping for retail price. It supports the most popular brands you know at $75 per month.

Spoofing your location by proxies
Use FLX accounts to win Footsite raffles
This raffle bot is great because it supports Mac and windows. From this perspective, it means many people are using it. This bot is perfect for winning the draws or lottery when you use the FLX account. Since it supports proxies, users can employ them to access the top lottery websites. Proxies are critical since they help you stay anonymous by rotating and even hiding your IP address. When it can evade such restrictions, it is obvious that it has a high record of success.
KagelAIO has a highly qualified customer service team that ensures that you get the best proxies. They also provide detailed documentation through the discord as well as services. Anti-captcha API tool helps users evade and bypass all the captchas faster and easier. This is a good bot if you need to buy sneakers at retail. Access their regular updates on Twitter; follow them.
The support team is highly dedicated to ensuring you get the best. You can also get top-notch guidance from the discord guides and services. The anti-captcha APIs will help you solve the captchas easily. This raffle bot is perfect for helping retailers get the best sneakers at a small fee. You can follow their Twitter page to get regular updates.

Provide account generators
Create unlimited custom files
ThunderIO is again the credible raffle bot.  It brands itself as the most stable, precise, and fastest software that can secure thousands of sneakers every month. It has been in business for over 2 years and is the leading software in EU botting games. Among its features is that the bot supports both windows and mac. T
heir CLI interface is simple and offers users a chance to create unlimited tasks while preparing for restocking or drops. When you add compatible proxies, you can watch automation as you sit back and relax. They provide various services that make the users' experience simple, like giving account generator tools, monitor, discord services, and anti-bot solutions.
When you purchase the license, which costs €450 with a monthly renewal of €35, you get free access for the first 3 months. However, the bot is always OOT( Out of stock) thus gets updated when you follow them on their Twitter account. The discord support is available if you have any arising problems that need attention.

Integrated account generator
Geocoding address
This is also a credible raffle bot available on the market. It supports windows while Mac platforms are awaiting confirmation. While it offers unlimited entries, it also supports in-store, online as app raffles. The bot has unique features like link opener, account checkers, friendly, clean, and smooth CLI with an amazing user experience.
This bot supports many sites which are not only for footlockers, Shinzo, etc. In terms of pricing, this is the most affordable and cheap raffle bot going at €199,90  with a monthly renewal of €24.90. Because of its automation tool, the bot handles tasks with an ever desire of my blazing fast speed.
FlareRaffles is a perfect choice for acquiring multiple wishes. However, the bot showed a discrepancy while on the footlocker. You can as well follow them on Twitter for any regular updates.

Powerful proxy support
Fast task engine
ShrimpAIO is considered the best raffle bot in the sneaker business. It has advanced features like an ultra-fast mission engine, a general CSV,  task format, and 3DS processing. The customer support team is on another level. Because the bot supports proxy, it ensures that your details are kept anonymous online. It is easy to command its line interface that ensures maximum performance on the most often sites.
However, the bot works only on windows, but again, it can still operate on Linux and macOS under some conditions. While they do not offer a free trial to their loyal clients, all users have 24 days to cancel orders. The bot is cheaper compared to the few best and competitive bots. It costs £250 with a month of £50. Follow the Twitter page to learn and get regular updates.

Supports Windows, Linux, and Mac
Generation zero threat to sneaker market
This bot, in most cases, is the best raffle bot in sneaker copping. In simple words, it is a sneaker abduction software that users regard as the best in the observable universe. The bot is in a zero threat generation that keeps users winning due to their big guns.
They increase your odds of winning a premium raffle. Alien AIO was designed from the best alien technology, and the offer is second to none on the market when you look at its efficiency and reliability. Your online security is 100% taken care of.
This bot is unique in many ways thus outshines other raffle bots in the market. Currently, the bot supports Windows, Mac, and Linux. This software has a friendly user interface that even beginners can use to secure a high-value raffle. They support many stores that have passed their WARP requirements, and many are down on the pipeline.
The CLI( command line-edition) offers a lightweight client to run on all mainstream platforms. They condensed all the features into a smaller package. Their pricing is friendly with zero tax. The initial cost is £120 with the monthly renewal of £15. For more details and regular updates, follow them on Twitter.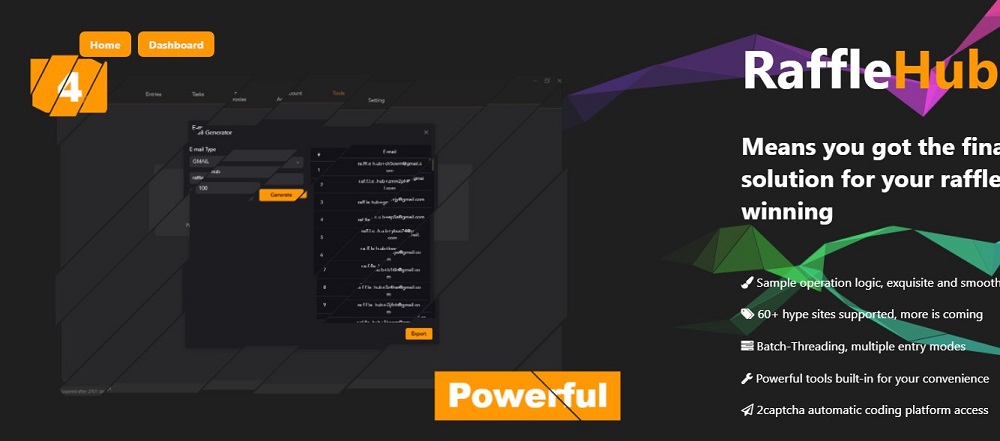 Support 60+ hype sites
Batch thread
And last but not least on our list, we have RaffleHub. Many users prefer it. It is a multi-platform supporting both mac and windows. Besides supporting over 60 sites and batch threats, it also offers multiple entry modes to loyal customers.
Aside, the bot has an automatic captcha solver, a sleek user interface design, encoding access, as well as powerful built-in tools to facilitate the process. It never disappoints the users, which is amazing. The bot is always available and costs $269, including a one-month renewal and $120 for 6 months renewal. If you miss it out, you can always follow them on Twitter to get notifications on when they restock.
Raffle bots operate like sneaker bots. The difference comes in on their speed. Raffle bots are faster and increase your chances of grabbing the grails. If not limited editions. When you get a ticket, your chances of getting sneakers for free from multiple retail stores are high.
However, users should first test many raffle bots to decide the one that suits their needs. We have done it for you, and our top ten raffle bots are efficient with high chances. Try them out.
---