Did you know Cybersole is one of the most advanced bots in the market? If you want to know more about it, this review will equip you with all the details.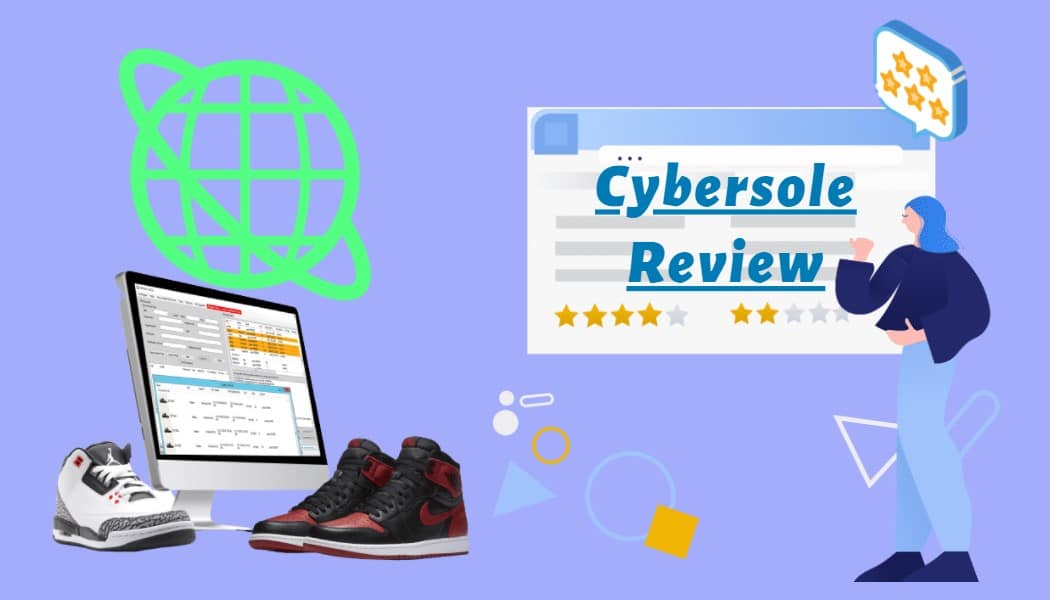 Cybersole is a reputable sneaker bot that offers some of the best services. This is why its resell prices skyrocket each day and don't seem to come down anytime soon. It is exclusive, and one of the best All-in-one (AIO) bots available out there. Before we get to know more about Cybersole, why do you even need to use sneaker bots?
Sneaker sites such as Adidas, Supreme, Yeezy and Nike often release limited-edition sneakers which become sold out fast. That is why many buyers use bots to cop as many pairs as possible to resell at an outrageous price. Without bots like Cybersole, you are less likely to successfully checkout even a single pair.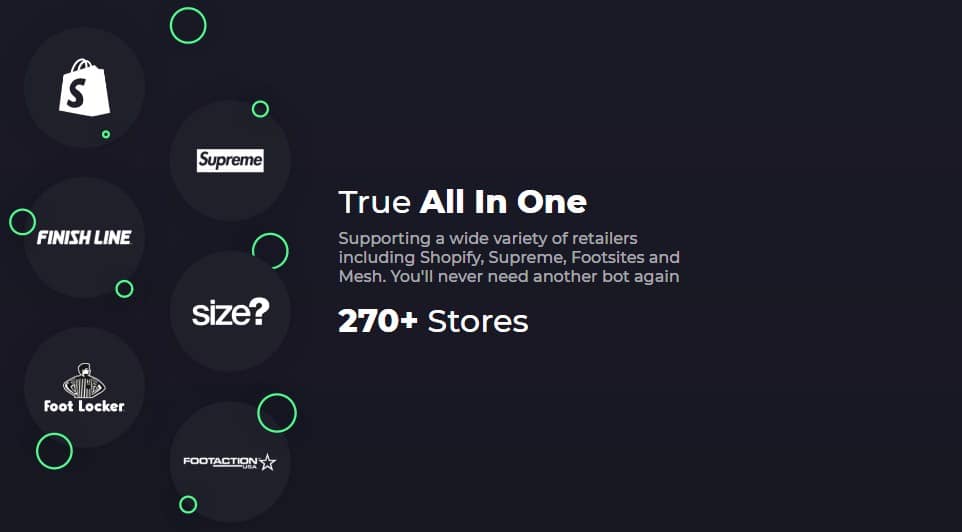 Proxies also play a big role in making your checkout speed better and increase your anonymity when copping for sneakers in different websites. Now that we know the essence of having bots let's look at Cybersole and what they offer.
Immediately you begin surfing online, Cybersole stands out with its layout and web performance. It is very well-designed! They've taken the similar easy-to-navigate simple technique to their bot as well, making it highly newbie-friendly. Even if you're not a novice, maintaining a professional interface rarely harms anybody.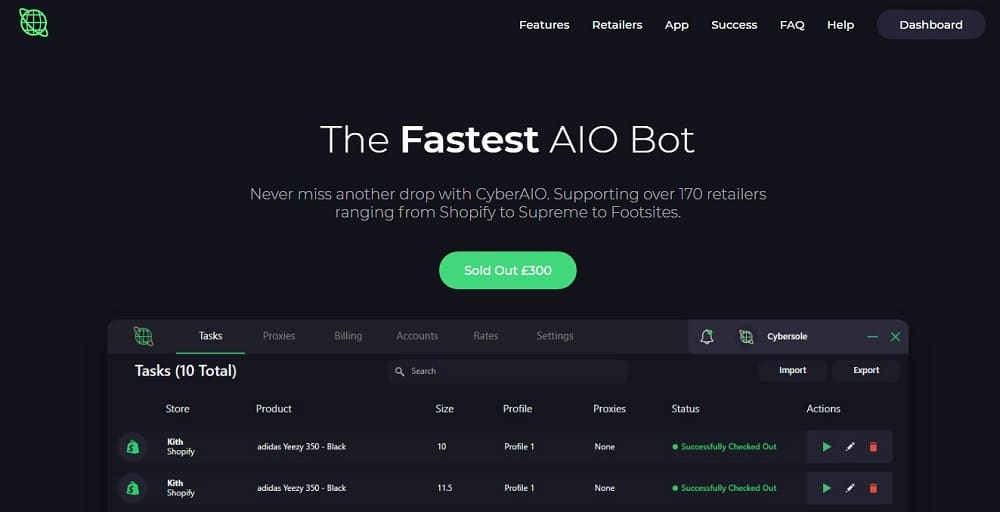 The fact that no restrictions are available to the number of tasks that may be executed simultaneously is the initial significant characteristic that jumps out at us. Also, the bot features a handy restocking option, which means if you don't get to buy on time, you will be notified once it is restocked. Cybersole also offers a smartphone app that is uncommon in the realm of shoe bots.
When compared to other AIOs, Cybersole stands out because of the number of websites it supports. They Support sites such as Supreme, Footsitses, Shopify and over 170 different online stores. Cybersole, on the other hand, does not keep Adidas or Nike.
In terms of computer systems, Cybersole is only compatible with Windows 8 and 10. You can create an extension to enable it to support Mac.
Pros
Offers Unlimited multi threaded task features, which enables you to run many tasks concurrently
It supports a large number of websites, including sneaker sites like Supreme and Footsites
They undertake regular updates to maintain quality
A user-friendly interface
Lightning-fast connections
They have a mobile app to improve convenience
Great for reselling items
Cons
It does not support macOS devices
Expensive with high retail prices

Buying the Cybersole bot at a retail price is really expensive and almost impossible to get. But if you are lucky to get your hand on one, you will churn out over $3,600, which is very expensive. Apart from being expensive, it is a risky venture as the bot may stop working at any time.
On top of the overpriced resell, you are required to make a renewal fee of £100 billed every six months. Although it is among some of the best bots out there, their prices are too high based on the features they offer.

Cybersole has some of the best features you can find out there. Here are some of them and the benefits they bring.
1. Responsive Customer Support

Cybersole has tried to put as much information about the bot on their website, making it easy to get assistance. In addition, they have a complete user guide that enables you to know how to use the platform with much ease.
However, if you can't find a tangible solution, they have you covered. You can write an email using the email form and expect some helpful answers in real-time.
If you are looking to cop limited-edition sneakers, then speed is very important to you. Cybersole has a blazing fast connection that will help you get a copping experience like no other.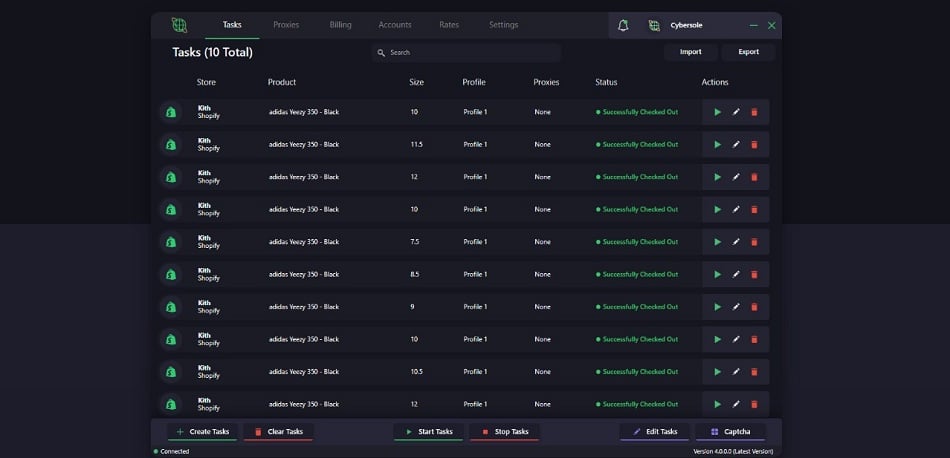 Cybersole, unlike many bot providers, enables you to run hundreds and thousands of functions. This not only increases your checkout speed but also allows you to get as many products as possible.
Captcha is one of the main setbacks for bots. However, Cybersole has an automatic captcha resolver that offers both multi-window and multi-tab solutions.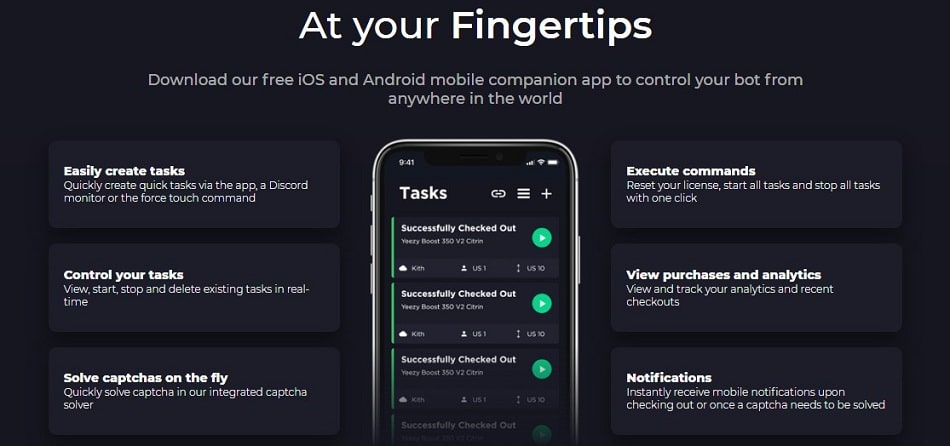 Do you want to control your bot at your convenience? Cybersole has a mobile app that enables you to do just that.
Did you miss out on the drop? Don't worry; your Cybersole bot will retain your details and automatically cop upon restock.
How Does Cybersole Bot Work?
Cybersole is one of the best sneaker bots you can get out there. If you are looking to buy only a pair of sneakers, this bot will guarantee a quick and smooth checkout. However, if you want to purchase many pairs, you may have to incorporate proxies.
Proxies enable you to buy more than one pair; it works by changing your IP address. This ensures that it looks like a different person is the one purchasing the product. They are very effective, and you can cop as many pairs as possible using them.
Residential proxies are better in terms of anonymity and efficiency as compared to datacenter proxies. Using Cybersole bot and proxies, you can be sure of copping many sneakers that you can resell and make a significant profit.
If you are willing to spend a decent amount of money on sneaker bots, then Cybersol is the real deal. For experienced resellers looking to cop many pairs of sneakers, this is also a great option to consider.
Features

Pricing

Reliability

Support
However, if you have no experience using sneaker bots or simply testing the waters, you may want to look for a better option. Cybersole is one of the most expensive sneakers out there and would only be recommended for experienced sneaker-heads. Beginners may have to try something a little cheaper with less high stakes.
User's Reviews & Rating
Stupid Proxy
Average rating:
0 reviews
---