Are you a sneakerhead looking for the best place to resell your sneakers?  Stadium good is a good platform to try. It is reliable and authentic for selling your shoes and making a profit without hitches.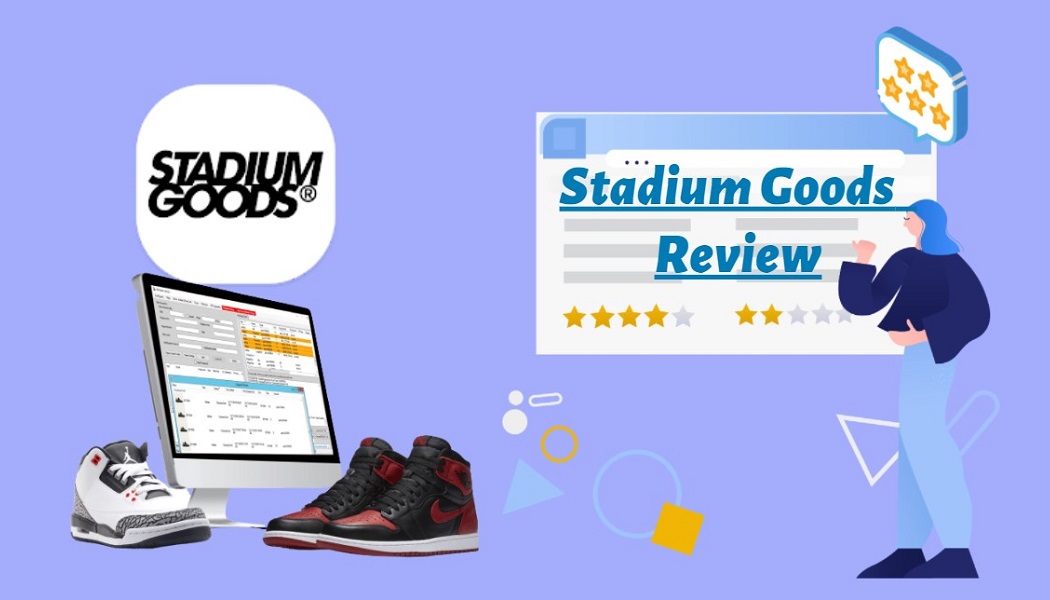 (4.8 / 5)
Stadium Goods is a company and one of the largest sneaker resale platforms. Due to its credibility, authenticity, and reliability, the marketplace has gained a reputation. Every seller and buyer is guaranteed authentic rather than counterfeit products. The platform undergoes thorough scrutiny to maintain its status.
You are here because you are looking for the best place to resell your sneakers after copping, or you want to buy sneakers. Worry no more; you are at the right place. Sign up for Stadium Goods and resell your surplus. Let's now look at the Stadium Goods in detail.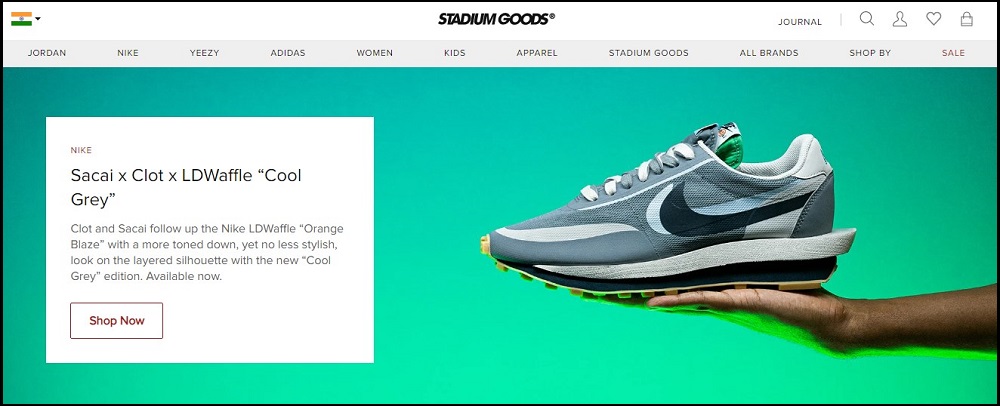 The Stadium Goods platform is among the best and the largest customer base of the sneaker resale websites available in this industry. The platform was founded in 2015, and since then, it has grown and gained customer trust. It does not only involve selling the sneaker but also the best place for sneaker enthusiasts.
They offer the best deals both for sneakerheads. Sellers can bring their sneakers to the consignment store for listing on their behalf. It is a must-see marketplace for dedicated sneaker enthusiasts and sellers. Besides online platforms, Stadium Goods also have physical stores in NY, IL, Chicago, SoHo, and Manhattan. They access any sneaker or sell any product as long as it's authentic.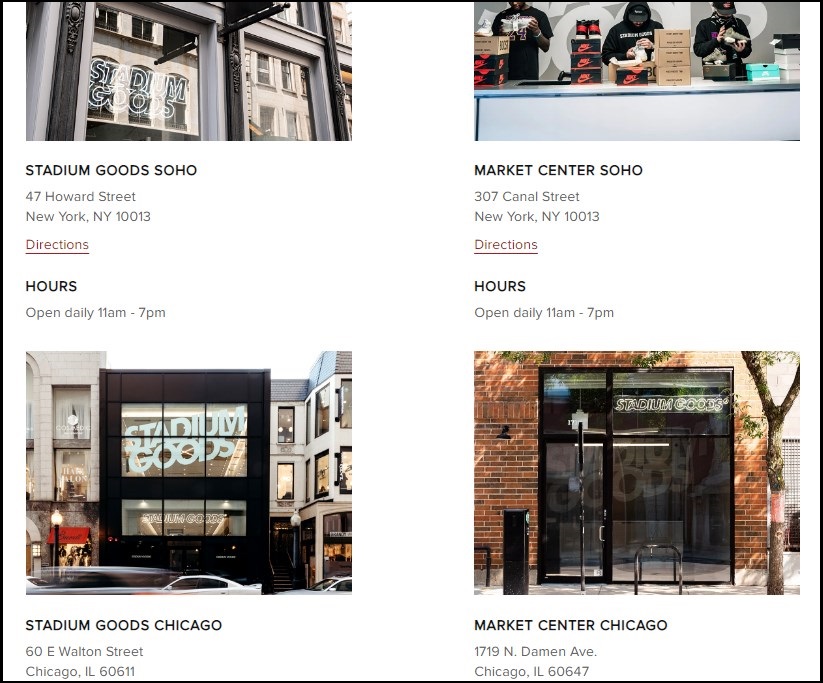 Even though the site faces stiff competition, few things make it stand out from the rest. They have all brands but significantly offer major brands like Adidas, Yeezy, Nike, Supreme, Jordan, etc. In Supreme Goods, they have women and kids clothing, footwear well as other apparel and accessories.
Aside, the platform has mobile support. Buyers and sellers can access the services not only using their PCs but also Android or iOS. The platform has a good rating among the sneaker shoppers on knoji. However, from the reviews, some clients claim that this marketplace sells defective sneakers and items. But from our knowledge, they authenticate all items before listing for purchase.
And above all, Stadium Goods ships its products worldwide and supports 100+ regions. Your location should not worry you anymore as most countries are covered. It is also worth looking at it from a different perspective. Here are some of its pros and cons.
Pros
Authentic products
Supports AndroidAndroid and iOS
Supports over 100 regions
Accept returns within 3 days
Offer contact information
Allows sellers to select the best in stores.
The application has a good interface usability
They also have affiliate programs.
Good customer services
Cons
Do not notify on arrival
Buyers pay for shipping fees
High return fees
Customer support is sometimes slow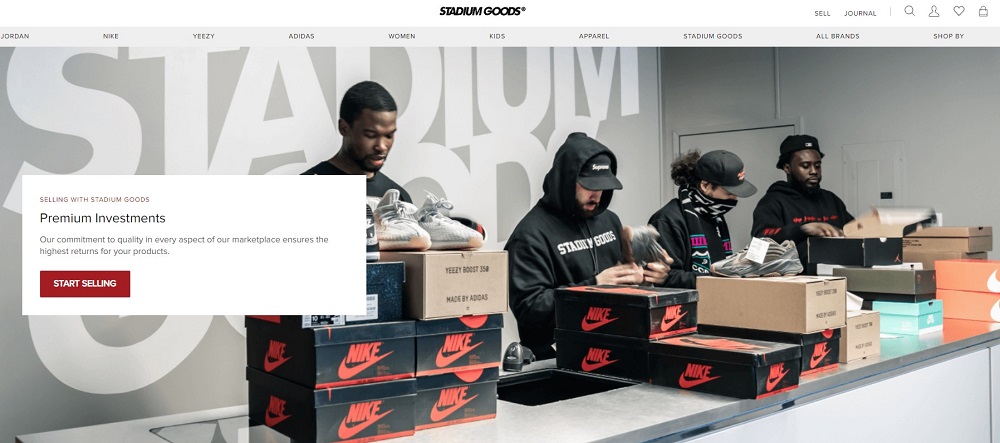 As stated earlier, Stadium Goods specialize in reselling authentic and 100% new sneakers and clothing or accessories. While their items are consigned, they are kept in pristine condition and remain unworn.
The firm carries out reliable and legal business. This can also be attested in their brands. Even though they have all brands, they also sell Nike, Jordan, Yeezys, and NMDs. They deal with all the limited and scarce yet demanded products. Though sneaker drops are rare, you can find them at Stadium Goods and are 100% authenticated.
How to Sell on Stadium Goods
Any person with a surplus or who wants to buy sneakers can access the Stadium Goods platform. Learn more about their regulations first here.  We will give you a step-by-step guide on how you can sell on the Stadium Goods website.
Step 1: Create an account on the seller's portal
Step 2: List all sneakers for consignment before review and approval
Step 3: Ship or deliver your items at the stadium goods store for authentication. You will receive a ticket of all your listed items showing the size, condition, and prices. The approval process takes between 1 to 3 days.
Step 4: Items are approved and available to buyers on their website, channels, or resell stores. They keep all your items until a buyer purchases them.
Step 5: Once the item is bought, your funds are deposited into the bank account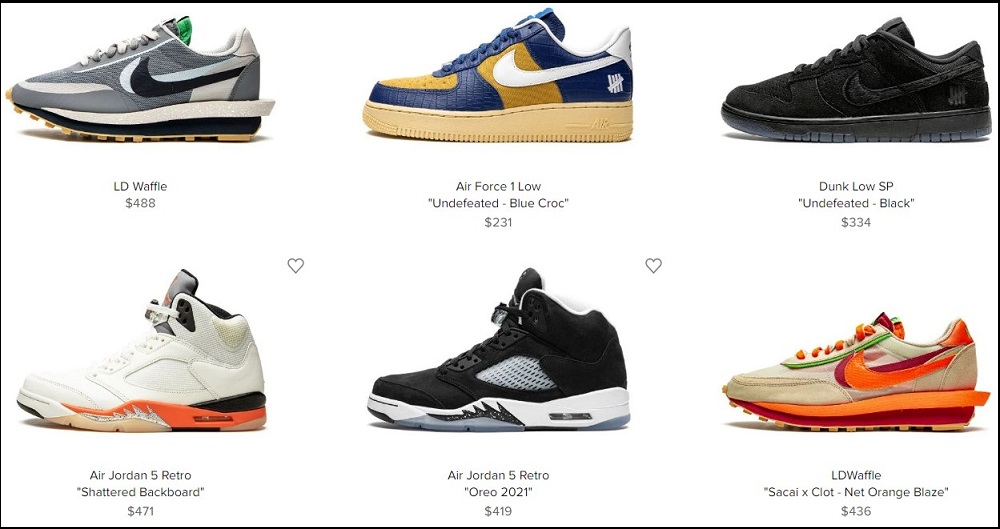 However, Stadium Goods deduct 20% of the total sales of the list price as a commission. Currently, they only accept US shipments. We hope they will add more in the future as the firm is growing at a reasonable rate. Once the items are listed, sellers can log in and adjust the prices.
How Does Stadium Goods Work?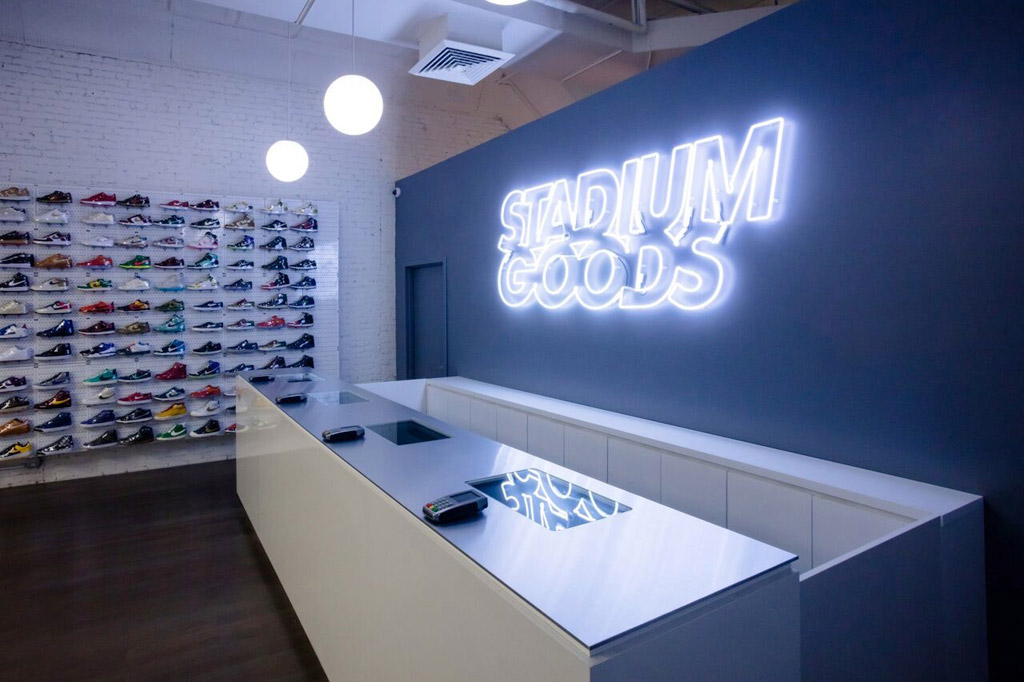 Stadium Goods work like any other sneaker resale website. They offer both streetwear and limited editions that are scarcely supplied to the retailers. Due to high demand, the drops are sold out immediately after release. The trusted sellers consign these items at Stadium Goods stores. This is a pre-authenticated aftermarket according to its inventory.
They could assure you that the items are legit and stored in good condition unless the seller stated otherwise. They have thoroughly trained experts to verify all items before listing.
Sellers can track all their items, modify prices anytime, and even demand payment immediately when the items are sold out via the portal.
Stadium Goods Delivery and Returns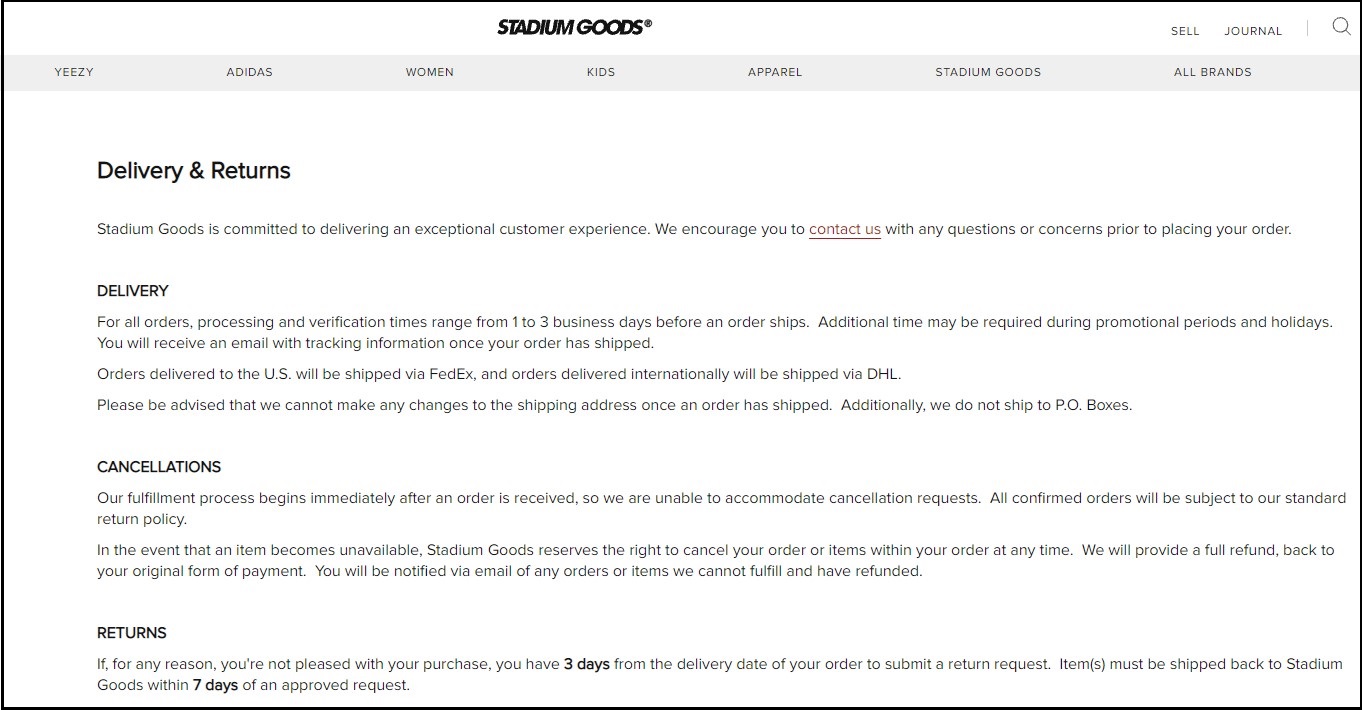 Stadium Goods offer an exceptional customer experience. Before you place an order, you should understand their delivery and return policies. First, before shipping, the verification and processing take at least 1 to 3 business days. Once they ship, you will receive mail with a tracking link.
The fulfilment process starts immediately when a buyer receives the order. Any cancellation should follow a return policy. Standard goods can cancel an order when the item becomes unavailable anytime. And for this case, they give a full refund.
If clients are not satisfied with the items, they can submit a return request two weeks after delivery. Ship the item within 7 days once the request is approved. The process is simple and done via the portal. You might incur additional charges. However, the item should remain intact. Otherwise, it is subject to refusal.
When the return has been received, it takes 10 to 14 days to authenticate and inspect the item. They will refund once approved but excluding shipping fees.
Stadium Goods don't offer an exchange to their customers because identical items might vary in price.
Stadium Goods Customer Support
When using the platform, at a time, you might get stuck and need help. Their customer support team is available 7 days a week to help you. For immediate feedback, their business hours range from 9 am to 6 pm EST. They always reply within 24 hours. Besides a ticket, you can send them a direct email address. Their website is another thing; it is equipped with detailed guides and a well-organized FAQ page. The customer service is awesome.
Yes, this is the correct answer because Stadium Goods deal with only authentic items. It is 100% legit. They have well-trained staff to inspect the items before they are listed. You will never spot any counterfeit product in their store. The probability of getting fake items is zero since all sellers have to present proof of purchase before listing. Supreme goods are unique, and so are all the other brands like Nike, Adidas, and more.
When buying or selling your items on the Stadium Goods marketplace, you should not be scared of the scans. The aftermarket platform is legit and highly controlled by qualified staff. Even though they have strict return and delivery policies, they sell authentic sneakers.
Features

Pricing

Reliability

Support
Make an order, and Stadium Goods will ship the items to you via FedEx in the US. But for sellers, this is the best platform to resale your sneaker after copping and make a profit without hitches.
User's Reviews & Rating
Stupid Proxy
Average rating:
0 reviews
---