If you are in search of a good bot for copping, then Kodai Bot is here for you. Here is a detailed review about this great bot including its benefits.
Kodai was founded in September 2018 and worked hard from then to achieve its present bot status. This is why it is regarded as being among the top bots in the industry. Individuals have differing ideas on which bot is the best. However, the majority of sneakerheads agree that Kodai is the best.
Because of its performance, the bot's resell price is also among the highest in the market. They resupply via their authorized Twitter handle (@KodaiAIO), usually through a draw, although winning one of their raffles is rare.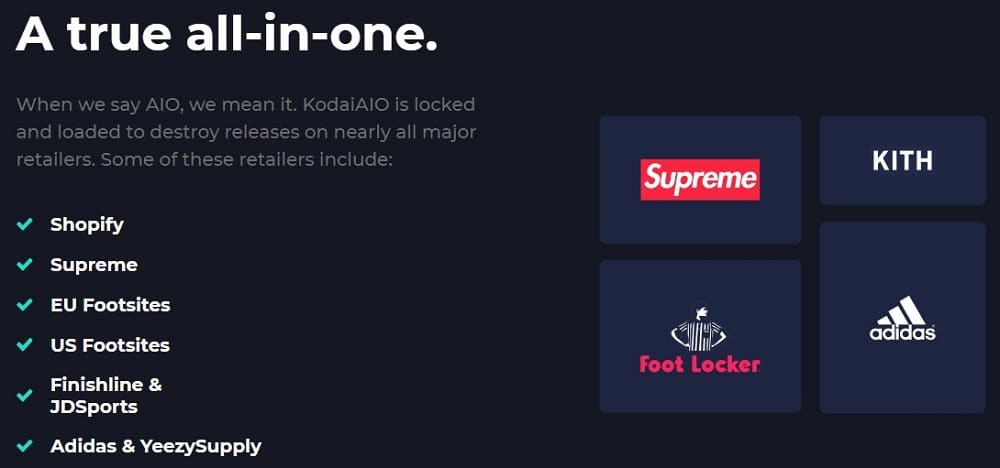 Kodai is among the All-in-One(AIO) bots; this has consistently propelled it to new levels regarding success throughout its supported sites. Their success is outstanding, and they are ready to respond to modifications within all the sites they support. This helps to ensure that their users always have a positive experience.
Kodai AIO is effective on most high-demand releases. It can cop some of the most limited-edition sneakers for its users while having a very tiny user base.
They boast of a team of dedicated programmers that are regularly updating the bot ahead of release dates.  This helps to overcome anti-bot and ensure that consumers get the drops they want.
Like any similar bot, Kodai has experienced many setbacks; customers have had trouble copping using Adidas and Foot sites extensions. At first, users could not obtain sets of their chosen sneakers, but with time, the dedicated programmers have progressively improved these capabilities.
Furthermore, the Kodai bot recently confirmed the launch of the Kodai hub. This will allow you to see your metrics, such as the number of sneakers you've purchased, the number of failed checkouts, and so on. It may also be used on your mobile device. The new upgrade will only increase the amount of touted and exclusive products available to Kodai users.
Pros
High-speed connections
A professional and responsive customer support
Automatic captcha resolver
User-friendly interface
Support a wide variety of websites and online stores
Offer an unlimited multithreaded feature
Support both Mac and Windows devices
Cons
Often out of stock
High-cost of buying from resellers
For the first two months, Kodai costs $175, then $59.99 every month afterward. It is indeed a decent cost for a bot with such an amount of success because you'd be able to recoup your investment in about two or three releases.

One shortcoming is that Kodai seldom restocks, and if they do, they are tough to come by, frequently more complex than the limited-edition goods it gets. Kodai currently comes with a resale price of around $6000. On top of paying that amount, you must also make a monthly fee for the renewal.
It might require many releases, week after week, to recoup the $6000 you paid on the bot. To earn your investment back, you'd have to attempt to get on-demand products regularly.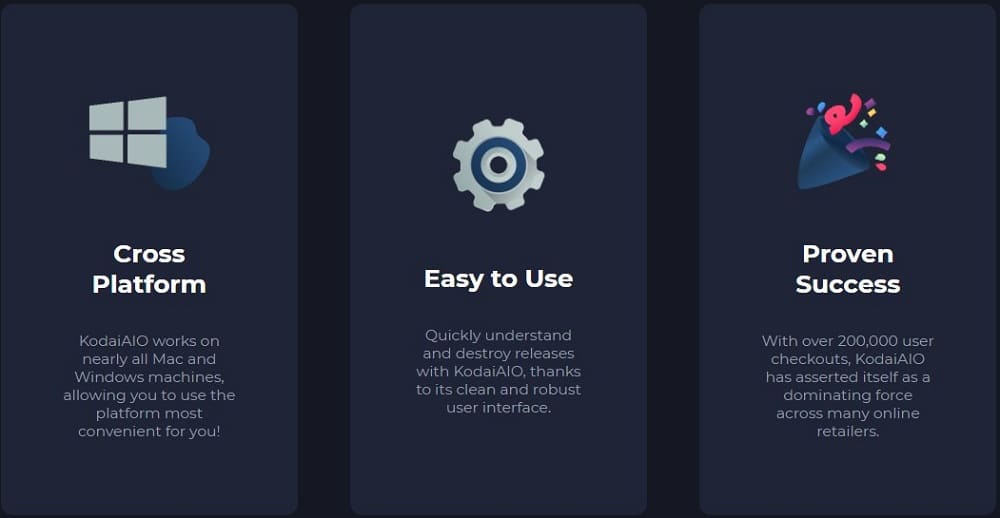 By using the Kodai bot, you may surf a variety of websites that offer sneakers. When purchasing shoes online, you may as well take advantage of available exclusive releases. Adidas, Shopify retailers, and Footlocker are just a few significant websites where Kodai bot may be used.
Kodai bot is incredibly cheap. When searching for affordable bots, you will not miss seeing this bot. You only need to pay $175 for the first two months, then $59.99 each month after that to continue utilizing the bot. If compared to the prices charged by other bot suppliers, this is a bargain.
3. Support both Mac and Windows devices
Another incentive to purchase this bot is because it is compatible with both Mac and Windows computers. Most bots can exclusively run on the Windows system, as you will discover if you research. Whether you have Mac, iOS, or Windows, anyone can use this bot to purchase sneakers.
Isn't it incredible? Most significantly, while running the Kodai bot on a Mac computer, you don't need to install a virtual machine. Grab your bot and start running it like an expert!
Kodai bot has a freemium interface where you may find valuable information like setup guidelines and forthcoming updates. It also includes customized data to assist you in evaluating several sneakers. You'll constantly be up to speed on market trends and the latest launches so that nothing will slip your notice.
5. Automatic Captcha Resolver
You may develop captcha resolvers to integrate with any activities on the webpage within Kodai. These resolvers are named by the customers and typically have a few options that you may modify for each of them at once, similar to the profile tab. Once established, each solution may be applied on its website, separating your assigned captchas. You can also put your solution to the test by going to YouTube and creating some action there.
Using Kodai AIO Bot is pretty straightforward. You do not need any particular browser extensions or knowledge of programming to use it. Follow these simple steps to use this bot.
First, install the bot and enter your login details
After that, log into your account and select the proxy. This enables you to add proxies to your account for better copping and higher success rates.
Save all the changes and add tasks together with your payment method.
Well, we are sure that the Kodai bot is a good investment. The bot boasts of high efficiency, which no comparable bot can match. Many customers purchase this bot due to its performance. Therefore it is frequently out of stock. If it weren't for the high demand for this bot, it would be in huge supply.
Features

Pricing

Reliability

Support
With Kodai, you'll spend less and generate higher income in your shoe copping company. If you want to cop shoes like an expert and receive value for your investment, we're confident you'll not regret purchasing this bot. Moreover, it is an easy to use bot and doesn't require any programming skills to operate.
User's Reviews & Rating
Stupid Proxy
Average rating:
0 reviews
---