Nike Shoe Bot is one of the best sneaker bots available out there. Do you want to know more about it? Here is a detailed review of Nike Shoe Bot, including its benefits, pricing, and features.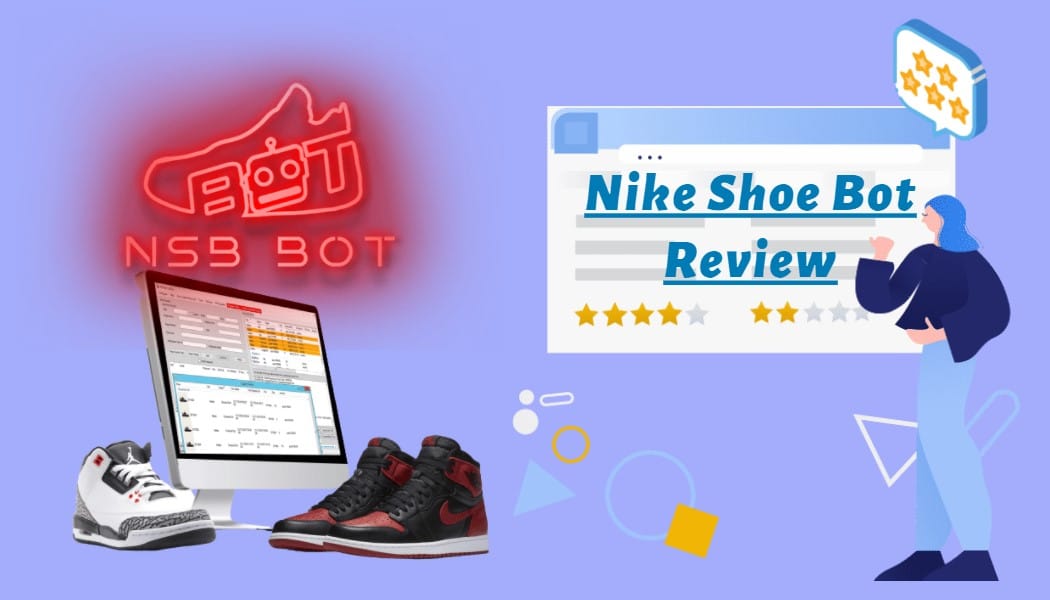 If you happen to be a sneakerhead or have ever tried copping limited-edition releases, then you know how hard it can be. Purchasing these shoes is hard because they are usually in high demand and get sold out in minutes. Because of this, many people opt to use bots such as Nike Shoe Bot, which makes it much easier and faster to buy sneakers.
Many sneaker sites have strict anti-bot policies but are still finding it hard to control the situation. Some websites, such as Nike, have been able to prevent most bots from accessing their site. The only reliable bot to use on this sneaker site is Nike Shoe Bot (NSB). So what makes NSB so unique? Continue reading for more.
There are many sneaker bots in the market, all of which have different features, reliability, and pricing. If you are reading this, you are either not satisfied with your current provider or want to know the best providers out there. Whatever the case, Nike Shoe Bot remains one of the most renowned and reliable sneaker bots out there.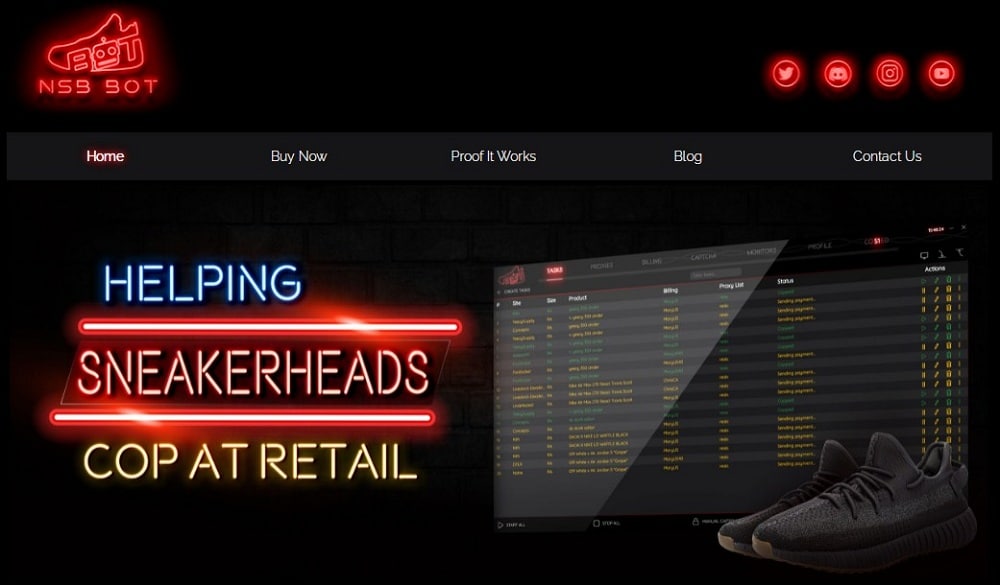 NSB is a premium sneaker bot that offers the best services and prides itself on high success rates. Ever since it was launched, it has risen to be among the top sneaker bots in the market. It was explicitly meant for copping Nike sneakers, a mission which it has achieved among other successes.
Over the years, it has had a massive hit in almost all releases, making it an ultimate choice for many sneakerheads. This has been significantly contributed by its remarkable features, such as fast speed and connectivity. It also has a very user-friendly interface which makes it an accessible platform for new clients to navigate.
Nike Shoe Bot is also compatible with both Mac and Windows devices. This means you can use it on all devices without having to use any extensions or Linux support.
Pros
It offers lightning-fast speed, which makes your purchase smooth and seamless.
It supports many sites. Being an AIO bot, NSB helps Nike and sites such as Supreme sites, Adidas, Footsites, and many Shopify stores.
It is multithreaded, making it easy to run multiple tasks concurrently.
It is a cross-platform bot, meaning it supports both Mac and Windows devices.
Easy to use. This is made possible by its non-technical interface that is easy to navigate.
Secure and reliable. It has many security features and updates regularly to make it reliable.
Cons
Nike Shoe bot is among the most expensive sneaker bots you can find in the market
Slow customer service; they do not respond to queries on time

Like many other sneaker bots, Nike Shoe Bot gets sold out and becomes available after a short while. The main reason for this is to limit the number of customers who are using the bot. For a fact, it would not be very sensible if everyone had access to a sneaker bot for copping.
Nike Shoe Bot is one of the most expensive sneaker bots in the market. It is priced at $499.00 per year. Although this price is higher, the number of positive reviews about this bot shows how every coin is worth it.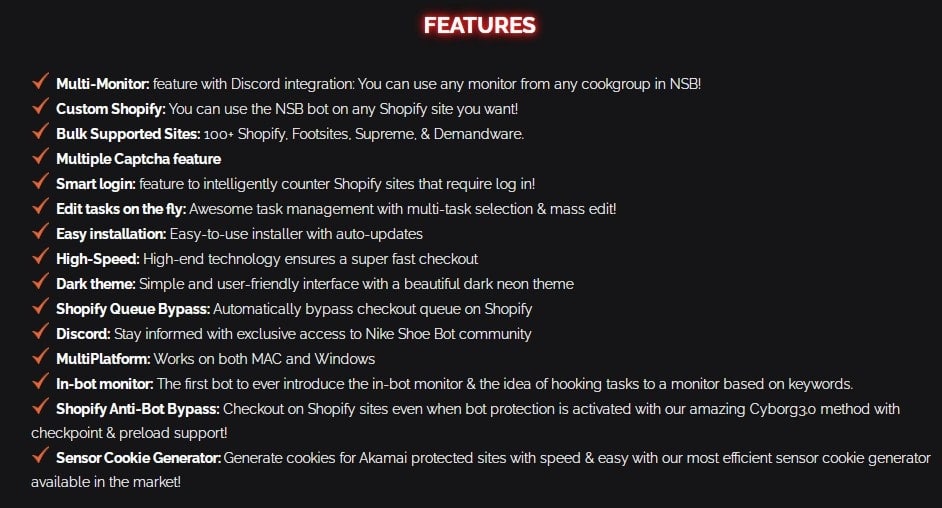 Nike shoe bot come with many features that make it a choice for many. Here are some of the most excellent features you will get from this sneaker bot.

Nike Shoe Bot has a fantastic multi-monitor that comes with Discord integration. This enables you to use any monitor from any cook group in NSB.

One of the most common methods that sites use to trap bots is the use of captcha. NSB has an automated captcha resolver which makes it almost impossible to be blocked. It also helps you maintain a high speed of the connection.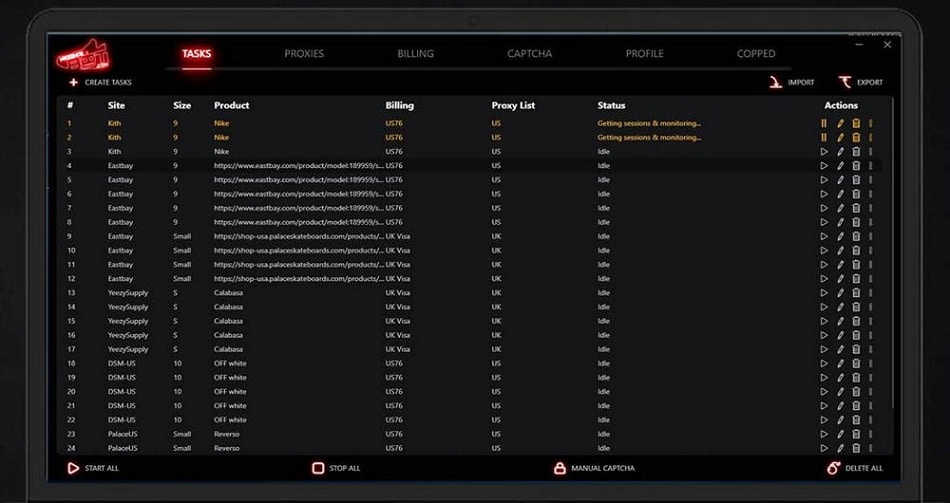 NSB takes pride in being the first of its kind to introduce a great in-bot monitor which helps in hooking tasks to your device based on keywords.
If you want high-speed connectivity, then NSB has got you covered. They have hog-end technology, which assists in maintaining fast checkouts. Their high speed also play a major role in maintaining your anonymity that mitigates the chances of being blocked or banned by sneaker sites.
Unlike other sneaker bots requiring vast knowledge of programming, NSB has accessible installation features. This makes it simpler to have the bot in your computer and auto-updates.
There are only a handful of sneaker bots that are compatible with both Mac and Windows devices. Nike Shoe Bot is one of them. This makes it easier for you to use it on any device without any browser extension or programs like Linux.
How Does Nike Shoe Bot Work?
Are you finding it hard to use your Nike Shoe Bot account? Don't worry we've got you covered. NSB has ensured you get the simplest way of setting up and running the bot. You can easily be up and running by following these simple steps.
Once you have purchased and logged into your account, you will have to add proxies. Here, go to the proxies' menu, copy and paste the list of the proxies and name it.
Next is to set up a billing profile. Go to the billing section, select 'New Billing Button' and add the needed details
After that, set up a captcha resolver. Click the Captcha section and enable the captcha resolver
Next is to enter your log in details in the profile area
Now you are ready to create a task. To do that, select 'Create Task'; the task page will pop up. Fill in the needed details and submit.
After you have created the task, click on the 'Start or Start all Buttons' menu. This activates the bot and puts it into action.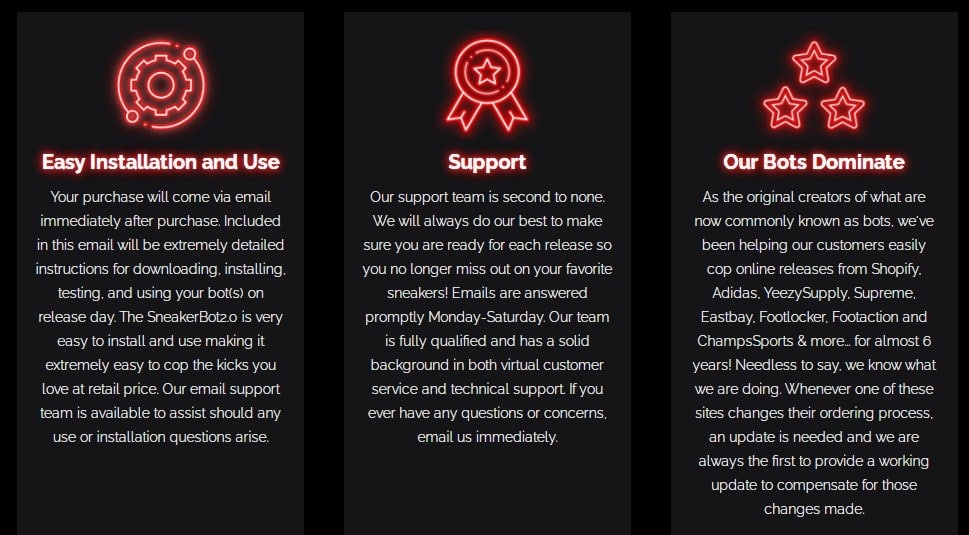 Suppose you are looking for a highly reliable, well-performing, and fast sneaker bot. In that case, we highly recommend Nike Shoe Bot. Besides being a pioneer, it remains a sneaker bot with one of the best security. It is also dependable, supports many sites, and has showcased pretty high success rates.
Features

Pricing

Reliability

Support
Although it is expensive and has slow customer support, you will get value for your money and rarely experience significant issues.
User's Reviews & Rating
Stupid Proxy
Average rating:
0 reviews
---